Bled has become increasingly popular in recent years, with its  brochure-friendly panoramas and beautiful scenic views across the lake; welcoming visitors all year round.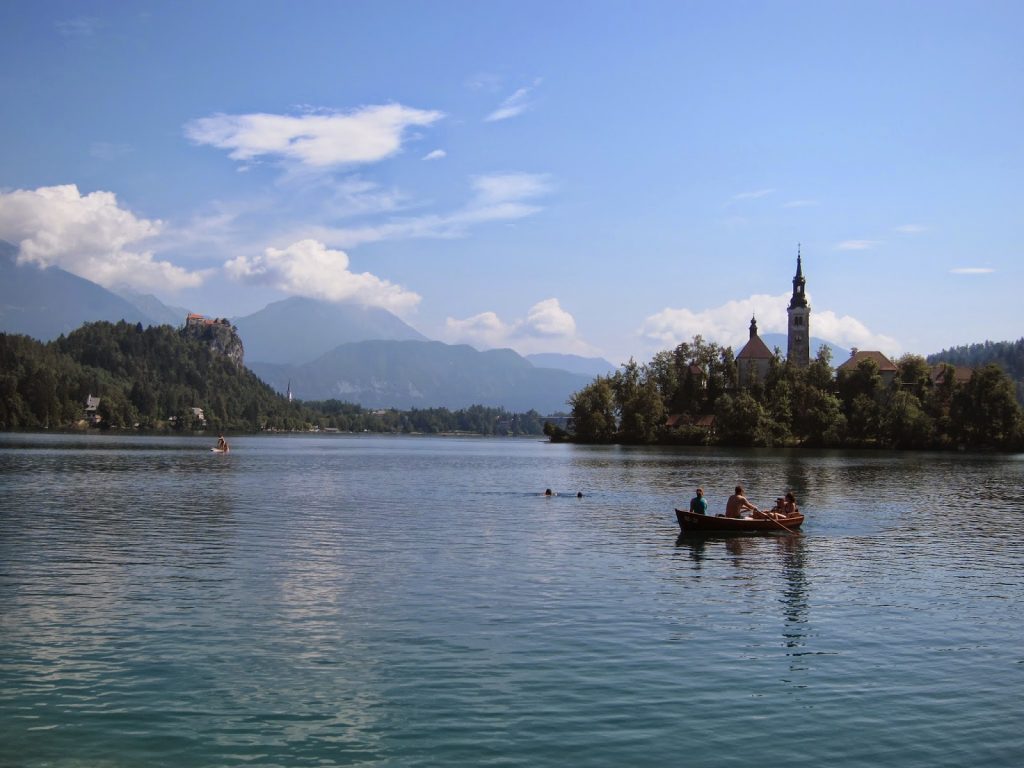 Island view, Bled
I visited in August this year. Peak season. Probably not what I would recommend if you prefer peace, quiet and tranquility, although it is possible to find a few spots to escape the crowds of sunbathing families.
Phill, as an ex-tour guide, has been there many times, so I am pretty sure he's well informed to tell me how different it is in Bled the rest of the year.
Now, after the summer crowds have dissipated, is the perfect time to visit. In the winter months it's a popular place for skiers, so another reason to put it on your bucket list.
Bled is one of those places where you don't actually need to plan to do anything. A leisurely walk around the lake and time spent enjoying the views from nearby cafes, restaurants and the castle is compulsory in my view. But the other to do's should be completely optional, depending on your interests.
1. Walking
The walk around the lake is 6 kms and there are plenty of reasons to take your time along the way. I recommend taking a picnic to enjoy enroute, as although there are places to eat at the busy end of the lake, there are less as you head around to the far side. There's a supermarket at the Southern end of the lake if you require further supplies after setting off.
Heading up one of the trails to nearby view points, is a little more challenging but well worth it for the view, exercise and geocaches ;).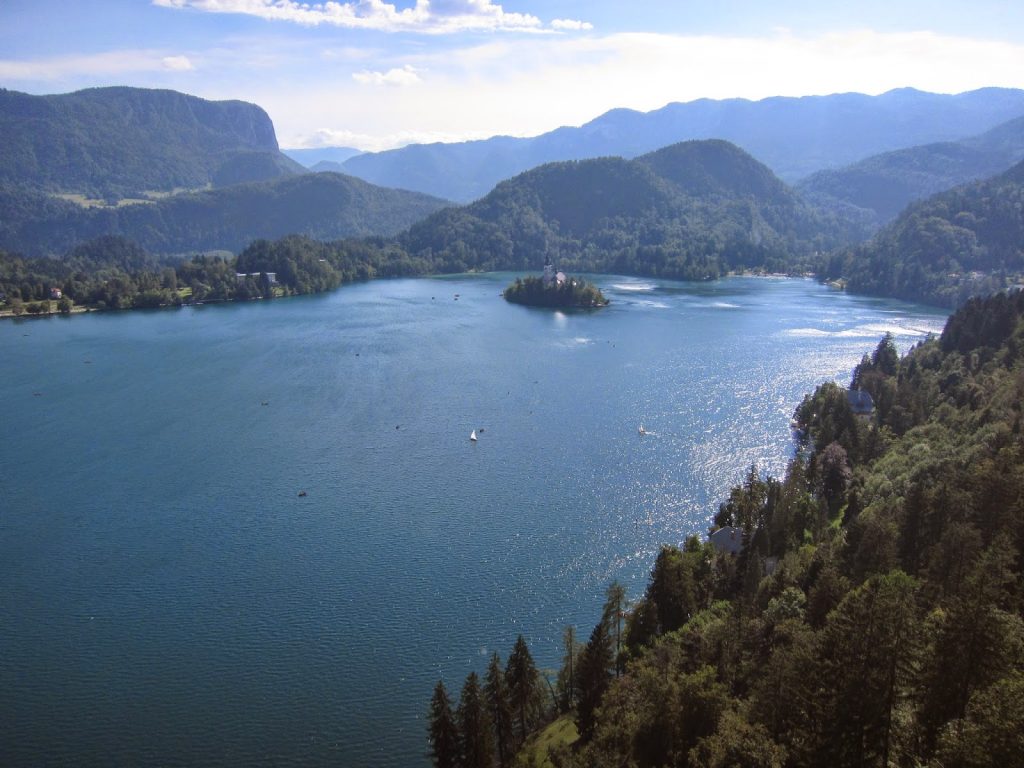 View from the castle
Try Mala Osojnica or Straža view points.
2. Swimming
This is obviously more enjoyable in the summer months. However, it can be a struggle to find somewhere not busy with other swimmers and/or sunbathers when it's warm.
The water in the lake is clean and clear, with a beautiful turquoise glow. The reason for this is this is there is no water flow into the lake, reducing deposits. In addition, no engine run boats are allowed, only row boats, therefore eliminating the pollution created by fuel leaks.
3. Boating
The view from the lake is almost as beautiful as from its edges. So why not head out to the island on one of the pletnas, or hire a rowing boat of your own and get there under your own steam.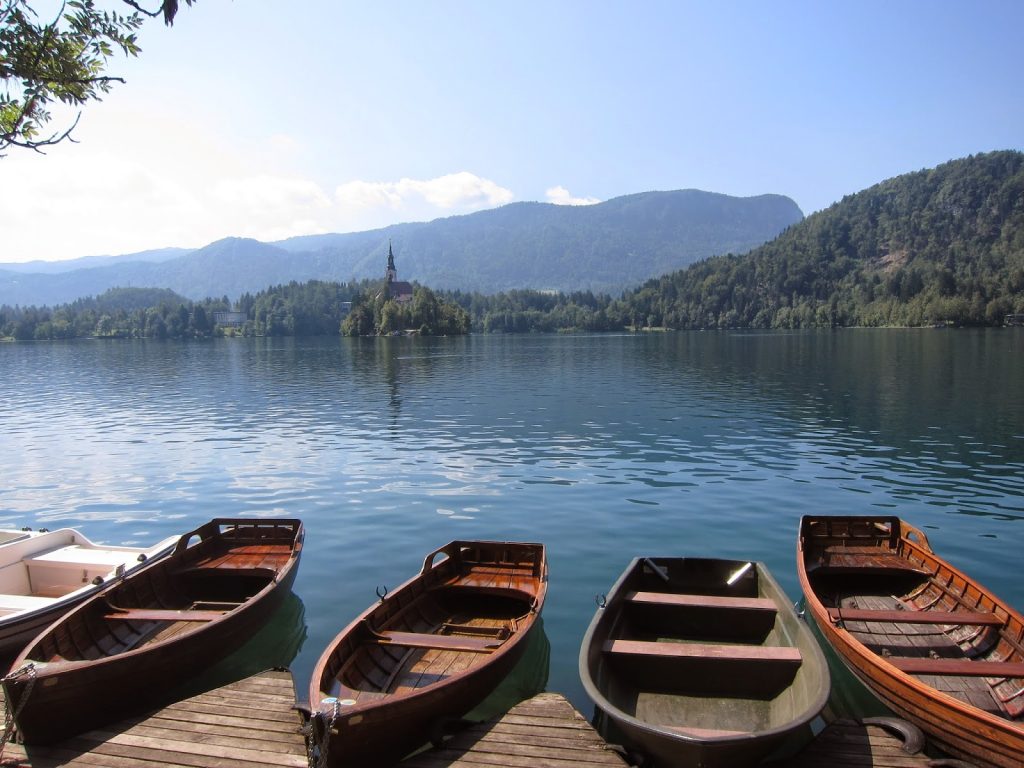 Try a row boat
Pletnas can be found at a number of points around the lake. They charge €12 per person and tend to head off once the boat is full.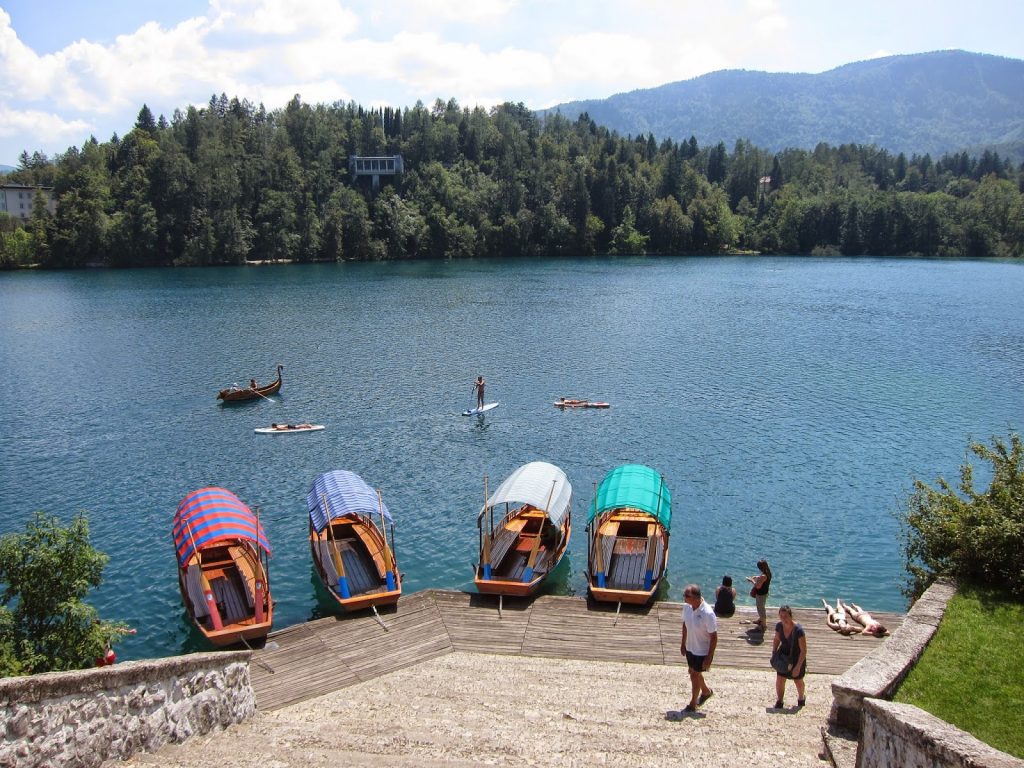 View from the island
4. Eating
The food options in Bled are surprisingly varied. With the influence of neighbouring Italy, combined with Balkan specialities you are likely to be spoilt for choice.
One local food not to miss, is a creamy cake, layered with pastry, which apparently originated from Hotel Park in Bled. The Kremšnita has developed over the years, with more flavours now being available, but the original cake is a simple vanilla flavour.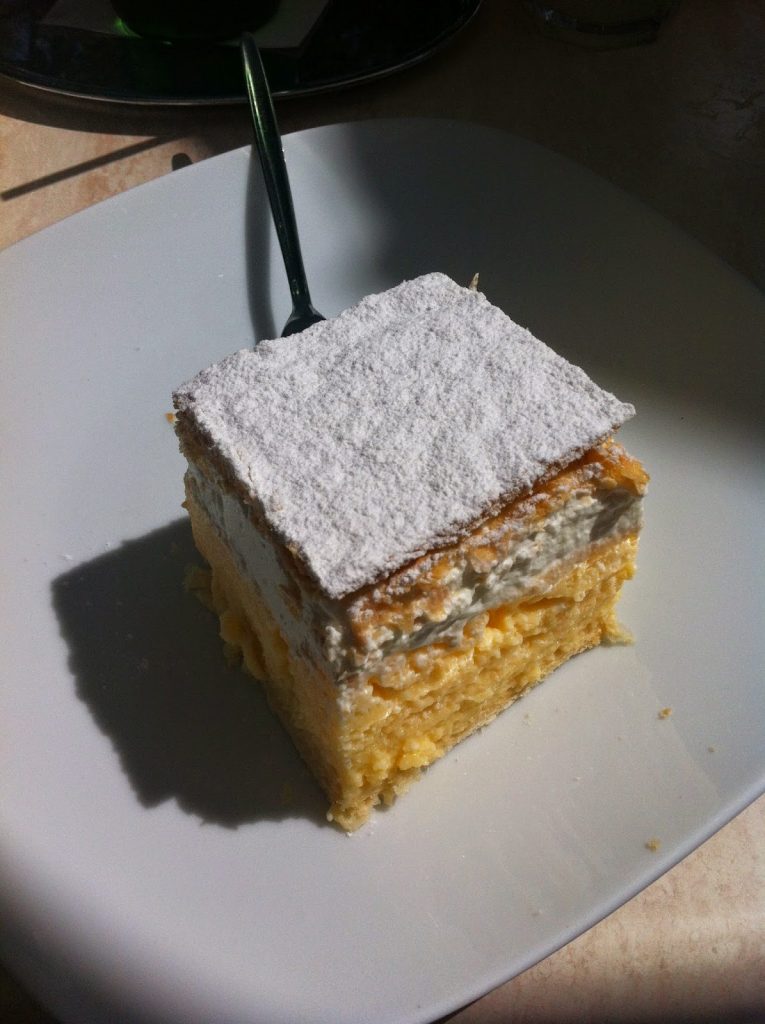 Kremšnita – Cream slice
I wasn't as taken with it as I expected. The pastry was very flaky, whereas I prefer it thicker and more solid.
There are plenty of restaurants serving traditional Balkan dishes including ćevapčići (kebab) and pljeskavica (meat patty). If you are vegetarian you may find it somewhat more difficult.
5. Relaxing
There are so many choices for places to relax in and around Bled, and no doubt even those with an interest in spending their day enjoying one of the many more active experiences, will want time to relax too.
You should plan your visit with plenty of time to spare, as Bled is just that sort of place.
Top spot for relaxing: A glass of wine with the view from the castle terrace, is as close to a perfect moment as it gets.
Other activities
The list of activities in the area around Bled is endless. I only just scratched the surface of things to do during my short visit.
Cycling – Bled is a good place for two wheels, whether you prefer a less demanding cycle along local roads and through villages or if you are looking for something longer distance.
Vintgar Gorge – we cycled out to the gorge on a Sunday, the roads were quiet and although there were a few areas where I had to get off and push, getting there would be a breeze for the average cyclist. The gorge itself carves its way through the rocks of the Hom and Bort hills and there are some significant waterfalls and pools.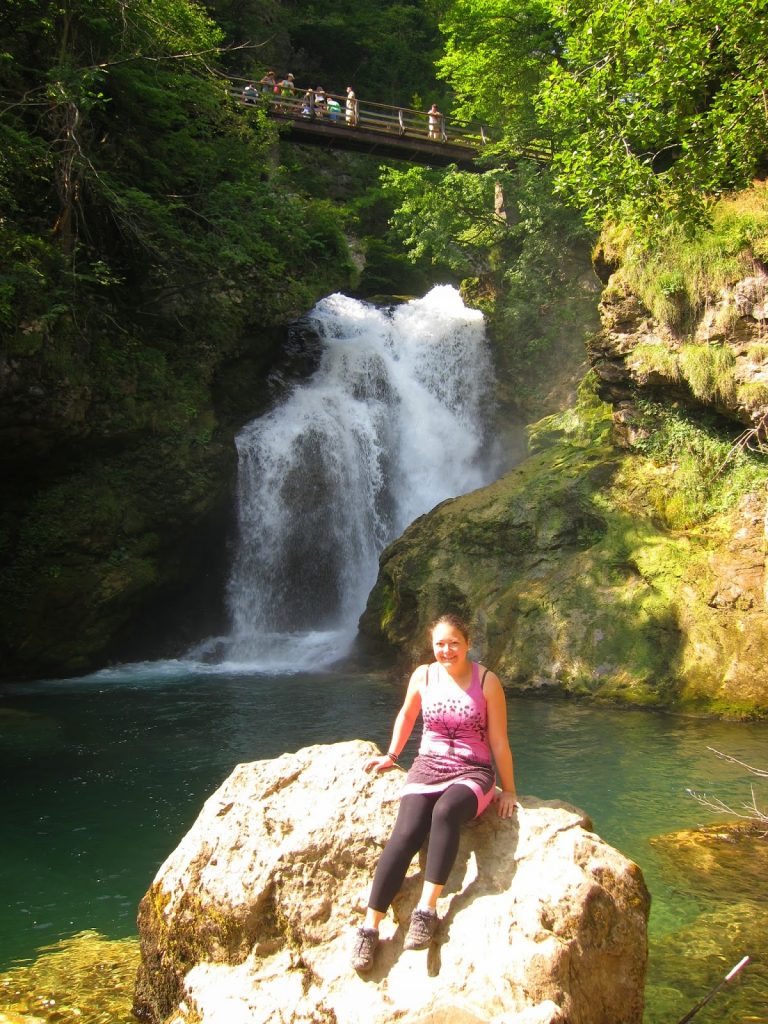 enjoying Vintgar Gorge
Tobogganing – open from May to September, with selected dates in April and October, the toboggan track is bound to give you an adrenalin rush. The views from here are pretty spectacular and there is also a nice area to walk and explore at the top as well as an activity centre where you can get to grips with climbing.
Emerald river adventure – note that you can get the train afterwards and put your car on it and have a beer ;). This one is on my list for our return trip.
How to get there
The easiest route to Bled, is from Ljubljana by bus. This takes 75 minutes.
Alternatively trains from Ljubljana drop passengers off at Lesce-Bled station, 4km southeast of Bled. Given this takes just under an hour and buses connect to the station with Bled every 30 minutes, it might be worth stretching to a taxi to save time.
Have you visited Bled? I would love to hear your recommendations for my next visit…