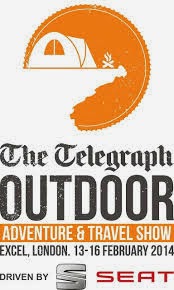 Today sees the start of the Outdoor Adventure & Travel Show at Excel in London. Of course, I'm heading along for some more travel inspiration.
With Valentines Day on Friday, this might be your chance to treat that special someone to a day out, or treat yourself. Either way, it sounds like a well packed show offering everything to inspire the traveller in you.
Featuring six new and exciting zones the show offers FREE have-a-go attractions, inspirational guest speakers, a range of information on everything 'outdoor, adventure and travel', as well as the latest gear and equipment at great prices.
So, whether you're passionate about travelling, photography, climbing, water sports, exploring the British countryside or you're in the market for some new gear – you're sure to find everything you need and have a great day.
Then there's the added bonus of the other 3 shows taking place: The London Bike Show, Triathlon Plus Show and the London International Dive Show.
For more details and to book tickets head to the website: http://telegraphoutdoorshow.co.uk
Maybe see you there.