So, where exactly is Kuching?
Kuching is the capital of the Malaysian state of Sarawak, which is located on the north west of the island of Borneo.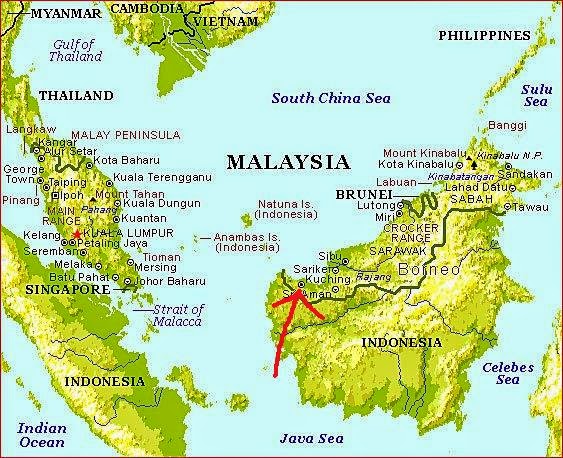 Location of Kuching
This part of the world is severely underrated in my opinion. Everyone includes Peninsular (mainland) Malaysia in their whistle stop tour of South East Asia, and of course, Thailand and Singapore are well visited by both holiday makers and Backpackers. But what about the Malaysian portion of Borneo?
Sarawak is known for the indigenous tribes who live in long houses, as well as it's British colonial heritage. The Chinese and Indian migrants have also made quite an impact in this area, and particularly in Kuching.
The city of Kuching is quiet and calm in comparison to places on Peninsular Malaysia, and somewhere I found myself feeling at ease. In fact we ended up staying 2 weeks here exploring the area, and would have stayed longer.
As someone who enjoys a flashpacker style of travel, it's not often I have much to contribute to a view of travelling with children. However, there are some places in the world that don't have to feature on just the backpacker trail, and in fact would suit a family holiday too.
One of those places is Kuching. Although the heat can be difficult at times, children will find something to enjoy at almost every one of my recommended activities.
If you want to see Orangutans without the crowds, Kuching is a good base to visit Semmengoh National Park and I've heard that it's much less touristy than the famous Sepilok Orangutan Rehabilitation centre in Sabah.
The river setting of Kuching, where people say hello and smile for reasons other than to sell you stuff, is also renowned for its cat statues and the rather quirky cat museum (Kuching means cat in Malay)
There is a reasonably good bus network, just don't try and travel after 5pm as it shuts down early. If you're brave, the unlicensed buses will save you even more, and give you an experience of local life.
So what else is there to do and see whilst in Kuching? Here's my recommendations:
This is one for the kids and the rest of the family, but head there early to catch the orangutans feeding time, as it's a short walk from the entrance. Read all about my visit here: Orangutans of Borneo: Semenggoh nature reserve, Kuching.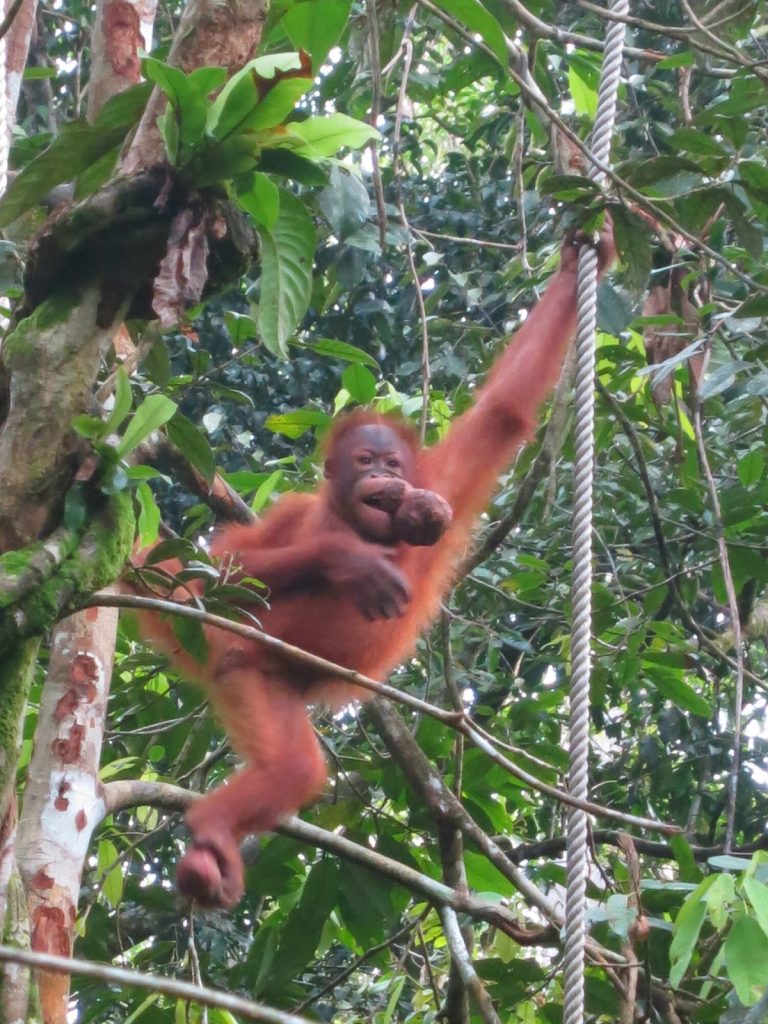 Orangutan, Semenggoh
2. The city itself
Offers a picturesque riverside, bustling Chinatown, shopping centres and museums. Drop by the very informative information office to get info on everything and anything and you will not be disappointed. This is one of the best information centres we have ever been to! The Sarawak tourism site is also useful before you get there: http://www.sarawaktourism.com.
3. Museums
There are all sorts. Cat lovers or those seeking to get out of the city should head just outside of town to the cat museum, and enjoy the vast collection of cat memorabilia. The majority of the other museums (Sarawak, Natural History and Art Gallery) are located close together and just a short walk from Kuching city centre.
4. Fairy cave
The caves are quite spectacular in size, but be warned, there's a 5 storey climb up to them before even getting inside and then a number of slippery wooden steps in the dark. Bring a torch; head torch works best as then your hands are free to hold onto the rail.
The cave actually does have a fairy in it, albeit a very small one and made of stone.
Read more about my visit to the cave here.
Just an hour from the city, a visit here will give you a feel for what life in a long house would be like. The village features traditional buildings from the different  indigenous tribes.
It's all a bit set up, but it is very well done (when all are manned) and it would be enjoyable for kids, as you get a little passport to collect the stamps from each of the tribes as you visit them.
6. Kayaking and visit a real Bidayah longhouse
We ran out of time to experience this one, and were saving our linguist experience for Belaga (see my post for more on that here: A lot of longhouses).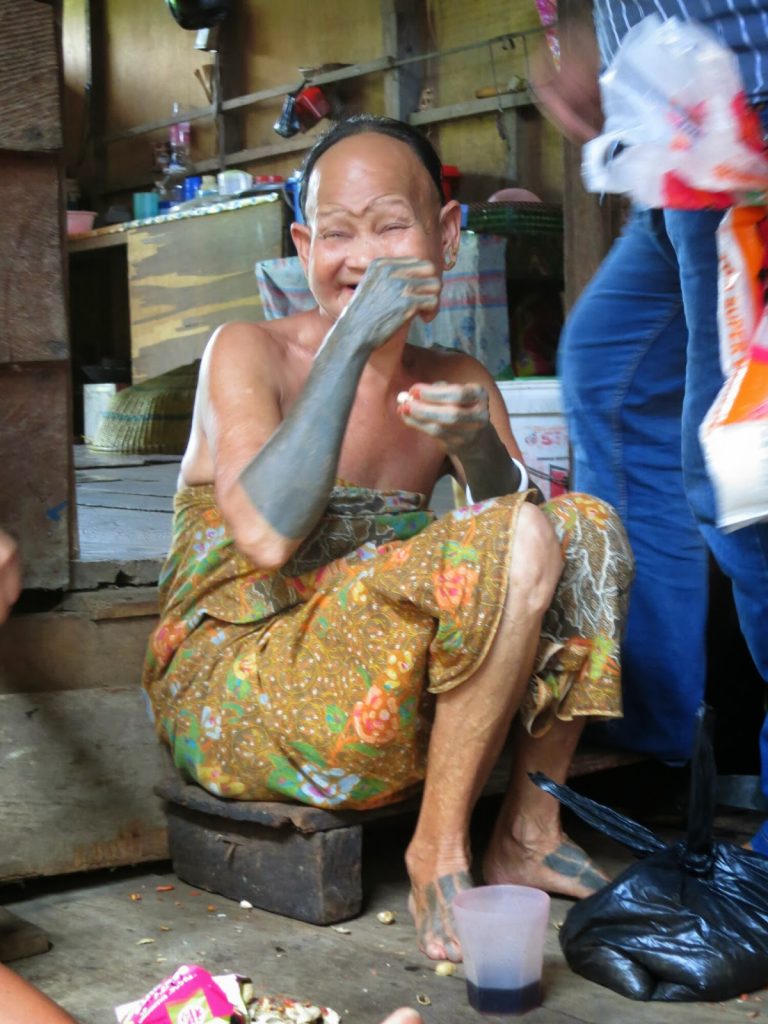 Longhouse tribe member
However if you are limited on time or want to stay close to the city, the Annah Rais longhouse, in the Penrissen mountains where Sarawak borders Indonesia should be considered.
The long house is estimated to be two hundred years old, and Bidayah people still live there. The headhouse tradition is evident here with many human skulls from the tribe's headhunting days.
A real highlight in my opinion, but you should take an overnight trip here to fully appreciate it. Lodgings are rustic but adequate, the boat out to the park is expensive, unless you can find others to share with. However, the vast park offers a great variety of walking trails, and of course, this is where you will spot the famous proboscis monkeys. Check out my post for more: Overnight at Bako national park, Borneo (Malaysia).

Proboscis monkey, Bako NP
Another national park, with some interesting treks and trails. However it is most famous for the Rafflesia flower. Check out the tourist office for details of whether there is a flower to see during your visit.
Read more about my time in Kuching and our sighting of the Rafflesia at Gunung Gading here: City of cats and layer cakes.
Rafflesia flower in bloom