It's amazing how busy life can be when you're unemployed and trying to plan your next move. In fact I have barely had any time to research possible destinations and I certainly haven't had a chance to reflect on my recent trip to Portugal and Spain just yet.
With British summertime commencing yesterday and April fools day today, I've been out and about enjoying the lovely (bitter cold) temperatures and getting into the spirit of treasure hunting (but not with Google treasure just yet – is that really real?) around my home town and all those lovely oasts :)!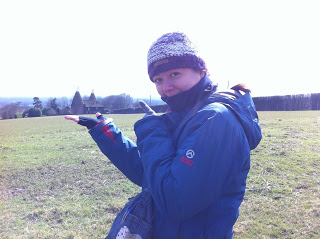 I still want one of those!
Next week, I'm off to Majorca for my friends wedding, so fingers crossed I get some R&R and time to do a bit of research whilst I am there. I am certainly looking forward to some warmer weather and won't miss the  need to layer up every time I set foot outside!
So, as you read this quick update, I expect you're wondering what my plans are and whether I will eventually get to the point of this post!?
Well, I'm still mulling over potential ideas, but it is looking very likely that South East Asia is going to make an appearance on my stats once again. I've already been to most of the countries there, in 2006, but that was for my first real backpacking/long term trip and it's always nice to go back and see things with a different perspective. I'm also having to battle with the reality of having to travel alone again, which despite being sometimes easier, is not something I am at all looking forward to this time.
If I'm honest it used to excite me, the thought of meeting new people, and of course some of the trips I have done alone remain fondly in my memory. However, the best experiences are always those that you can share, even if they are with someone you only just met.
I think the realisation finally came when reading back through my oldest blog posts.  Some of these I feel are some what negative, as well as extremely self centred and generally not very interesting to the average reader.
In conclusion, there are a lot of reasons to choose South East Asia for another visit, the weather, the cost, the variety and of course the fact that I haven't yet seen Laos or Myanmar (Burma)… so let's hope I can get those on my list :).
By the bye, these days I feel my travel writing is a little better thought out, and I hope you will agree, so anything that I choose to see a second time will inevitably be worth it, even if you are just following my blog/s. But, does anyone want to join me?