A trip to Hong Kong, whether just stopping over or staying a few days, can be overwhelming. It's definitely worth planning even just a little bit in advance of a visit.
As soon as I mentioned I was passing through Hong Kong, I was inundated with suggestions and ideas from visitors and ex-expats who had visited or spent a period of time living there. So, here's a few things to consider when visiting Hong Kong for the first time following some of the advice I was given as well as what I would want to know.
How long
If your airport layover is just a few hours, the Big Buddha on Lantau Island is probably a good choice to get you out of the waiting lounge.
Get there: via bus S1 or S56 from the Airport to Tung Chung, then take the cable car or Lantao Bus 23 (not frequent) to Ngong Ping. Alternatively take a blue Lantau taxi.
For a fleeting visit (2-3 days), it is possible to knock off most of the key sights in just a couple of days, a weekend or even less of you can fight the jet lag.
Those who stay longer than a couple of days will benefit from the opportunity to delve a little deeper. Beyond the key sights, there are numerous hiking trails, islands, the New Territories, boutique shopping and beautiful beaches.
When to visit
Avoid the summer which is extremely hot and plagued by typhoons. September until March is reasonably clear and before or after the hottest period.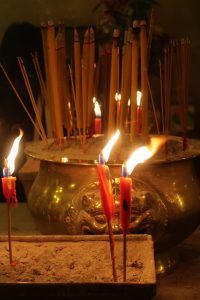 It's worth noting that unless your visit isn't purposely planned to coincide with Art Basel or Hong Kong Rugby Sevens, you should check the schedules for these events and visit outside of those dates.
Must get
Octopus card – If you are planning to need to get around via public transport, this card is a must. Offering discounted airport transfer tickets, and transport on the MTR, ferries and peak tram. It can also be used for small transactions in shops/7-11s.
Tip: keep an eye out for airport transfer ticket deals for groups. We took advantage of the offer for 2 people travelling together which saved us quite a bit going to and from the airport.
Where to stay
I would recommend staying on Hong Kong island near Mid-levels or Central – if your budget can stretch to this, as it isn't cheap.
Alternatively, the Kowloon area offers more budget options. In my opinion the better options are near Tsim Sha Tsui.
The rock bottom budget options are not the worst places I have stayed, but the lack of windows and limited space are typical in this area.
I'm more of a flashpacker these days and of course don't believe that the accommodation at any destination is key to a good holiday/trip. However, if you have to hike up stairs, wait in queues for lifts and can barely swing a bag over your shoulder … plus don't have a window, in a polluted city such as Hong Kong, it might put a bit of a downer on things.
There are plenty of savings to be made on meals and other things, but when it comes to saving on accommodation, avoid the notorious Chungking Mansions (a large apartment complex with a seedy clientele). Although I've heard you can get a good curry here. Its neighbour, where we stayed for a couple of nights, Mirador Mansions, is also an experience but not one likely to be a highlight of your visit. Note: I try these things in the interest of research of course ;)!.
Where to eat
Unlike many other Asian destinations, Hong Kong does not really have a street food culture, as you have to hunt out the few street food stalls that exist.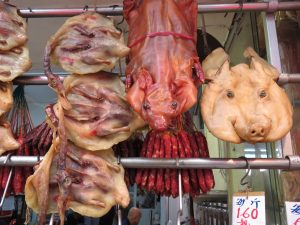 The abundance of noodles and rice found me in my element, and being half Chinese helped a lot, despite my very limited knowledge of the language.
Pork features quite a bit, although in such a Westernised and advanced city all sorts can be catered for. For a more local experience see my few suggestions in 'Quick list: where to find a bite to eat in Hong Kong'.
Tip: A useful tip is to familiarise yourself with using chopsticks before you visit as this will make things a bit easier.
Where to shop
The top tourist spots include the many markets (see 'Quick list: Markets in Hong Kong') but Temple market would get my pick if you are limited on time and need some souvenirs or gifts.
Mong Kok is popular for fashion and electronics and most things you would want from a 'high street' store, but prepare yourself for the crowds. This is worse than Christmas shopping on Oxford Street in the sales – so just for research purposes (!) we went there on Christmas Day. Actually it was nice because many roads were closed off and the street performers were out.
The Ladies market is also a good choice for souvenirs, fake handbags and cheap Chinese goods, but you need to bargain hard.
If your would prefer to shop to make your own meals, get up early and head to a wet market, such as Kowloon City market. Or just for a local experience, stop by and take a look.
Tip: avoid busy shopping areas at lunchtime (1-2pm) and on the weekend eg Mong Kok.
What to do
This is of course going to depend on what you want to include on your itinerary.
If you are visiting with kids then of course Disneyland or Ocean Park should be on your list. Make sure you buy tickets in advance for these.
On business, with little time, or just to find your bearings, then an open top bus tour is a good idea. Particularly if you can find discounted tickets as they are not cheap. They are a great way to explore, get around and explore the key areas. We tried Big Bus and were pleasantly surprised with the efficient route times. There were a few add on's including a ride on a junk boat, access up Sky 100 or a return ticket on the peak tram.
The main sights to consider for your itinerary, can be found in my post 'Key sights in Hong Kong'.
Tip: Don't just visit Hong Kong island. Check out some of the other islands, especially if you enjoy hiking.
Macau is a short ferry away, and can be seen on a day trip. It's mostly suitable for gamblers, the Asian equivalent of Vegas. However the old town is worth a wander too.
Language
Many people speak English but Cantonese is the predominant language. There are other Chinese dialects, also spoken, although Mandarin is less common.
I could write plenty more on Hong Kong. It's such a popular stop over or destination, so you are sure to find more ideas as you research. Feel free to get in touch if you have any questions.