We headed into northern Thailand, after leaving Chiang Mai, with just over a week left on our visa. For the average traveller this should be plenty of time to visit the key sights. However, as a more curious adventurer who likes to experience local life more slowly, this means having to be a bit flexible.
After 4 days staying in Pai (getting out and about on a motorbike) we headed to Mae Hong Son and took a day private tour to the surrounding area (it's too much to cover by bike).
4 languages in 1 day
A day spent touring the North Eastern hill tribes and villages was made more memorable by learning a couple of words in Burmese (Myanmar) and digging out my long forgotten Mandarin.
The Thai lessons are not progressing much. We know enough phrases to appear more curteous than the average traveller, but are lacking the time to try and understand the grammar fully.
There are many hill tribes in the North of Thailand, each with their own culture, and often their own language or dialect.
Karen 'Long Neck' village
Probably the most famous, for all the wrong reasons, is the tribe known as the Long Neck tribe, a subgroup of the Karen people. They will respond to basic Thai and English phrases, but you will get a much warmer response if you attempt a bit of their native tongue, Burmese.
You can read more about the Long Neck village that we visited in my earlier post here: A visit to: Huay Sua Thao (Long Neck village) and those trapped by tradition.
The other tribes in the Mae Hong Son province (North Eastern Thailand) include Hmong, Yao, Lahu, Lisu, Akha and Shan.
Yunnan village
After the long neck village, we headed to the far North East corner of Thailand. Here they are of Yunnan (Chinese) descent, so knowing a word or two in Mandarin can be the difference in receiving a smile or a frown.
It's close to the Thai-Burma border. A tiny Chinese tea village called Mae Aw (or Ban Rak Tai in Thai), where we enjoyed the many teas on offer and some tasty Yunnan (Chinese) food.
There are still many of the original mud huts around the lake here, though many are decaying and falling apart as the villagers have started to move towards more modern and durable buildings.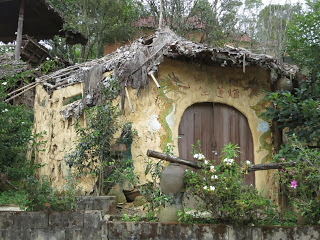 This used to be the museum!
Hmong (or Mao) village
After the Yunnan tea village, we visited a Hmong (also known as Mao) village, but the people here seemed reluctant to engage with us despite our efforts, so we wandered around for a short time admiring the wooden homes that they live in before moving on.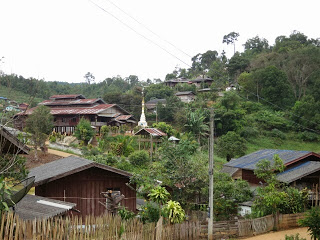 Hmong village view
Many of the villagers were occupied with daily life and chores. The more interesting to me was some beautiful embroidery, consisting of 'dots' that were then sewn onto baggy black velvet 'long pants' (trousers) or the sleeves of jackets.
Shan village
There are a number of Royal projects in Thailand, where tribes have been given land to live. The village of Ban Ruam is one of these areas, now occupied by Shan people, some of which work at the close by reservoir at Pang Oung, which is a beautiful place popular with Thai tourists. It felt a bit like a Swiss style holiday village and as if we were no longer in Thailand. Unfortunately there was little opportunity to interact with the villagers unless we wanted to buy something from the numerous souvenir stalls.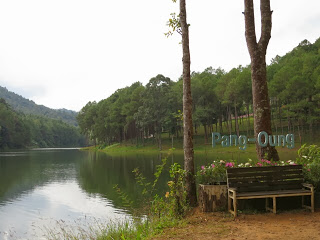 Pang Lung lake view
Chiang Rai province
After covering the North West section, (consisting of Mae Hong Son province) we scheduled in a 'visa run' up to Myanmar to get another 30 days in Thailand. See my previous post: Changes to Thai visa rules on 1 November 2013 and a day trip to Myanmar, for more on this, and the changes to the visa regulations.
We were then able to take our time in the North East province of Chiang Rai.
There are a number of Long Neck villages in this area too, but with so much to see and do in this area we didn't have the time to check out another.
Akha village
We did however include a visit to the Akha village, Ban Lorcha. This is a community based project with an entrance fee of 80 baht, which goes towards supporting the villagers. See website.
What I really liked about this village was that although there was a fair bit set up for visitors, they still went about their normal business. The villagers who were involved in the project were enthusiastic and welcoming.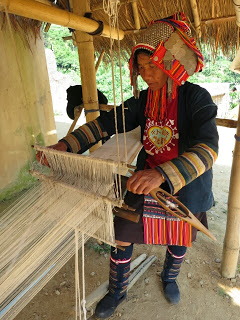 Akha weaving
They speak little English here but signs have been erected at key spots around the village explaining some of the traditions. A villager takes your round on a tour and shares the traditions of how they used to hunt, using traps, as well as participating in a welcome dance and demonstrating traditional weaving.
The style of homes are quite unique as they don't have windows, the eaves come down low on both sides, and there are separate living areas for men and women.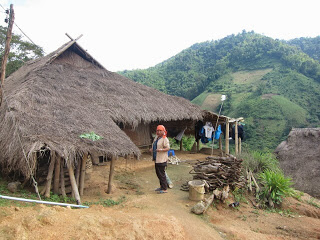 Ban Lorcha house
Their belief in spirits means a gate is placed at the entrance to the village, to deter spirits from entering from the jungle.
Tours
I highly recommend visiting one of the hill tribe villages. Perhaps combine it with a trek as this area is extemely popular for hiking as well.
I also recommend that you avoid visiting with tour companies with big groups and book only through a smaller, community sensitive, tour company with smaller groups, or instead find private guides who will bring you to their own villages or visit independently.
To actually visit a hill tribe village a little planning is needed. There are tours available from Pai, but taking a trip out to Mae Hong Son, as we did, will get you closer to the lesser touristy area where you can venture into the hills and explore many of the villages independently.
Tours can also be arranged from Mae Hong Son, but be sure to determine exactly what is included, as our driver spoke no English at all, and communication and information was non existent. We would have visited independently if we had had more time.
If you do have time, consider not just visiting, but stay for a while. There are a number of volunteering opportunities in Northern Thailand where you can teach English or learn more about the hill tribes. I found a couple of places for this but due to time and bad planning it wasn't possible this time.