All roads lead to Bangkok! Simply, Bangkok is a central hub of activity, with travellers coming and going probably more so than any other city in Asia.
Whether you are heading there specifically, stopping over or passing through en-route to another Thai destination, or heading somewhere else in Asia or the South Pacific, you will at some point encounter the Bangkok transportation options.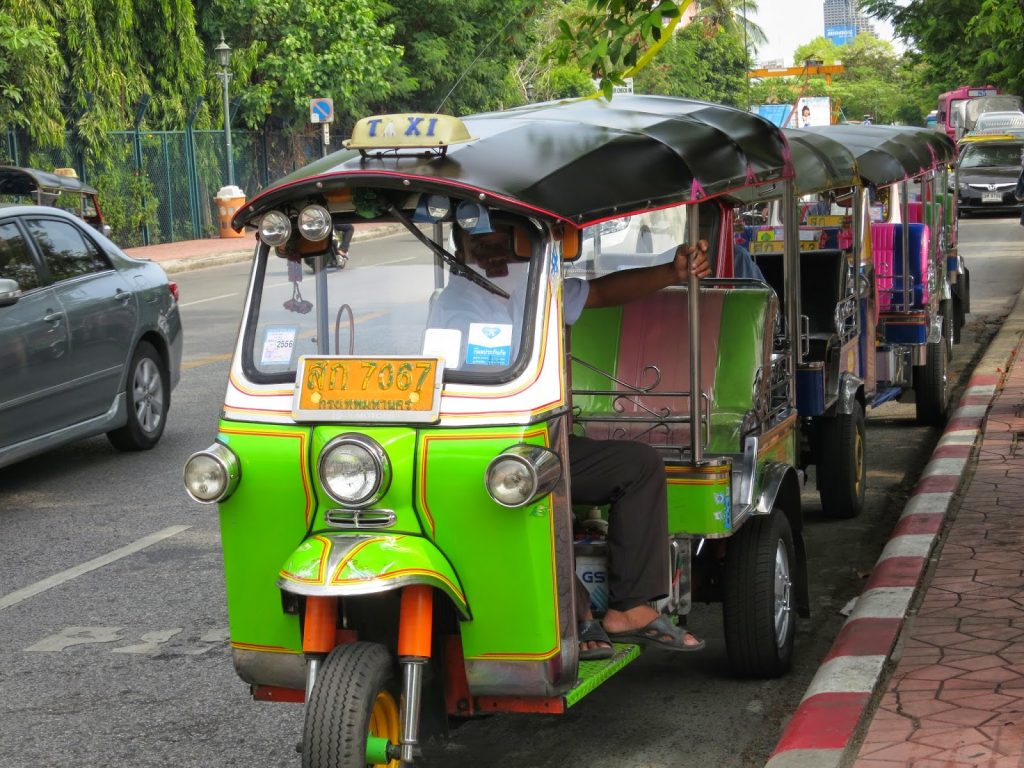 Many first timers to Bangkok will automatically jump in a taxi on arrival at the airport, or even just to get from A to B once in the city. However, just because taxi travel in Thailand is one of the cheapest in the world, it does not mean it should always be the default.
Taking a taxi in Bangkok isn't always the cheapest option or the most reliable. More importantly there are some great experiences to be had by taking other forms of public transport.
Researching all the options can be a minefield, so this post is designed to give you a summary of the options available and point you in the direction of some useful resources to help plan for your Bangkok transport needs.
Arriving at the airport
There are 3 options that you should consider when arriving into Suvarnabhumi International airport and similarly, if you take a free shuttle from Don Muang airport to Suvarnabhumi airport, you can easily take advantage of the same.
Taxi
Unfortunately there is a very high risk of getting caught in gridlock traffic at any time of day or night, wasting time, getting frustrated and leaving you feeling somewhat drained.
Taking a taxi from the airport, also involves an extra airport tax fee of 50 Baht, and potential toll road fees as well. In my experience it is possible to pick up a taxi from the departure area (rather than arrivals) and avoid the airport fee – but this isn't guaranteed.
The public taxi stand is at the end of arrivals, ignore the booths in the main hall; although these will still incur a surcharge. There is an unofficial taxi queue (but for proper metered taxis) on the main road right outside the terminal. To get there, head right when outside the terminal building and walk under the bridge towards the footbridge that passes over the main road. Taxis travelling south will stop by the yellow bus stop at the base of the footbridge, although the official stand can be found on the other side of the bridge.
Other than time, it will cost you approx 350 Baht (Updated: from my 2016 travels) from the airport to Banglamphu (area includes Khao San Road), which is where most budget travellers choose to stay.
Taxis are air conditioned as well as convenient, but the savings possible by other means as well as avoiding the pollution and congestion will guarantee you are checked in, in plenty of time.
Alternatives
Take the Airport Link to Phaya Thai, then a taxi on to you final destination, this cuts out the airport tax, potential tolls and avoids delays. The train to Phaya Thai takes 30 minutes. From there you can get to Banglamphu cheaply and quickly by taxi, or switch to the BTS Sky train for other destinations.
Airport rail links
These run from 6am to midnight and currently consist of the City Line (blue) which departs every 12-15 mins. There is also an Express Line (red) but this has been suspended since September 2014 – I will endeavour to update this post when new information is available regarding this.
Bus
I wouldn't generally recommend taking a bus from the airport as they can be slow and crowded, although they are the cheapest option if you're on a tight budget. Best to check latest info here but here are a few pointers:
Avoid the public bus (#59) which stops on the highway, as luggage is not allowed. Instead, take an air-con bus. Useful routes include: #29 – to Northern Bus Terminal via Victory Monument, Siam Sq and Hualamphong train station; #510 – via Victory Monument, to Southern Bus Terminal; #513 – via Th Sukhumvit, to Eastern Bus Terminal.
Other options
There are of course private airport transfers and shuttles available, as well as the option of getting a rental car but I wouldn't recommend either of these given the cost and the risk of traffic.
Getting around
The best option for getting around will largely depend upon where you plan to spend your time, and somewhat linked to where you are staying. It's worth noting the key tourist spots:
Khao San Road – Budget/backpacker area with cheap accommodation;
Phahonyothin – Chatuchak Weekend Market (Mochit Bus Terminal is also here);
Rattanakosin – Bangkok's old temple district, where the Grand Palace is;
Pratunam – shopping market of the very cheap clothing variety and electronics;
Siam Square – shopping Western style;
Silom – Daytime business centre, nightlife;
Sukhumvit – Expat district, hotels, nightlife;
Thonburi – A quiet part of Bangkok on the other side of Chao Phraya River, there's a small train station here (Yaowarat) and China Town.
The majority of backpackers will stay in Banglamphu, and this interestingly has the least number of transportation options available close by. When I stay there I tend to flip between the ferries and the sky train or taxis, with the occasional tuk tuk.
I have tried to indicate the best transport options for certain areas whilst giving you a flavour of each:
BTS (Bangkok Mass Transit System)
Better known as the Sky Train, this is the best choice for getting around shopping centres, central Bangkok and to the main river boat terminal.
You can find out more detailed information about the areas covered and fares here.
MRT (Metropolitan Rapid Transit)
Mostly underground this option is a good link to the larger suburban areas. However it also links to the BTS, airport and several popular tourist destinations, although in my experience I rarely used it given the other options.
You can find out more detailed information about the areas covered and fares here.
River boats
River taxis and express boats can be used to explore many historic sites and attractions along the river. These regularly sail up and down the Chao Phraya River stopping every 15 mins or so.
Get your ticket on the boat for just 15 Baht per journey, and avoid any ticket seekers that try to accost you on the pier.
The tourist boat ticket is 40 Baht per journey or 150 baht for the whole day but its cheaper to get the local ferry and it stops at more places. In fact, the only benefit of paying more and going on the tourist boat, is you are more likely to get a seat and there's some limited commentary on the landmarks along the river. None of that is going to beat the fun experience of having to jump on and off before the boat departs or the chaos involved in trying to find a space to stand or lean on the local boats. However, if you are a little unstable on your feet or don't like being packed in like a sardine, give the local boat a miss or take the tourist boat.
For full details of the route, timetable and fares see here.
Taxis
Brightly coloured yellow, red and sometimes even pink, taxis in Bangkok are everywhere. They are metered and you should refuse to travel with one that insists the meter isn't working.
The drivers don't always speak English so having your destination written in Thai can help. More importantly there are often attempts at ripping tourists off, so an awareness of your expected fare, a GPS/map which will ensure you are taken the shortest route and not on a wild goose chase, as well as a lot of patience can help improve your experience of travelling in a Bangkok taxi.
Tuk Tuk
These three wheeled covered motorbikes are becoming slightly less popular than when I was in Bangkok 8 year's ago. They can take from two to four (or more!) people but are best for short distance.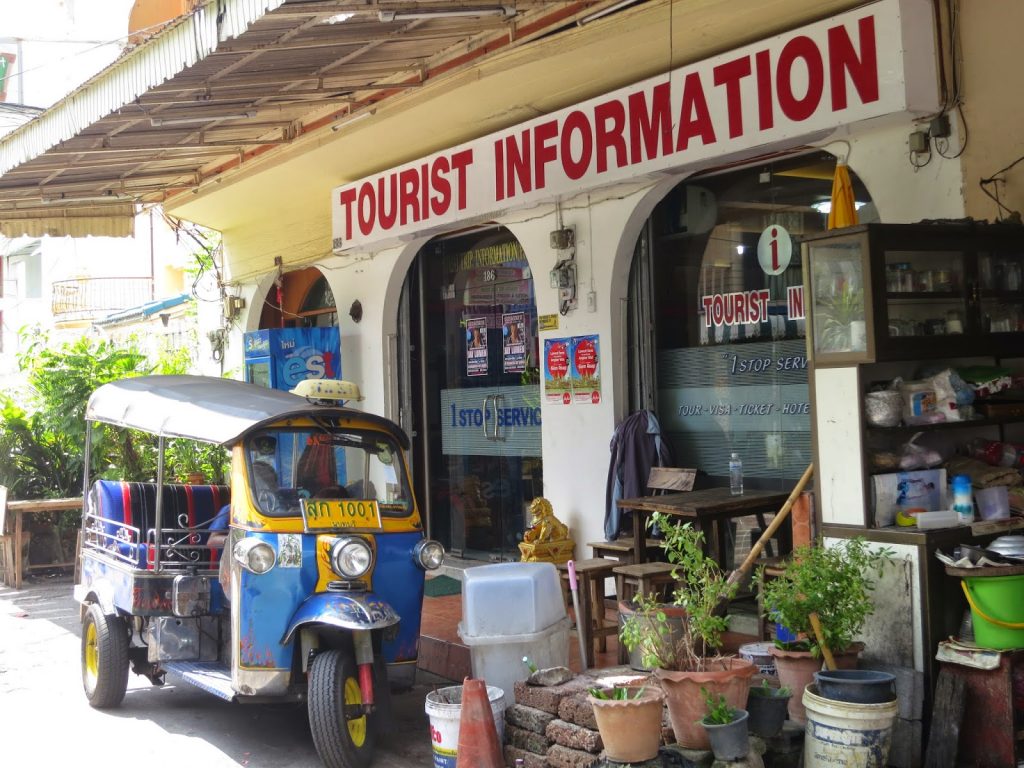 Drivers are renowned for increasing their prices for tourists or potentially trying to take you somewhere you don't want to go, or for a tour round all the commission based gem factories.
You shouldn't miss out on a tuk tuk experience, but always agree the price upfront, as well as knowing a reasonable fare to agree to. We often travelled out to a destination via a different mode of transport, and then negotiated a tuk tuk back, using the cost of other transport as the basis for negotiation. After all its OK to agree a slightly inflated price for the 'local' experience but it's not a good idea to let yourself get ripped off completely.
Here's a few more tips www.bangkok.com/information-travel-around/tuk-tuks.htm.
Bus
I would only recommend using the Bangkok buses once you have been there a while, and sussed things out a little. They can be very cheap and cover areas not covered by Sky Train or Metro stations, but unless you know what number bus you need and where it stops, it can be difficult to use.
The Bangkok Transit website has a useful route planner tool, which also incorporates the BTS and MRT as well as the buses. See here for more.
Motorbike Taxis
These will take you short distances, and are great for getting through bad traffic. However, if you are carrying a lot of luggage or shopping, I do not recommend trying to balance this on the back of a motorbike as well as yourself.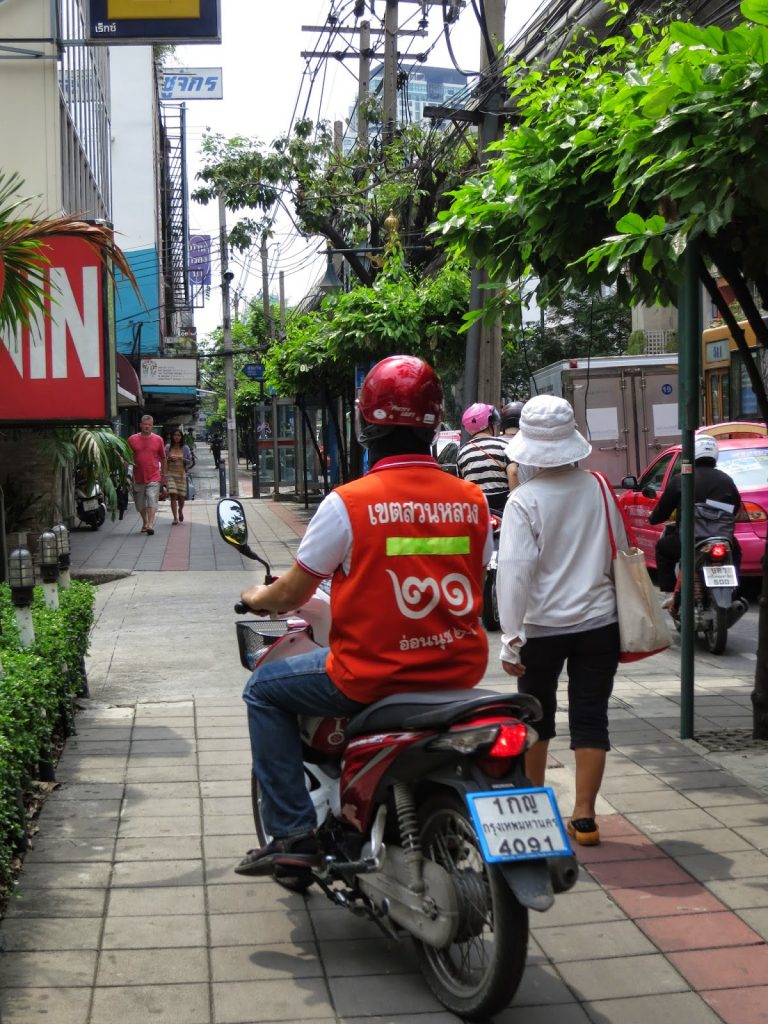 Motorbikes tend to hang out with other bikers, in brightly colored vests. The prices are sometimes advertised in Thai/English where they wait.
Walking
With all the above options, you may be surprised to find that you'll probably do more walking than you ever expected in Bangkok.
Transportation is not very well linked up so you can, for example, find yourself walking 15 minutes from the BTS to the MRT.
Train
If the city starts to become too much, consider taking advantage of Bangkok's two train stations Hua Lamphong and Thonburi, for day trips away.
For in depth information check out the Seat61 site here which has up to date information and advice as well as lots of other useful information.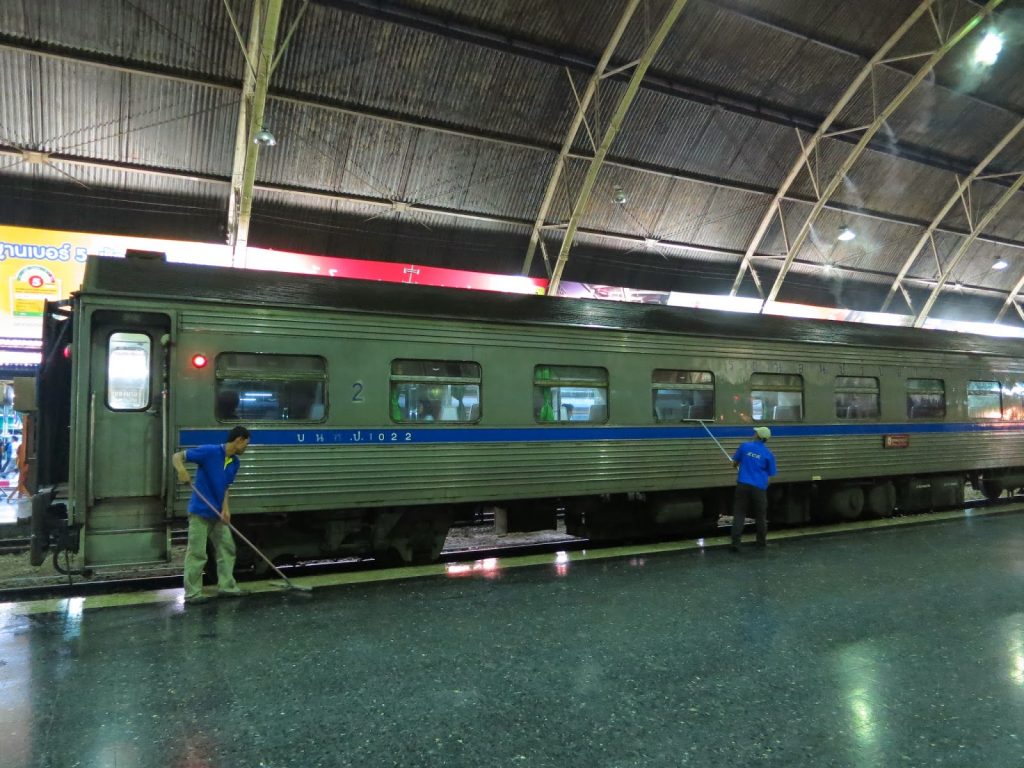 Long-distance bus stations
Buses tend to be a good option for some areas. The bus terminals can be difficult to get to, particularly with luggage, so it's worth taking a taxi to them.
There are 3 long-distance bus stations:
Northern Bus Terminal (Mo Chit) – covering North/Central/Eastern Thailand.
Eastern Bus Terminal (Ekkamai) – covering Eastern Thailand.
Southern Bus Terminal (Sai Tai) – covering southern Thailand.
Do you have any other transportation tips for visitors to Bangkok?