Just a week ago, the sad news was announced, of the death of the King of Thailand, King Bhumibol Adulyadej. At 88, and holding the record for the world's longest reigning monarch, Thailand's population and a good portion of the rest of the world is in mourning.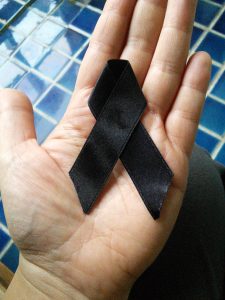 Streets are congested with tuk tuks, food sellers are scattered along the pavements and old ladies are selling their frog souvenirs. But Bangkok is very different to normal, with increased visitors from the provinces heading there to pay their respects.
The lèse majesté policy which is enforced in Thailand, has been in place since 1908 and any traveller there will probably be aware of the potential consequences of non-compliance, that also apply to visitors as well as Thais.  Enforcement of this policy is likely to be heavier than usual in the wake of this tragedy.
The lese majeste policy and the period of mourning must be top of your list of considerations when visiting Thailand in the coming months. The majority of Thai's are wearing black, grey or white, for 30 days, during the initial morning period. This will be until 13th November, and for the next year this will continue for Government officials, as funeral rites are planned.
Here are a few tips that might help when planning a trip to Thailand and in particular Bangkok.
Mood
I cannot put into words the significance of the king's passing to the Thai people. There is little comparable other than when the previous king died in 1946.
To the rest of the world, this should be considered a major historic event. To anyone visiting Thailand in the next 12 months, I recommend you keep an eye on some of the following sources for updates on the situation:
Foreign and Commonwealth Office
Dress
Tourists will not be expected to dress in black, grey or white, like the Thais, but a respectful attitude is a must. Muted colours would be the best option and a black ribbon if you want to show your respect.
Media and entertainment
Most companies have turned their websites and advertisements monochrome, or put them on hold. Television broadcasts have been reduced to non-entertaining programmes. This is likely to return to normal slowly after the initial period of mourning.
Events
Many upcoming events have been cancelled. The Yi Ping lantern festival in Chiang Mai  (see here for my post here for more on this) and Loy Krathong was cancelled initially but has been reinstated, but without entertainments such as fireworks.
The full moon party on Koh Phan Nang has also been cancelled. In addition, many openings, launch parties, music gigs etc have all been cancelled.
Opening hours
It seems to be business as normal, in many places, but there is muting of music and entertainment, and bars are closing much earlier than usual. It's worth checking ahead if you have a particular place in mind.
The Grand Palace and Wat Phra Kaeo (temple of the Emerald Buddha) are currently closed to tourists until the end of the month. It is possible to go and pay your respects (if you are wearing black). Most other tourist attractions remain open, and areas outside of Bangkok are apparently less impacted.
Alcohol
Sales of alcohol have been restricted to certain times. The closing times of bars and clubs is likely mean a more subdued experience.
Further changes
The government is currently considering initiating the royal succession process some time after the first 15 days of mourning for His Majesty King Bhumibol Adulyadej.
The Crown Prince advised that royal funeral rites should continue for at least one year, which will be followed by the cremation ceremony. The coronation is expected to take place some time after this, although the constitution allows for the Crown Prince to become King before his official coronation.
Whatever your plans are for any visit to Thailand, I would not suggest you change them. However, you may want to consider the latest situation before making any future arrangements.
It is a difficult and sad time for the Thai people, and as a visitor it's important to respect this. If you are heading to Thailand now or in the coming months, be prepared. The deep rooted culture towards the monarchy is clear, and with these coming days and months there will be changes.