Do you have a travel story to share?
When I first started blogging about my travels back in 2006, it was just really for friends and family to see what I was up to and 'dip into' rather than be bored at length when I returned.
However, I'm probably one of my biggest readers, as I love reminiscing about places I have been, and often find myself looking over what I have written when planning a future trip.
I urge you to do the same next time you travel – keep notes, a journal or even better a smash book 😉 and don't just leave your photo's on a memory card…
If you're not particularly technical and just want a place to share your travel related thoughts, I do recommend Travelpod.com, which I used for many years, and still keep up to date. It has a cool map that marks where you are, and uploading photo's from a PC is fairly straightforward. Update: Travelpod was closed, but Travellerspoint is a similar platform.
There are many other blogging tools and applications available, so you should be able to find something to suit your needs.
I personally find that writing whilst on the road is made easier by my trusty tablet.
I spent a long while researching what would suit my needs before investing in my Nexus 7, and I have yet to be disappointed. Everything I need to stay in touch and keep my journal, notes and blog updated is on this device.
Want a chance to win one for yourself and want to give travel writing a try?
Last year, you may recall, I entered a travel writing competition run by Go Walkabout Travel Insurance.
No, I didn't win, but I did get my travel writing published in the "Hidden Gems Travel Tales – An Anthology of Travel Writing Entries", that was produced afterwards – see my post for more details.
This year I have been asked to join the panel of judges for the latest competition. The deadline for entries is 28th February – so you still have plenty of time to craft something and enter. Why not give it a try, and be in with a chance of winning your very own Nexus 7.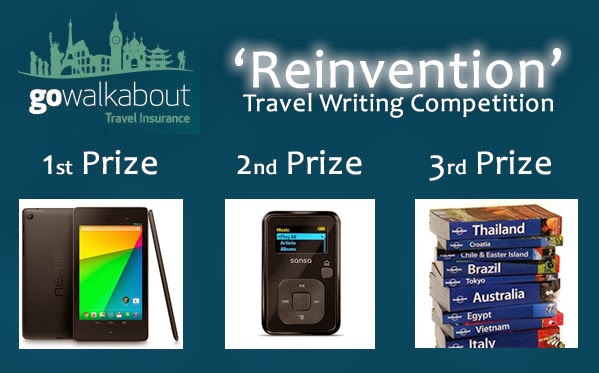 Full details of the competition can be found here: http://blog.go-walkabout.co.uk/2013/10/reinvention-travel-writing-competition/
If you make the top 10, I look forward to reading your entries. Good luck!