The West coast of Malaysia unsurprisingly isn't much different to the West of Thailand at this time of year. Rainy season spans from April to November, so we were glad to be heading to the East coast (with almost opposite seasons).
Whilst researching things to see and do on the Perhentian islands, I was very excited to find a turtle conservation project where we could volunteer. After a few issues with some admin and eventually locating somewhere for a medical certificate (for diving), we got ourselves to Kota Bahru, and the following day took a taxi to the boat jetty at Kuala Besut.
This is the only way to get to the Perhentian islands, as there is no airport and also no roads. The boat journey takes about 45 minutes but is extremely bumpy so I recommend sitting nearer to the back. Note that there is a marine park fee of 5RM (£1) per person and a return boat costs 70RM (£14).
The project is located at Bubbles Dive Centre on the South East of Perhentian Besar (the big island). I was pleasantly surprised to find a lovely private beach as well as some very reasonable digs to enjoy during a week of volunteer work. To top that, the food was amazing with a buffet breakfast, lunch and dinner with both Western and Malaysian dishes. Sadly, working either of the night shifts patrolling the beach, didn't allow for the cooked breakfast experience. Instead, lunch soon became the first meal of the day as my body clock adjusted to the late nights/early mornings far too easily.
The first day was nice and easy, with an afternoon orientation and an extremely interesting turtle talk before dinner. There were 8 volunteers there at the same time, and we were all keen to get involved in the night patrols before our allocated shifts started, so when they did, the following day, we knew what to expect.
I learnt a lot during the turtle talk and was sad to hear of the declining numbers of the 3 remaining species of turtle that are found in Malaysia. More shocking was the news that the 4th species, the leatherback is virtually extinct in Malaysia.
Conservation projects like the one at Bubbles have been running for a number of years, but the results may only become apparent in many years to come, as turtles are estimated to live long lives; up to 100 years and may only reach sexual maturity after 15 to 40 years depending on species.
The turtles found nesting here are green turtles and generally return 30 years after hatching; laying an average of 100 eggs at a time.
It is hard to accept the fact that the turtle hatchlings we released whilst there only have a small chance of survival, due to the impact of the developing world on feeding grounds, and other factors such as the excessive shrimping boats that may entrap them in error.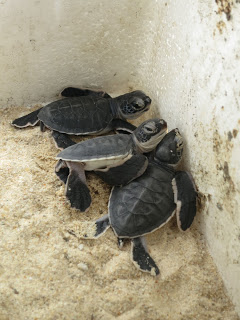 hatchlings
The tourism industry continues to destroy many coastal habitats including beaches and coral reefs. Even the work carried out by a conservation team is not fail safe and the beach they protect cannot be fully protected when humanity is involved.
Despite that, the work carried out at Bubbles is being carefully monitored and the data collected will in time be adequate to determine whether conservation has limited the damage to turtle life here on Perhentian Besar.
I was able to get involved in a variety of tasks during my time on the project and that was during a week without nesting turtles to deal with as well:
– Jobs in the hatchery, which has recently been extended: nest health checks, clearing out unhatched eggs; fixing up and making lids to protect nests from predators; digging more holes for nests; fixing the fence.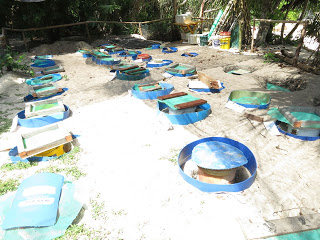 the hatchery
– Beach clean: collecting rubbish and helping with recycling anything useful.
– Maintaining information: keeping guests updated; sharing information via white boards/signs; collecting and verifying data.
Maintaining information and making people aware is probably the most important part of conservation, as often a simple lack of understanding can result in damaging actions. For example, cigarette butts and plastic are the most common waste found in the stomach of a turtle. During a beach clean it was evident that guests should be made aware of this small fact! So, we created some useful ashtrays, which we hope will increase awareness amongst guests and reduce the littering.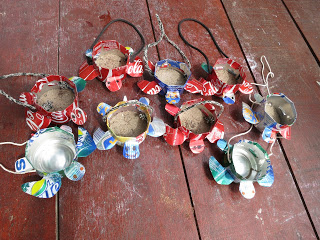 ash trays from recycled cans
Some volunteers got involved in coral cleaning in the nursery which is being maintained just off the beach. As I cannot dive I was given the opportunity to take a Discover Scuba Dive (DSD) course but unfortunately struggled to overcome my phobia of being under water,  only managing to complete the mask clearing skill after about 20 minutes of pathetic attempts in knee deep water.
Perhaps under less time pressure and with more help I will have another go elsewhere, but when you just don't feel it underwater, sometimes it is a sign to stick to the snorkeling and accept that you will never be an underwater baby!
As well as daily jobs, there are the all important night patrols, which were also a good time to get to know people better. The 7 and 5 hour shifts were filled with card games and consuming coffee to stay awake.
We were unlucky not to see any nesting turtles. However there were a few hatchlings to release quietly one night and also a full nest eruption, which meant an official release with guests and the need for crowd control, so plenty to do.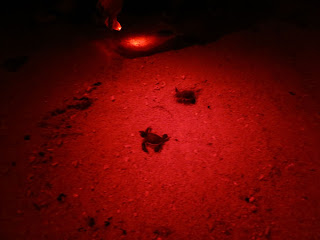 hatchling release
The weekly volunteer schedule also includes some recreational activities: snorkeling (I saw a shark and some turtles), jungle hiking and a visit to the village and fisheries hatchery.
The latter was disappointing as there was no one there and the reality of what goes on here became apparent. There is a verbal agreement with the department of fisheries regarding the collection of eggs as part of the conservation project. Currently only 20 eggs are kept from each nest by the project team and the rest are passed to the fisheries representative for their own hatchery. What they do with them does not appear to be as extensive as the work carried out at Bubbles, but maybe they just had a day off that day!
Important turtle facts:
In Malaysia many turtle eggs are harvested for consumption. In Terengganu (state incorporating East coast and islands), only the sale and consumption of leatherback turtle eggs is prohibited.
The survival rate of emerged hatchlings to reach maturity is 0.1%. That is just 1 in a thousand!
Matured turtles are killed to make turtle products such as jewellery, ornaments and souvenirs.
Trash and waste found floating in the ocean is another common cause of injuries to turtles. Plastic bags can be deadly when consumed.
What you can do to help?
O NOT buy or consume turtle eggs.
Manage your waste.
DO NOT purchase turtle shell products.
Spread the word; highlight the perils that turtles are facing, and what we can do to help them.
Share this post!
The week went really quickly and we very much wanted to stay longer to help out more, and of course to see a nesting turtle. Unfortunately the accommodation was fully booked until the end of August, so we left to console ourselves over on Perhentian Kecil (the small island).
I have since managed to wangle another week volunteering on a turtle conservation project on Tioman Island, a bit further down the coast. It will be interesting to see what they do there and whether there are similar issues. I can't wait…
To volunteer at Bubbles: contact them via their website http://www.bubblesdc.com/conservation.htm