I've heard it referred to as The Rome of the North and more recently the G- spot of Europe. Certainly two very extreme claims for Vilnius, the capital of Lithuania. I can't claim to be able to confirm either reference, as I've not been to Rome. However, Vilnius it's definitely somewhere I would recommend you visit, and here's why.
Vilnius has visa free entry for Europeans and many other countries including the US, Canada, Australia and most of South America. It's reasonably cheap to fly via a low cost flight from Europe and there's a growing tourist market. It's been on my bucket list for some time but many people haven't really heard of it. Expect that to change in the coming years, as more and more visitors head there for a city break, long weekend or even a stag or hen do.
Ideal for a City Break
Much like Prague, the city seems to cater for those that enjoy good food and culture, as well as weekend drinkers. Yet it seems to do just as well at keeping the two fairly separated.
We met up with friends to celebrate my birthday last month, which was something a bit different, as I tend to spend the summer months mostly in the UK; when the weather is better. With this year's ongoing heat wave it was nice to escape the heat.
Vilnius has one of the largest old towns in central and eastern Europe, which means the historical parts are well spread out. There are pockets of cobblestoned streets with beautiful churches and open doorways that lead to tiny courtyards. The arty area of Užupis is a self proclaimed republic, a complete contrast to Christiania in Copenhagen, as it feels safe and welcoming.
If you enjoy wandering and exploring, you could fill a couple of days just taking it all in. The main street, Pilies Gatve, in the centre of the old town, is popular for people watching whilst enjoying good food.
Food choices are vast, which is a good thing as Lithuanian dishes are quite heavy, although you should definitely try them.
So what are my specific recommendations?
1 Free walking tour
As always, first on my list when visiting a new city. We took the free walking tour with Vilnius with Locals, which covers a little history, the old town and Užupis . A great way to get your bearings and plan where to visit next.
2 Hill of three crosses
A lovely place to head to for sunset and enjoy the views. In fact any time of day is good for a hike up the hill, as it's quite close to the centre of the city. The views are fantastic.
This is a challenging walk (uphill with steps), but if you take it easy it shouldn't be too difficult. Allow approximately half an hour and potentially comfortable footwear, although I was fine with flip flops in the summer.
3 Užupis
With trendy bars and quirky shops, this self proclaimed republic by the river is a popular spot for a drink, bite to eat or just to say you have been there.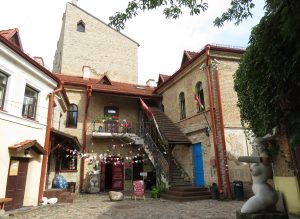 I love the arty vibe and random statues/items scattered around the area. The Constitution sums it up nicely – make sure you check it out on Paupio Gatve.
4 Gates of Dawn
This is the only remaining section of the original city wall and the only one of ten gates still standing. People walk under here saying a silent prayer. The chapel above the gate is open from 6am to 7pm and is well worth poking your head inside.
5 Hales market
Close to the station and Gates of Dawn, this market is the place to venture to early in the morning. It's busy, as many locals purchase their groceries here and there is plenty of fresh produce and good options for breakfast.
6 Genocide museum
With bullet holes still embedded in the walls, this is a melancholy place where you can learn about the turmoil experienced in Lithuania just last century. The prison cells located in the basement are fully accessible, and seem almost left exactly as they were.
7 Street art
Some interesting street art can be found in Vilnius. From a Trump embracing Putin image that is reminiscent of graffiti on part of the Berlin Wall, to the usual messy tagging under bridges and in dark corners.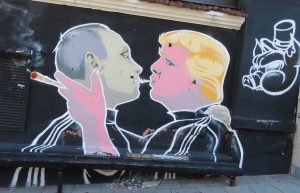 It's worth hunting down some of the prime spots, as there are enough to create a tour throughout the city, covering most of the key sights too.
8 Fried bread
I'll get a food post together soon, as there is certainly more to try in Vilnius and Lithuania than just the fried bread. So check back soon for that. In the meantime the fried bread has to go on the list…
Kepta Duona is a deep fried rye garlic bread which they serve at almost every local restaurant in Vilnius, and all over Lithuania it seems. Some are better than others, but as a fan of garlic bread I couldn't resist ordering it at almost every meal. As for recommending it, you will probably find it's a good accompaniment with a drink or a meal. Just try it. My favourite was definitely at Lockys (also has an amazing menu) but they only serve it with pig ears. Unless you ask for them to do a plate of just the bread (not on the menu), as we did, after we tasted how good it was.
There's plenty more to do and experience in Vilnius, these are just my top recommendations. Do let me know if you have any questions or have other suggestions to add to the list.