Volunteering is something I try to do from time to time when travelling.
Helping on your travels
Sadly, being limited on time doesn't always make it possible so often instead I will try and donate to a worthy cause. One site I find particular helpful for this is Packforapurpose.org, where you can find projects by destination and fill any space in you bag with items needed by them.
Volunteering time
Volunteering your time can involve stopping by a project, getting involved in a special cause or spending a period of time helping with whatever is needed.
Most recently (in 2013) I worked as a volunteer on 2 different turtle conservation projects in Malaysia. Doing this was not not particularly expensive and therefore doable on a budget. I just paid the accommodation and food costs. This type of volunteering is something which I would recommend tagging onto a trip or holiday if time permits.
Read more about the projects here:
When I visited in Sri Lanka (in 2011) I planned a visit to a childrens centre there and had great fun card making with some of the girls.  You can read all about it on my old blog here.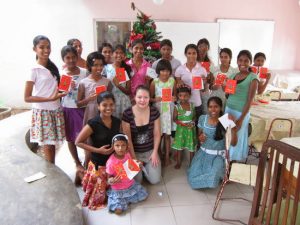 Other experiences
Here are some of the other volunteering opportunities from my travels:
Cambodia (2006) – Wat an Experience! A meal with a local village arranged by a waitress from the hotel, we ate with the families and danced the night away.
Bolivia (2007) – Back to School … and loving it! Teaching English after school and staying nearby in the home of one of the teachers. I also took Spanish lessons with a difference and got to hang out with my teacher and experience local life.
Bali (2007) – Much better. Visiting an orphanage and teaching English. Plus I did some learning of my own with lessons in the local dance, with the girls there.
Organisations
Of course there are plenty of companies who organise volunteer work, arranging everything for you. It can be more expensive than arranging this directly, but it will be well organised and you don't have to worry about anything going wrong, and they often have specific insurance cover.
I tried out i to i to work for a couple of weeks in 2006, and ended up volunteering on a nature reserve in Ecuador. I'd chosen this option as I was with a friend and we needed a little more than just turning up in the hope of finding something we could help with. This was a great experience and you can read more about it here.  As well as working on a reserve we helped out at the local school. There was plenty of interaction with the local community as well as hard work on the land.  For me one of the fondest memories was keeping watch over a birthing pig (in shifts, for a number of days). It was struggling through the experience and needed a lot of TLC.