How many people have Brazil on their bucket list?
Of course, this year and 2016 will inevitably be attracting visitors, with the World Cup, Olympics and Paralympics taking place. However, if you plan your trip carefully, there are some places you should try to include in your itinerary as well as the capital, Rio de Janeiro.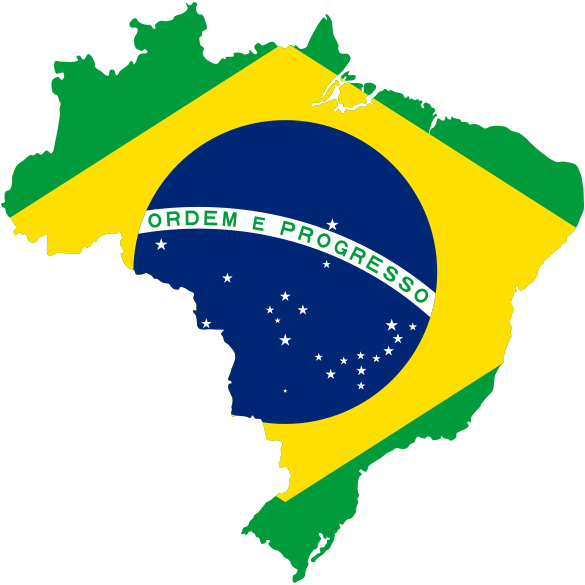 Source: By Pumbaa80, Kelson, OAlexander, Marcos Elias de Oliveira Júnior and Giro720, via Wikimedia Commons
The distance involved in travelling around Brazil can make a short visit tiring, so it's worth limiting your movements between just 2 or 3 areas, unless of course you are visiting for an extended period.
Brazil is a family friendly country and I found children were welcomed, particularly in the more visited places such as Iguazu falls.
Young people do juggle footballs on the streets and beaches and there are several areas where dancing to samba rhythms is just a matter of course… the vibe can be infectious.
I would highly recommend considering Brazil for your next destination and maybe some ideas from my trips below might convince you further.
1. Iguazu falls
The Brazilian side is the best place to start, as it gives an overview of the layout of the falls, and can be covered in half a day if you are short on time. The views on this side are spectacular and the highlight is the opportunity to walk out over the Rio Iguazu, just below the biggest waterfall 'Devil's Throat' and get absolutely soaked for the sheer hell of it. Obviously you should come prepared to get wet, and if it's the cooler time of year you might want to be wearing waterproofs.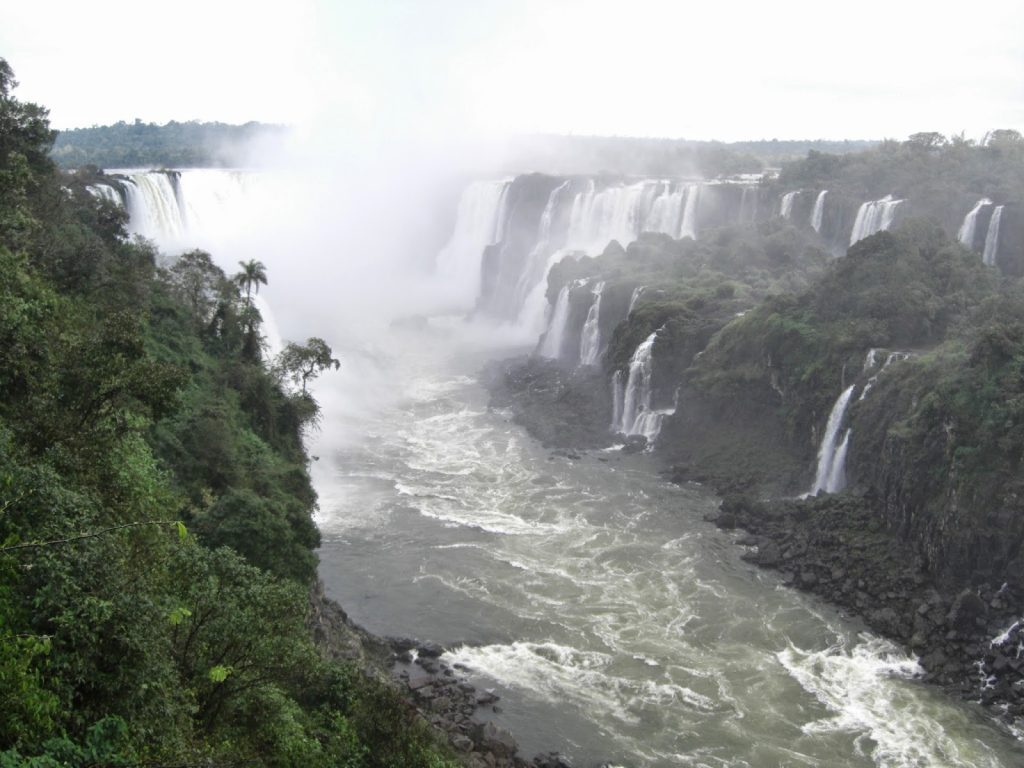 Iguazu view
The Argentinian side really needs a whole day to get up close and personal. The extensive network of paths above, around and below the many cascades will easily take a whole day to explore. The upper walkways has a trail to the 'Deveil's Throat' where you can view from above as the thundering water falls beneath your feet.
Everything in the parks is clearly marked and there's a paved walkway around and across many of the parts that you can access. There are tourist buses (with animals on the outside) on the Brazilian side or a tourist train (real hornby style!) on the Argentinian side, that gets you from A to B to C etc.
Getting there: The best way is to fly from Rio or São Paolo (Brazil) to Foz do Iguaçú or from Buenos Aires (Argentina) to Puerto Iguazú, and take a road transfer to the park.
The border crossing between the two sides of the falls is well managed and the journey takes about 45 minutes, including border formalities.
Where to stay: To ensure you have enough time to fully appreciate your visit I recommend staying for 3 nights, which will give you 2 full days to explore both sides of the falls at a relaxed pace. It is possible to visit both sides with just a 2 night stay, but any less will just leave you feeling rushed.
I stayed in Puerto Iguazu, on the Argentinian border, which had turned out surprisingly un-touristy and very laid back. Arranging tours from here is very easy, the hardest part is making a decision from the excessive number of tour companies here.
2. Buzios
If Rio's Copacabana beach, which can be dirty and crowded, doesn't take your fancy, why not head a couple of hours away from the city, to Buzios.
Buzios was once a simple fishing village, which was discovered in the early 60's by Brigitte Bardot and her Brazilian boyfriend. Over the years it has changed dramatically and even in 2005 when I was there it felt very upmarket. Finding 'rustic' experiences were certainly difficult, as this beach destination caters for the more luxurious holiday maker.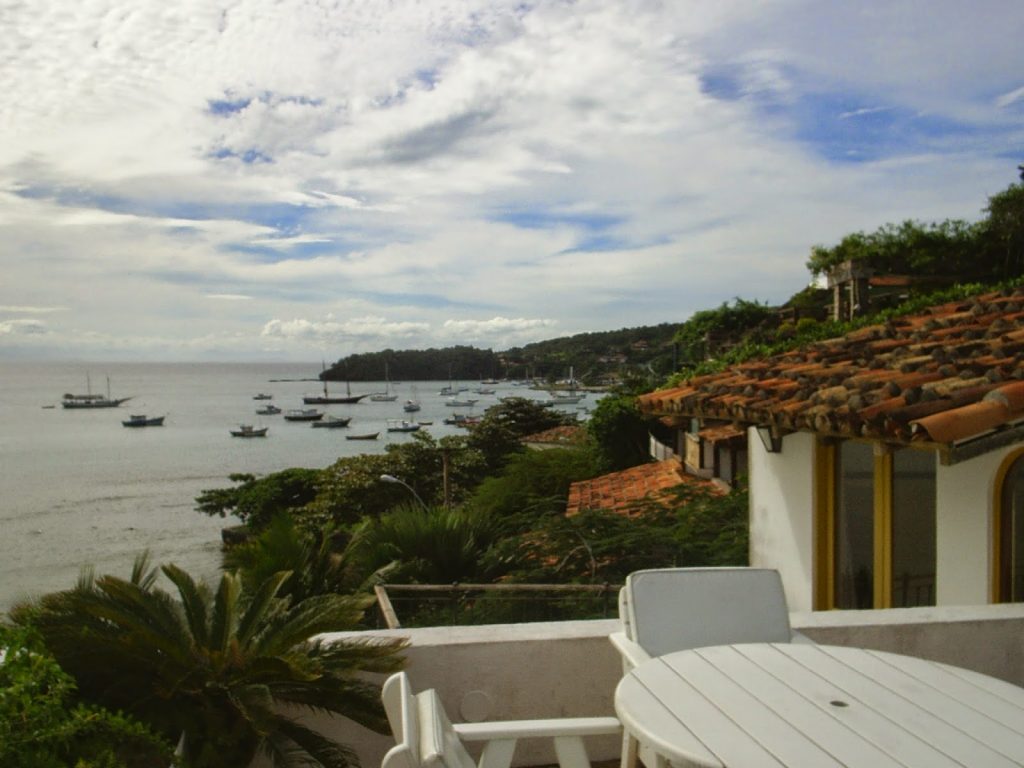 A room with a view, Buzios
Ruas das Pedras is the cobblestone village at the centre of Buzios where you can enjoy exploring boutiques, fine restaurants and bars. Make sure you take the opportunity to savour a Caipirinha during your stay.
Getting there: Driving, taking a bus (for example here) or a taxi via your hotel are the best options for Rio to Buzios. The journey by road will take approx 2 hours.
Where to stay: Most of the best places to stay are around the beach areas. Choose a place that suits your style and explore other beaches by car, catamaran or on foot.
3. Amazon jungle
Take a riverboat trip through the Amazon or focus on one area. The Amazon covers 6 states and the terrain varies significantly.  The Lonely Planet site gives some good tips to consider when thinking of taking a boat trip: http://www.lonelyplanet.com/brazil/travel-tips-and-articles/76411
Tours through the Amazon are worth considering if you want to get deeper into the forest and explore the lesser visited areas.
The 2 main entrance points to the amazon are Manaus and Belém.
Manaus is in the middle of the Amazon Basin and a good place to organise safari cruises and lodges. It also has good access (by boat or air) to the town further inside the forest, Tefé. Note that this is one of the cities hosting the World Cup this month.
Belém is located at the mouth of the Amazon and began as a colonial slave port. today it is a city famous for alternative culture in the north of Brazil.
Getting there: Both Manaus and Belém are best accessed by air. Flights from Rio depart daily.
Where to stay: There are backpackers hostels and hotels to suit every budget in both these areas.