So, I'm now out of the jungle and enjoying a few days of rest on the island of Labuan, in Sabah, Malaysia (still Borneo).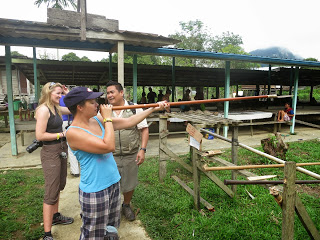 Catching lunch 😉
Gunung Mulu national park was very nice, but after 5 days of jungle trekking and visiting caves full of guano (bat poo), my knee is still aching and my shoes are yet to recover (currently soaking in a bucket).
The highlight was the garden of Eden valley walk via the Lang's and Deer caves which you can read about below: Hiking to the garden of Eden valley.
We didn't make it to the Pinnacles, despite attempting the 3 day trek, unfortunately it was rained off. There's more detailed posts on the rest of my time in Mulu here: Caves and a little disappointment
After Mulu, we passed through Brunei on our way over to Sabah. That was literally a tick in a box and nothing more as it has to be the dullest country I have ever visited. Barely worthy of a blog post, but of course I have one. If you are passing by I have a few recommendations. But if you are planning a trip, don't bother including it on your itinerary, unless it's Hari Raya. See my Brunei post here for more: Not completely dull
In other news…
I'm still chugging out posts from Singapore, and there's still more to come. Here's the latest: Not just a marina, Marina Bay, Singapore
I've now passed the 6 month milestone, but am still no closer to determining when I may return to the UK. Certainly not for the winter!
We are heading through Sabah next and will be in Chiang Mai in Northern Thailand to enjoy the lantern festival of Yi Peng on 16th November. Want to join me… you know where to find me 😉 x