Seville is filled with numerous tapas and copas bars and restaurants. So much so you will be overwhelmed with the choice and probably much like me on my first visit… sway towards the touristy places and consequently the more un-traditional dishes.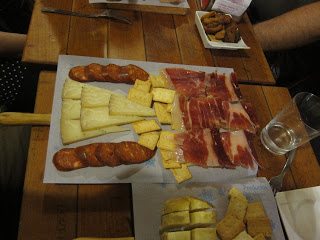 Tapas originates from its direct translation: Tapa, meaning lid or cover. Regardless of which of the many stories you decide is most feasible, your focus will most definitely be on the variety of dishes rather than the fables of their origination.
The art of eating and socialising in Spain, promises the opportunity to share and try these small plates of food, whilst moving from place to place, as many tapas eateries will specialise in certain dishes. Seville in particular maintains its tradition more so than other cities in Spain, so food lovers should put it at the top of your list for your next destination.
I highly recommend taking a tour if your Spanish is a little lacking, or just to fully experience local specialities and learn a little about the history of tapas. I wasn't able to book with Azahar Sevilla, but was not at all disappointed with the alternative We Love Tapas tour. Very informative and a great night out.
With so many dishes to choose from these are my must try recommendations, collated from both independent exploration over the years, and some of the traditional dishes from the tour:
1. Patatas – potatoes
My favourites are Patatas Alioili, salad potatoes (served cold) in a famous garlic mayonnaise, or Patatas Bravas (more commonly found outside of Seville), fried potatoes in a spicy tomato ketchup. Both will accompany most dishes.
Potato croquets (croquettes) are also really good, either plain or with jamon (ham). These tend to be mashed potato rolled in breadcrumbs and fried.
The other common, but traditional potato dish is the tortilla de patatas, often just referred to as the spanish omelette. This one is a good one for filling you up if you are still hungry.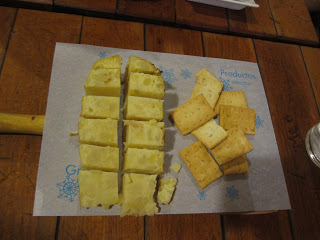 2. Jamon Iberico – Iberico ham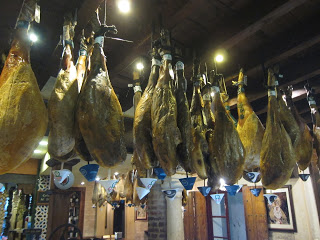 Similar to Serrano ham and once you have tasted this you will choose it over Serrano in future.
The cured meat is cut very thinly and can vary in price. The more expensive the better but even the cheaper varieties are not cheap.
3. Bacalao con salmojeo – salted cod with cold tomato soup
The thinly sliced salted cod (bacalao) on its own is also very good but I really enjoyed the version with salmojeo which is a chilled tomato soup 'dripped' on the top.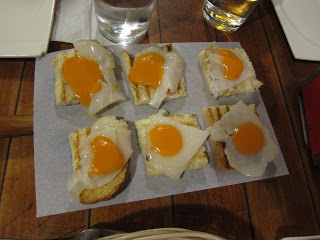 4. Espinacas con garbanzos – spinach and chick peas with olive oil and garlic
A really great combination and probably quite healthy too.
The best version of this dish I tasted whilst in Seville was served in a tiny bar, La Frescuita. It's one of their specialities and certainly worth a quick visit, although many other places serve this traditional dish.
5. Carrilleras – Pork cheeks
One of those dishes you would never try unless you were recommended it. Even I was reluctant to give this one a go, but it really is that good. Cooked for hours, the meat just melts in your mouth.
Others: pork scratchings and chorizo – the venison version. These vary from place to place and aren't often found on every tapas menu.
Have you tried these dishes? I'd love to hear what you think?
Got other recommendations… please do share your favourites?