Today I watched the BT Wheelchair Rugby National Championships at the Copper Box in London's Olympic Park. Tickets are still available for the Rugby Challenge in October too – see here.
This got me thinking about my latest series of posts on unusual experiences 'Fulfill your travel bug with: something unusual'. So in keeping with the theme, today I'm sharing with you some suggestions for unusual things to do on wheels.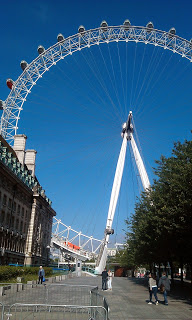 Whether you enjoy cycling, getting naked or just a bit of fun, you might just find there's something here to include in your upcoming plans …
Personally, I'm not good on wheels of any kind. I fall off bikes and fall over a lot generally, so for some of these unusual experiences I'm better off just spectating.
1. Friday night skate – Weekly
If you can stop, turn and control you speed on hills when wearing either roller blades or roller skates, then this is the must do event for you on Fridays in London.
Covering 10 to 15 miles, this is a well organised weekly event, which has been going for years now, so may not be that unusual – but it's unknown to many I'm sure.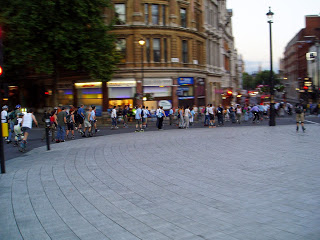 Each week, the participants will take a different route. Given the unreliability of the British weather there is always an announcement on the webpage before the event, to confirm if the skate is to go ahead.
There is also a Wednesday night skate – see here. Or how about the tamer version also run by London Friday Night Skate, the Sunday Stroll – see the LFNS website here for details.
If like me you are a little unconfident on skates, why not try the alternative and easier event on Saturdays in Battersea Park – see the Easy Saturday Skate website for more.
All these events are free to take part and on Saturdays there's often people on hand to teach and help you.
2. Tweed Run – April
Last month saw the 7th year of this annual vintage cycling event in London. A little bit quirky and a lot of fun for the 700 participants dressed up in their best tweed, as they peddle past some of London's iconic landmarks, and enjoy traditional tea and a picnic.
Even if you're not a keen cyclist, or the owner of a bicycle (vintage is best), it's quite a site just to watch.

The penny farthings are by far my favourite, have you ever seen one try to stop (no brakes!) and some of the outfits of those taking part were pretty impressive.
If you fancy giving this a go, tickets this year were £25 (with £5 going to charity). More details on their website here.
The idea is taking off in other cities too, so why not check out if there is a Tweed Run event local to you. For example Colchester are holding theirs on 29th August and Milton Keynes held theirs in March.
3. Cheese Rolling – May
This event involves my sort of wheels, as they are made of cheese!
Held annually at Cooper's Hill, Gloucester, usually on the late May Bank Holiday, it's certainly a little bit unusual.
Gloucester is twinned with Gouda in Holland, so there is often attendance from the cheese experts from the Netherlands as well as a number of other countries taking part.
The aim of the game is to roll your round of cheese and chase it down the hill, the winner of course being the first to cross the finish line. The cheese often rolls ahead and the competitors often take a tumble. So, quite a dangerous sport it seems, with regular casualties.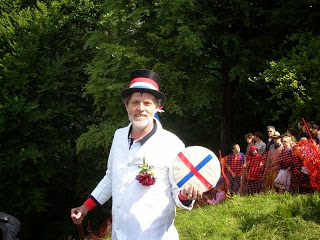 The crowds at the annual Cheese Rolling often reach in excess of  5,000 so if you are planning to take part or head along to this event, make sure you plan or book (accommodation) ahead.
More details are available on the Cheese Rolling website here.
4. Naked bike ride – June
Surprisingly there is actually no law against nudity in England. So feel free to consider arranging your own event sometime, as no special permissions are necessary.
However, you might find it more comfortable to take part in an organised event, which is guaranteed to have a significant turnout.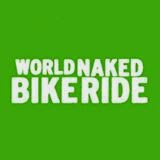 Getting naked and riding a bike in unison seems to be a popular, with thousands taking part. The aim of the annual World Naked Bike Ride is to protest and raise awareness of issues, such as safety of cyclists on the road, reducing oil dependence and saving the planet.
Events around the globe are scheduled to take place around the same time each year. In London, this year it's on 13th June, so hopefully the weather will ensure some nicely tanned cyclists will be enjoying the route.
If you're interested in taking part, or curious to find out more, check out the WNBR London facebook page for details here. The best news is that's it's free to take part.
5. Duck Tours – Daily
Strictly speaking, the highlight of a tour with Duck Tours is of course the fact it travels on both wheels and water. So not entirely a 'wheel' experience but certainly unusual.
This tour is for kids and big kids, and bound to have you quacking like a duck as you flap your arms at passers by.
Quite a sight is one of the fleet of 9 ducks, passing along the streets of London, that often people stop to take photos; so you feel a bit like royalty when on board.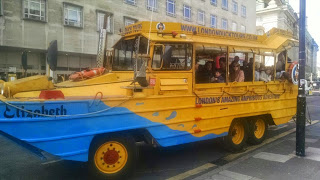 A Duck Tour is certainly a different way to see some of London's sights, and gives an unusual perspective. Classic tours run regularly throughout the day and there are a number of other special tours – check out their website for more.
Do you know of any unusual things to do or experience involving wheels?  Have you tried any of the above?