I remember when it seemed like everything was made in Taiwan. Plastic items, dolls, computer parts; all with the same little 'Made in Taiwan' label.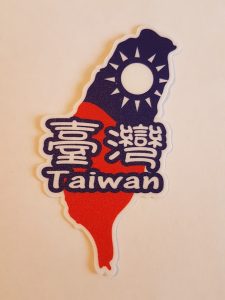 Back then it didn't really dawn on me that Taiwan was much more than a gigantic factory, or that its status as a country was so ambiguous.
These days everything is made in China. As Taiwan advanced quickly to a creation industry and those labels were replaced by 'Designed in Taiwan'. It's now the original technology pieces that dominate the export markets.
However there are some things that are originally Taiwanese, still made there, and are worth tracking down if you visit. All food stuffs of course… here's my list of specialities made in Taiwan.
This drink is usually served cold and consists of black tea, milk, sugar and tapioca balls. The tapioca adds a sticky, chewy effect and is an acquired taste, particularly to those who prefer not to find lumps floating in their beverages.
The exact birthplace of Boba/Bubbble or pearl tea is somewhat contested.
During my recent visit to Taiwan, I tried for myself the top contenders at both Chun Shui Tang in Taichung, and Hanlin Tea Room in Tainan, concluding with a definite favourite.
I was informed that the original version of pearl tea at Chun Shui Tang in Taichung was made with black tapioca and UHT milk. The latter of which immediately had me questioning it's authenticity. On the web and onsite, the DIY option was advertised but when I asked the lady to take this option, I was told "no possible". They require an advanced booking to prepare the materials… so I settled for having it made for me.
The white tapioca served at Hanlin in Tainan was definitely my favourite, refreshing but sweet, but I did choose to combine these with a jade green tea with lemon, avoiding milk.
Bubble tea quickly became a staple throughout my Taiwan travels. I particularly liked the combination of flavoured jellies and tapioca, but the jade green tea with lemon was still by far the best.
The traditional rich shortbread coating and a sticky, chewy pineapple filling dates back to a time when pineapples were surplus to requirements. This results in bakeries making pastries with pineapple in order to use them up.
Commonly gifted at weddings and special occasions. There are several variants on the flavour, although the pineapple remains the most popular.
More recently this ceremonial treat had been globalised and is now one of the most sought after souvenirs from a visit to Taiwan.
We certainly ate our fill of samples whilst in Taichung and Taipei. Although all were very tasty, many are over priced in the larger bakeries, especially the branded varieties. We found those deemed 'home made', sold in the night markets were the best value and just as good; almost incurring excess baggage on our flight home as a result.
Kuo Yuan Ye, is one of the most successful pastry shops, also fronting the rather unimpressive pastry museum in Shilin, Taipei. If you have a few hours to spare it's possible to join a workshop to make them yourself. We were limited on time, so I'd love to hear what it's like.
Translating to "shoulder pole noodles" these originated around the time of the Qing dynasty. They  are assumed to be linked to the 'slack season' experienced by fisherman when business was quiet.
My first taste of these noodles was in Taipei's Tu Hsiao Yueh restaurant in the Dongmen area of Taipei, a well known chain. We ordered 3 bowls with various noodle options as the minimum spend per person was NT$100, and all were very good but it did feel a little touristy.
Of course I had to try these in the city of Tainan where they are said to have originated. Just as good at Chih-kan Peddler's Noodles and sitting at the road side on tiny wooden chairs at reconditioned school desks was much more authentic.
The recipes vary but generally consist of minced pork stewed with shrimp served on a snack size portion of oiled noodles.
Not something you can take home to family or friends but definitely one of my favourites of the noodle options around Taiwan; an absolute must try when you visit.
Sun cakes (taiyang bing)

Another delicacy said to have originated in Taichung is this round flaky pastry with a condensed malt sugar filling.
The location of the Wei Qinghai original stall is now the sun cake museum, where you can stop by and taste before you buy, or even make and take them home with you. As with most of the places tagged as the'original' or 'best' I found the cakes were over priced here but the museum is worth a quick peek.
If you want to stock up on sun cakes whilst in Taichung, head to one of the shops around Ziyou Road instead. We really liked the options at Ah Ming Shi which of course you can try, along with many other flavours; including pineapple cakes, before you buy. If you can't venture as far as Taichung, there are many places selling then in Taipei including the airport.

This restaurant chain is world famous, with branches in Hong Kong, Australia and the US as well as several other countries.
Originally founded as a cooking oil retail business in in Taipei in 1958. The business was forced to rethink due to changing demand. In 1972 it transformed into the first restaurant of the well known chain. The original location remains the site of today's much larger premises.
The success of in Din Tai Fung is surprising as it did not invent the speciality Xiaolongbao (steamed dumpling); this is said to have originated in Shanghai, China.
We of course tried and tested them out for ourselves, along with several other dishes, in the restaurant located on the original restaurant site at Taipei 101. These were really very good, as was everything else; although we had a wait of around 45 minutes for a table, it was actually worth it.
The first Hong Kong branch of Din Tai Fung earnt a Michelin star in 2010. All the branches we saw in Taipei and Hong Kong (next stop) were filled with tourists and locals, ensuring the waiting time was long.
There are of course many options for eating dumplings in Taiwan, but if you plan to eat ahead of the busy periods this restaurant chain is well worth checking out. It was a very pleasant experience after some of the more local food choices we had elsewhere in the city.
There are many themed/novelty restaurants in Taiwan, featuring Hello Kitty for example or furniture made from cardboard at Carton King. However, a made in Taiwan post just wouldn't be complete without featuring a Modern Toilet restaurant; the chain that everyone Instagrams their photo's from.
With around 10 locations around Taiwan, this is your chance to find out what it's like to eat from a toilet; perhaps even drink from a urinal or urine collection bottle.
The original opened in 2004, having grown from a small ice cream shop to a full on menu and restaurant of toilet themed dishes. The food is actually quite good, thankfully.
The decor, and seating is also toilet themed. The seats are actual toilets that probably were or could be functional at some point. Although the lids are now glued down – probably to avoid an incident. I can imagine this place is popular with tourists, Taiwanese hipsters and families. Kids would have a field day being able to play with their poo food; as for adults!
The combo option provides you with poo shaped bread rolls and an ice cream turd, the latter of which is served in a squat toilet of course. The popular choice is a curried dish which arrives in it's very own toilet.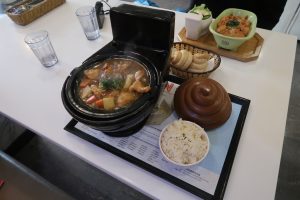 You are of course paying for the experience, but it's great fun and bound to fulfill your social media allowance for the day.
Taiwanese Burger (Gua Bao / 割包/刈包)
This cute sandwich like burger traditionally contains, pork, pickles and peanuts. However, we tried several that contained noodles and which I just couldn't resist every time I saw them. I mean, what's better than a noodle dish – noodles in a mouth shaped bao bun of course!
It's origination is unconfirmed. Although we were told by our guide in Taichung that Bashibao on Zhongshan Road was a likely contender. They certainly knew how to make them – but only served these up around breakfast and lunchtime. Once they were gone that was it for the day.
There was a stall at the Hualien, Dongdamen night market selling beef and chicken options, so it's definitely a countrywide speciality.
Have you been to Taiwan, know of any other foods which originated there? Of course, it's not just about the food, Taiwan offers so much more, so check back soon for more from my travels or follow me on Facebook or Twitter for updates.