I am a very keen walker. In fact on my to do list remains a large number of the 214 Wainwright mountains to climb in the Lake District, but fortunately I have the rest of my lifetime to try and achieve them :).
Last year I got properly introduced to the world of geocaching which is a outdoor treasure hunt game, and have been completely addicted ever since. Whatever the weather you will often find me out and about somewhere, if I'm not travelling or crafting the hours away, that is.
In August, I collected my 1000th geocache, just over a month before the 1st year anniversary of my first find, back on 23rd September 2011.
And what better way to mark both those occasions than to combine my other hobby with my love of the outdoors and create something for my scrapbook to mark the occasion.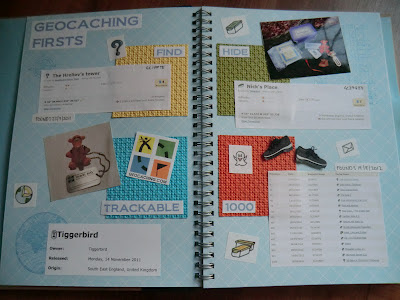 Check out this link to see what a Smash book is all about.
I love compiling my Smash book from my travels, as I can cart it around with me wherever I go, gluing and sticking things in that I pick up along the way and it doesn't have to be neat and tidy :).
I love to travel, I love to walk and I love to craft … and I can combine all these things and often do!