Just last week I shared with you my Impressions of Cuba and then this week the US decides to normalise it's ties with Cuba, and loosen it's restrictions on travel and commerce. There is inevitably more to follow now that Obama has set the stage for Congress to follow up, although of course any changes will take time.
I'm just glad I managed to visit Cuba now and you should too, if you haven't done already.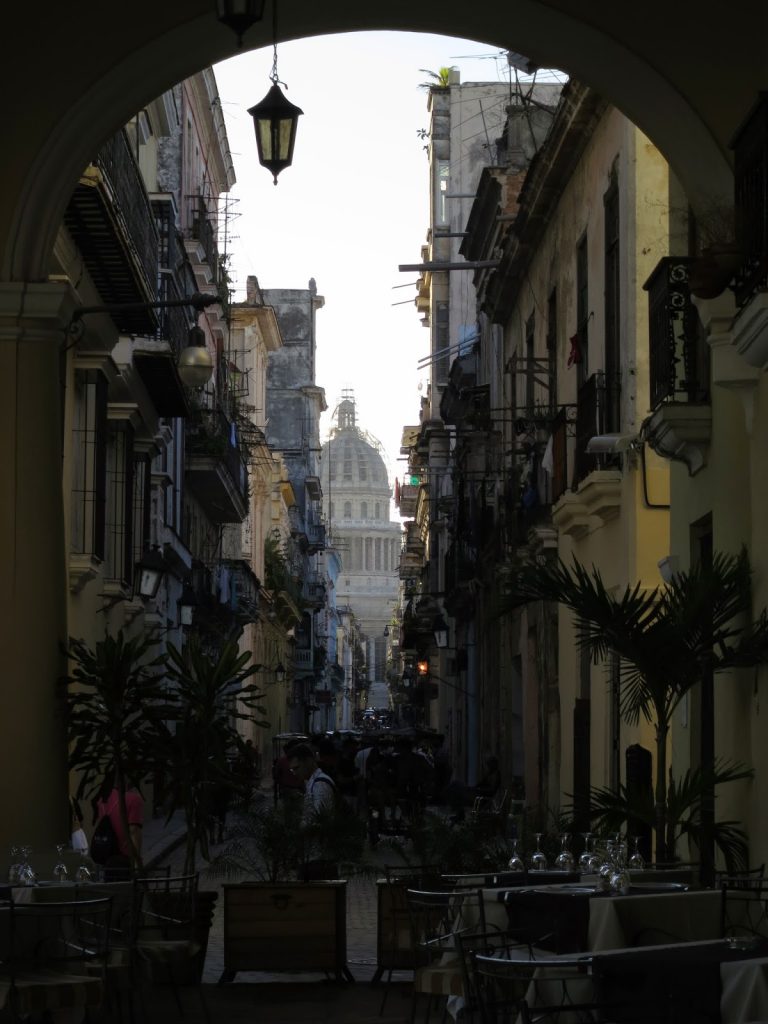 Many visitors to Cuba book themselves on a package deal to Varadero or Cayo Coco where they stay in an all inclusive hotel resort. This is a pretty typical choice when visiting the nearby Caribbean too.
For people wanting to enjoy the type of holiday where they lay by the pool, enjoy a few water sports along the beach and just venture out from the resorts on a day trip, it's ideal.
I'm sure many of these sorts of holiday makers to Cuba will have also enjoyed a short visit to Havana Vieja (old town) or Trinidad in the south of the island. So if you choose to go all inclusive I urge you to do this as well, just to experience a little bit of the real Cuba.
However, if like me, you are a little more adventurous, do not hesitate in considering exploring the island further, and immerse yourself in Cuban life.
Cuba is not like any other country I have visited, and it is even more likely to change after this weeks announcement.
In the last few years, it has already started to open up, given the little changes that have been introduced in recent years following Raul Castro succeeding his brother as president. However, until the embargo with the US is lifted, certain restrictions will remain, and this contributes to the way of island life, considerably.
With no advertisements, little supplies and untouched by commercialisation, the lack of technology means limited communication with the outside world, but it's all part of the experience.
Of course, for Westerners, this environment is not one that many can endure for long periods, but it is certainly a refreshing experience, and one that leaves you questioning your morals and trying your patience.
So, to help with planning a visit, I have cobbled together a few key tips to help you on your way.
1. Money
Despite being a communist country in Latin America, Cuba is not cheap to visit or travel. For locals, luxuries can often be impossible to afford, and although all residents receive housing and food rations from the government, the dual currencies are often strictly applied, resulting in overseas visitors paying up to 25 times more than a Cuban for things.
Two currencies
The dual currency system has led to a wealth imbalance:
– the Cuban Convertible Peso (CUC) – linked to the US$ and payable by tourists at most establishments. Check for the word 'convertible' and pictures of national monuments to be sure you have the right money.
– the Peso National (CUP) – moneda nacional, distinguishable by the historical people depicted on the notes and coins. The money changers have a fixed rate of 24 CUP's to 1 CUC. Locals are paid in this currency, receiving an average salary of the equivalent to just $20 USD per month.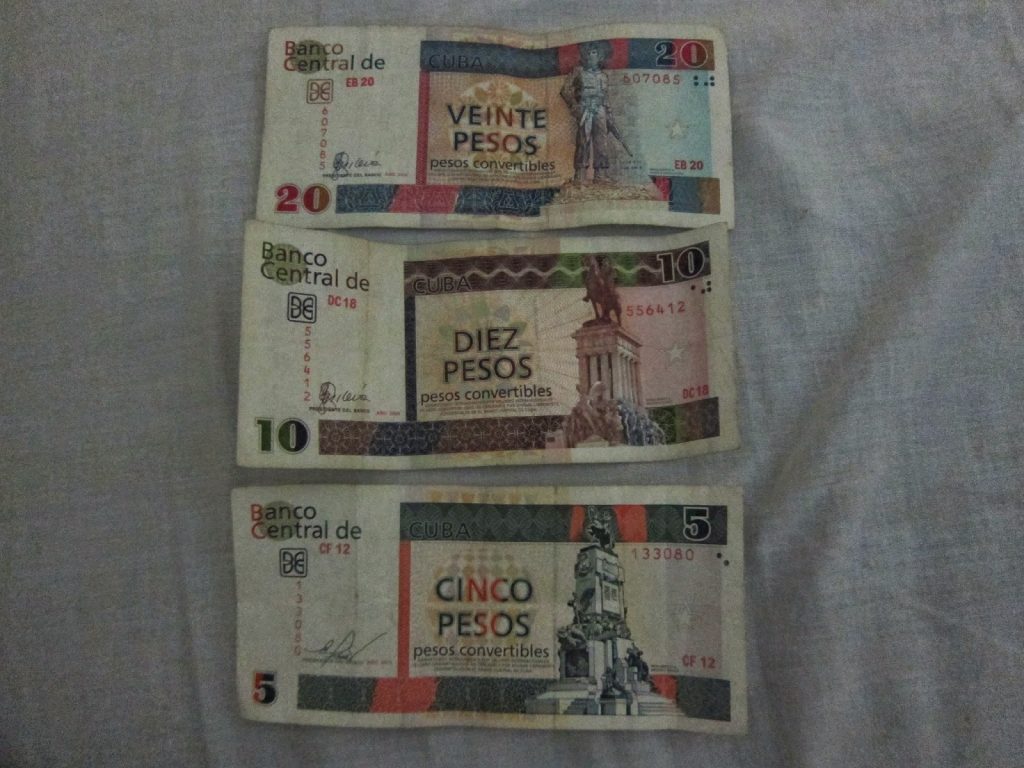 CUC's – with monuments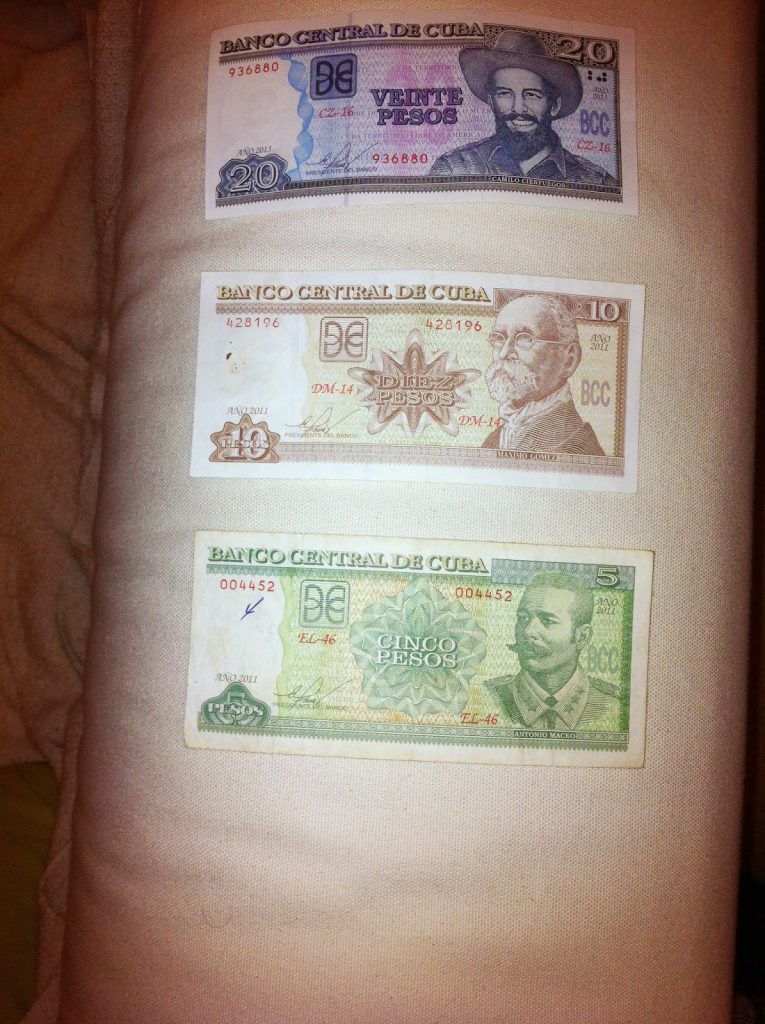 CUP's – with historical people
Sometimes it's a good idea to check which currency prices are marked in, but as a general rule, street snacks (such as pizza and ice cream) are payable in the local money, and for most other items, tourists are expected to pay in CUC's, even if locals aren't. It's also worth noting that you can pay in CUC's when prices are marked in CUPs, but often the exchange rate varies compared to the money changers (eg CADECA rate is 1:24 and vendor may vary from 1:23 – 25.
Getting cash
The obvious choice would be withdrawing from an ATM, but although there are more and more of these appearing in the larger towns and cities, they are very unreliable, they do not accept cards issued by US banks (Update: this is expected to change as a result of this weeks announcement) and although Visa users have little problems withdrawing cash, MasterCard users tend to have issues.

Note that although it states that both currencies are available to withdraw from many of these machines, foreigners can only take out CUC.
Money changers, found at the airport, and in most towns with a long queue outside (look out for CADECA) will change most common currencies such as Euros, Pounds, Canadian $'s and Swiss Francs, charging a small commission (included in the exchange rate).
Warning: be sure to count your cash out onto the counter before you pass it to them for exchange, as it is common for exchange staff to scam tourists using clever counting tricks to make you think you gave them, for example: £180 instead of £200, whereas in reality they skimmed a £20 for themselves without you noticing. Also, when receiving the currency back, even if they count it out in front of you, count it out in front of them before you leave, as again, you may find less in your hand than you just witnessed being counted.
Tip: change only a few CUC's (2-5) to local currency (CUP's) at a time as you will spend very few of these and can usually pay in the equivalent cents of CUC's instead.
Tipping
Tipping is a way of life for Cubans. Many rely on tips to afford more than the basic supplies. With the average wage being so low, a tip of up to 10% for good service or giving loose change can make such a difference.
Tip: Always keep small change for toilets and tipping musicians – even the smallest denominations are appreciated, although it can become tedious receiving requests every 5 minutes when enjoying a meal or drink.
2. Accommodation
If you are travelling around the country or taking a day or two out from your resort, it is best to avoid hotels. These are government owned, often expensive and due to the staff only getting paid the state salary, service is often very poor.
Instead, stay in a Casa Particular (home stay), where you will be a guest in a Cuban family's home, and experience the closest you can get to local life whilst supporting it. As these are owned by the families, the service is always much better than in hotels, as they actually care about the reputation of their businesses.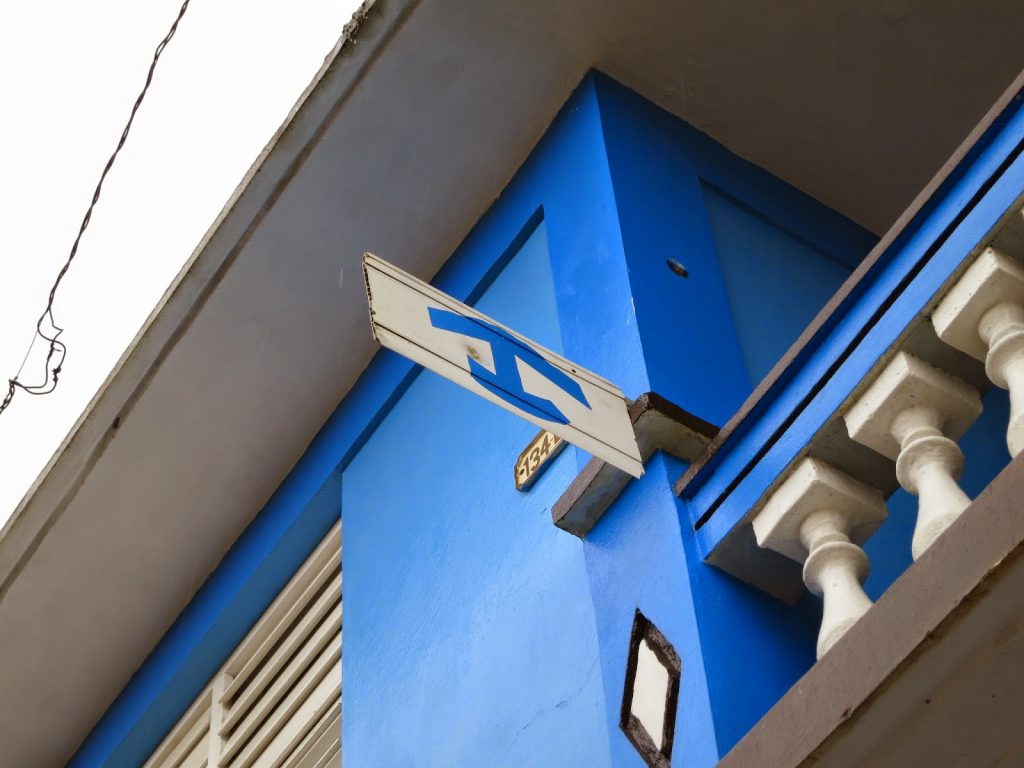 Casa Particular 'homestay' sign
Being in a homestay does not mean you are obligated to socialise with your host. The rooms are separate with ensuite, and participation in family life is only really as a guest who can come and go as you please.
Often the families do not speak any English, but this can add to the experience, just make the effort to learn a few basic words and give it a go.
If you are travelling for a length of time, it is worth trying out a hotel just so that you can experience the difference.
It's also worth noting that the home stays in Havana can be a very different experience to the rest of the country, more like a guesthouse with a number of rooms and staff that do not live there with the family.
Tip: get a card from your home stay with the address, telephone number and sometimes a map on the back. This will ensure you don't get lost, and also help when arranging transport back to your accommodation.
3. Food
Until 2010, many private restaurants (and other businesses) existed on the black market, and owners were at risk of being jailed or closed down by the government. Then, when Raul Castro introduced licencing for a number of private businesses this opened up more options for dining out.
Private restaurants that are shut away still exist but there are now a few decent ones open on the streets, as well as the state owned places that tend to serve below average food and service.
The best option for eating in the evening is at your homestay, as although much of the produce is sourced from the black market, it is abundant and very good compared to many restaurants.
Unless you want a large meal, lunch or snack options are limited to sandwiches and street pizzas, which can be bought in local CUP's from windows found along the street.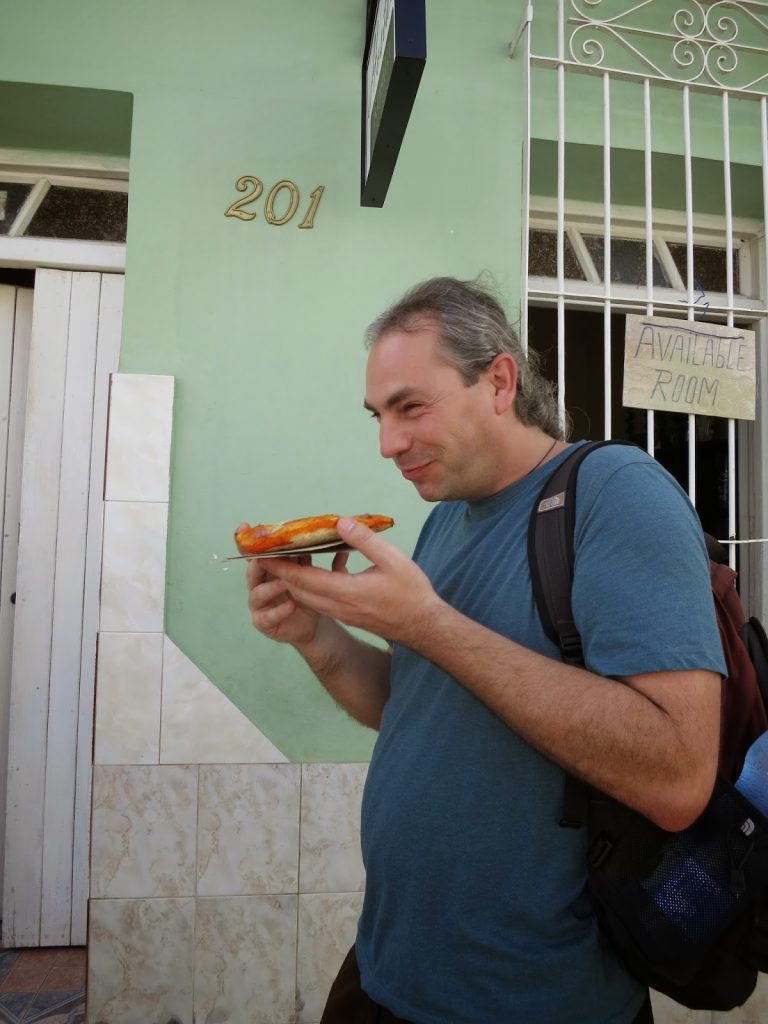 Street pizza
Note that all the courses of traditional meals are usually served at the same time. Expect salad, soup, sides and your main dish to be put out onto the table together, and dessert will normally be optional afterwards.
4. Transport
Always agree prices upfront when taking transport. Some taxis do have meters but it's safer to have settled on a fare to avoid being over charged.
Buses
The best buses for travelling between cities is Viazul as these are air conditioned, can be booked in advance (to guarantee your seat), and do not involve any hassle, which you will no doubt get when travelling on the local buses.
Tip: Make sure you take something warm to wear as the aircon can be very cold.
Hitchhiking
Government vehicles are obliged to pick up hitchhikers (often making a small monetary contribution) and there are a number of places where you will see a controller in a yellow/mustard uniform, usually with a few people waiting with bags, boxes and luggage, to be picked up. If you don't want to wait your turn you can try hitching elsewhere and wave your money to passing private vehicles who will most likely pick you up for a reasonable fee.
Note that the government vehicles either have blue plates or plates prefixed with a B, whereas private vehicles have a P (older cars may have yellow plates but these are becoming less common). If you can pay your way when hitchhiking, drivers will appreciate this, but it is actually possible to travel the whole country without it costing a penny, if you're Cuban.
Taxis 
Whether these are cars, bicycle taxis or coco moviles, always agree the price up front and be prepared to be charged above the normal rate.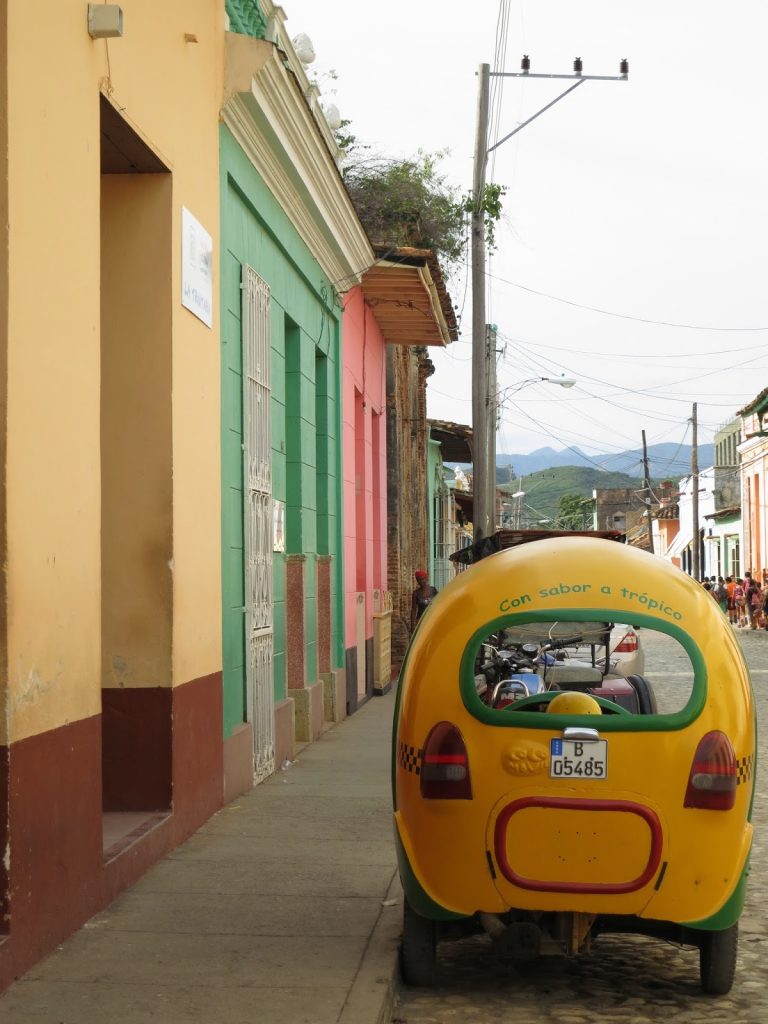 Coco movil view, Trinidad
5. Others
Spanish – learning just a few basic phrases and words will make such a difference to your experience whilst in Cuba. The language is easy to pick up and most guide books have a small section which will have adequate vocabulary for a short visit.
Bring what you need – as mentioned, there are few supplies available in Cuba so toiletries can be difficult to obtain outside of the larger cities. Pack what you need and donate what you have left over to locals, who will hugely appreciate the gesture. Remember my 13 items I don't travel without.
Communications – Cell/Mobile phone coverage in Cuba is provided by ETECSA, and some cities have internet places too. If you need a phone to communicate with others within Cuba, then you can buy a SIM card from here for approx $30 – it's much cheaper than paying international roaming charges. Or for just the occasional call, user the pay phones in the ETECSA shop.
Recycle – nothing is wasted in Cuba. In most cities, rubbish on the streets is reduced by the fact that plastic, cans and other recyclable items can be exchanged for money, therefore encouraging the locals to collect and recycle.
Old clothes and used or unwanted items are gratefully received, so much so, that the begging culture can become a little obsessive in the tourist areas.
Dancing – if you want to enjoy local life it is worth investing in a few Salsa lessons, either before you visit or when you get there.  Confidence on the dance floor comes with practice but knowing the basic steps will avoid any embarrassing moments when you get asked by a local to dance with them.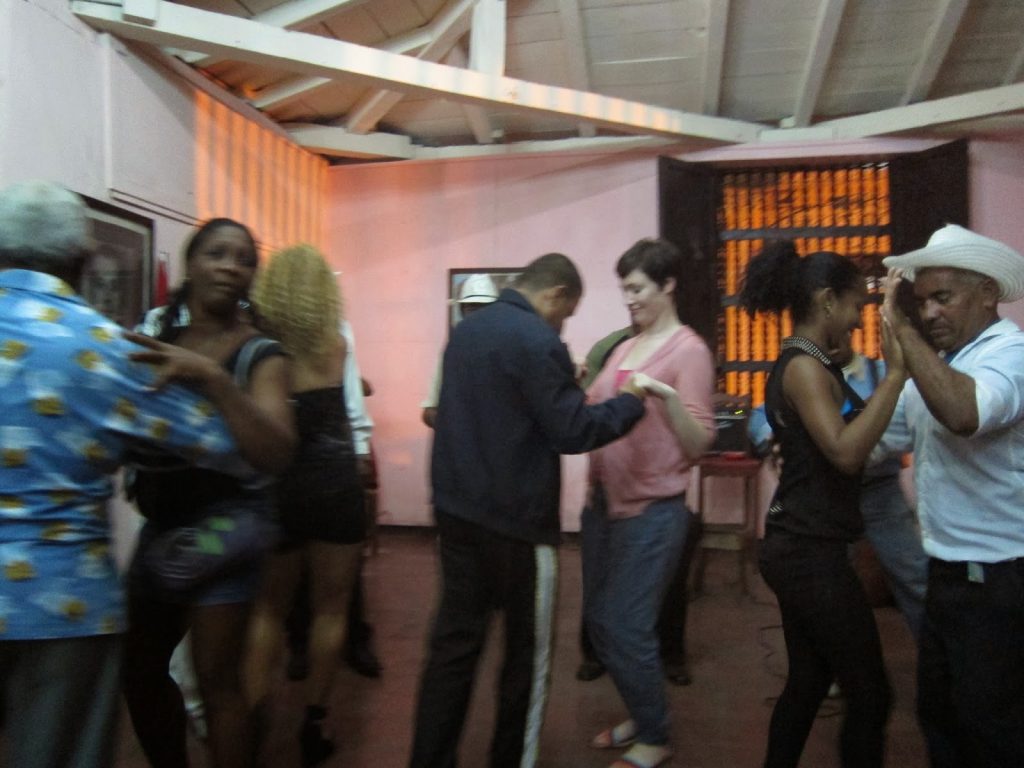 Have you been to Cuba recently – if so please feel free to share any other tips or recommendations that you have?
If you're planning to take a trip there soon, I would be curious to hear about anything that is starting to change as a result of this weeks announcement…