Ramadan started this week, commencing on Sunday (29th June) and lasts a month, until Hari Raya on 28th July.
Travelling during Ramadan, in predominantly Muslim areas, can be frustrating if you are not prepared. However it can also be an interesting and rewarding cultural experience.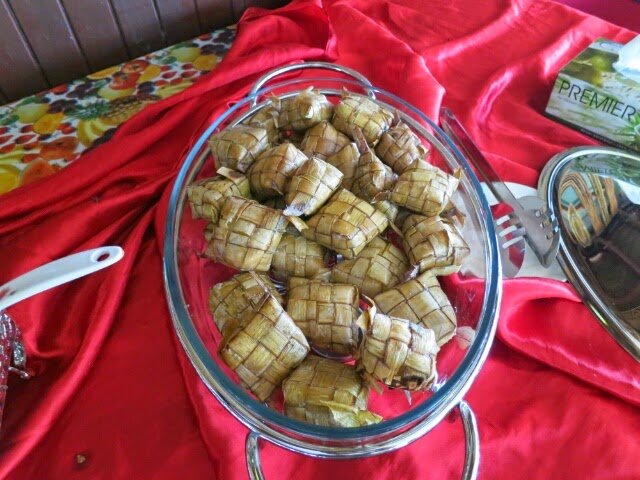 Ketupat palas (sticky rice parcels wrapped in palm leaves)
Last year I spent Ramadan and Hari Raya, which succeeds the month of fasting, in Malaysia. However we hadn't really planned for this until we realised the next few weeks would take us into some of the most Muslim areas in the country.
Ramadan is a very important time of the year for Muslims. It is a special time where there is a focus on becoming a better person, time spent in prayer and daily fasting from sunrise to sunset.
Muslims will refrain from consuming food, drinking, sexual relations and smoking during Ramadan. There are increased prayers often resulting in businesses shortening operating hours or reducing working hours for Muslim employees.
As we made our way around the East coast of Malaysia, we experienced a variety of Ramadan and Hari Raya related happenings. If you are heading to any of these areas, I hope my insights will help you plan a little;
Kota Bharu
We arrived in Kota Bharu, in the state of Kelantan, at the beginning of July, around the first few days of Ramadan.
The population in Kota Bharu is predominantly Muslim, and during Ramadan it was consequently difficult to find places to eat during the day. That was, until we found the Chinese hawkers and food stalls, and then filled our faces with all our favourites! This was around the same time that a couple had been arrested for sedition after posting pictures on facebook of them eating pork with a "happy Ramadan" slogan. I refrained from blogging too much about this.
Perhentians
We spent the next couple of weeks on the Perhentian Islands, working mainly on a turtle conservation project, at the Bubbles Resort Perhentian Besar. See my post: Turtle conservation in Malaysia and how to help for more.
This all inclusive type resort meant food was available in abundance. However many of the staff were fasting and we would often find them raiding the kitchen during nightfall and ahead of sunrise, which made the night somewhat more interesting.
We stayed a few days on Perhentian Kecil afterwards and found the food places there were not affected too much. It was normal service until sunset, when the fasting is broken. Then a long wait while the staff eat, which interrupts and delays the serving of meals to customers during that time.
Unrelated to Ramadan, alcohol is not readily available at most establishments on the island, or it is very expensive. Cans of beer and bottles of rum can usually be obtained from a man with an ice box along the main beaches and it is the norm for tourists to indulge. In general, they don't mind you drinking alcohol in their establishments, they just won't sell it there.
The main village is a Muslim community so it is important to respect the locals when visiting and cover up adequately.
Kuala Terengganu
After almost 3 weeks on the  Perhentian islands we needed to stock up on supplies. So Phill hunted down a supermarket, whilst I hung out with the bags in McDonalds. Nowhere else was open due to it being Ramadan.
We then headed off to the Kapas island, which seemed reasonably unaffected by Ramadan (see my post here for more on this), but returned to Kuala Terengganu just a couple of days later.
The walk from the bus station to our hotel involved the passing of a mosque and what seemed a very deserted market and street.
Checking in at our hotel, it became evident what we were likely to experience, as reception filled us in on the only area where we would be able to find food at that time of day.
The great heritage Chinatown offers tasty food and an interesting area to wander, when most other things are closed. Also, the central market near Chinatown is definitely worth a look.
Kuala Lipis
This town was no different to previous experiences of the East coast of Malaysia during Ramadan.
We stumbled across the large Ramadan market in town and numerous murtabak stalls. We had to hide out in a deserted area round the back to eat our supplies in secret, so that we didn't offend anyone, whilst the locals stocked up feasts to eat after sunset.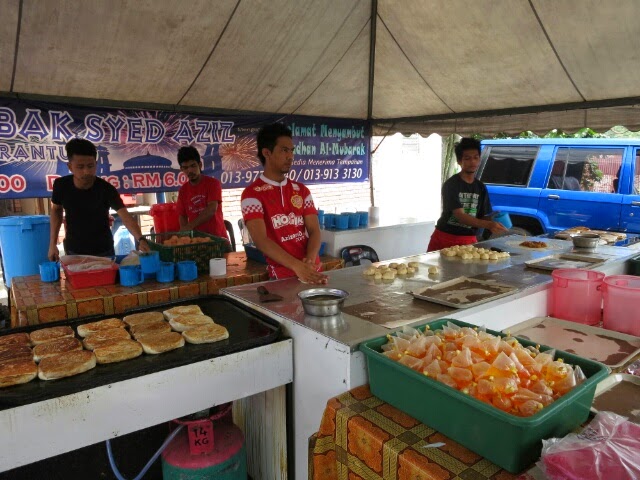 Making murtabak
Everything was also shut as it was a Sunday, so we wandered around looking for photo opportunities instead.
A very different place greeted us on Monday morning, with all the shops now open, and selling a variety of wares. But there was still nowhere to eat, so we had to resort to a pot noodle from 7/11 ahead of our departure for Taman Negara.
Kuantan
Due to it being Ramadan, no food places were open all day in the city. Instead, we were treated to a huge food market in the afternoon, with many murtabak stalls and all sorts of other specialities.
Interestingly the locals all gathered in the playing field in front of the mosque just before sunset, with their food purchases, awaiting the time to tuck in and eat together… it was quite a sight.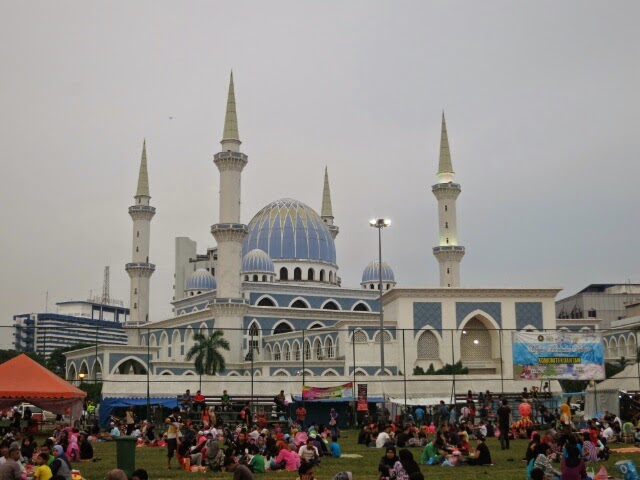 Presorting for sunset
We hadn't eaten all day, so had to indulge in a little snack as discretely as possible. This probably caused some offence to the locals as they tried not to watch. Fortunately, sunset followed soon enough, and we acquired more local favourites, and returned to our hotel to enjoy these with some beer.
Mersing
The ferries from Mersing to Tioman island only run at high tide, and even with insider info, our timings were out, and so we had to spend a night in town. Fortunately, it's reasonably cheap here, and despite being Ramadan there were restaurants serving food (Indian and Chinese) scattered around.
We also heard about a Ramadan market, but struggled to locate this.
Tioman
Tioman is a duty free island, although it's still not easy to get a drink everywhere, as it is a Muslim community. Tekek is the main hub on the West coast, and has a couple of duty free shops if you want to stock up on cheap booze.
We treated ourselves to a bottle of rum at the duty free shop, in preparation for my birthday celebrations. Then took advantage of the cheap beer from the Chinese run Juara Resort throughout our stay.
We were working at the Juara Turtle Project during Hari Raya, which is the celebration period that follows the month of fasting during Ramadan.
When fasting officially ceases at sunset on the last day of Ramadan, the following two days will see celebrations with huge feasts.
In such a close community, the open house attitude was applied throughout the village. On the first day, one half of the village supplied food for the other half of the village, and on the second day the roles were reversed.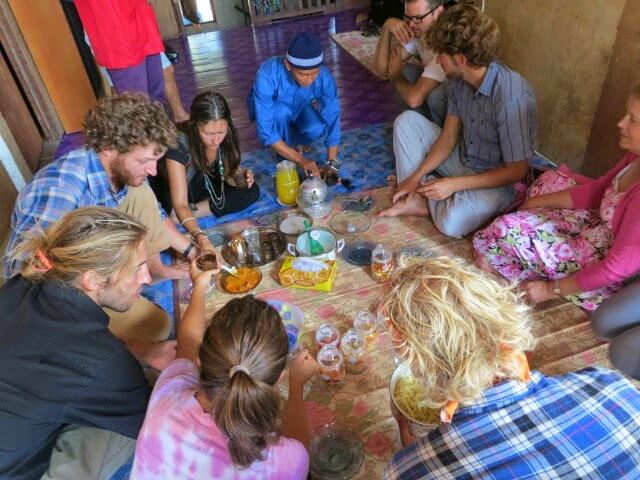 Enjoying the open house policy
It was quite an experience, visiting homes and sharing in the amazing spread of foodstuffs. We returned the gesture on day 2 by cooking turtle shaped food and fried rice, which seemed to go down pretty well with the locals.
My advice
Definitely get involved in Hari Raya, it's an opportunity to mingle with the locals when they are at their most welcoming.
Here's a few other tips on what to do if you find yourself in Malaysia during Ramadan:
1) The 'everything will be closed' warnings only apply to the Muslim states of Kedah, Kelantan and Kuala Terengganu, but even then, there is always somewhere open; you just have to search a bit to find it.
2) Look out for Chinese and Indian communities, who will still be serving food during daylight hours, or as a last resort, find a Mcdonalds or 7/11 for pot noodles.
3) Check transportation schedules, as these can change and be booked up during this time as families head home to be together. Advance booking is recommended, before and after Hari Raya in particular.
4) Night market stalls set up and sell every sort of delicious delicacy possible just before sunset. These special Ramadan bazaars are well worth working your schedule around, despite the minor inconveniences encountered during the daytime.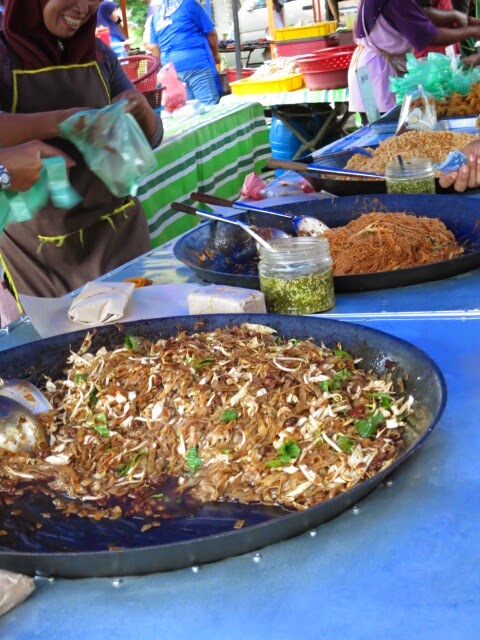 Amazing food markets
5) Remember that you are in a Muslim country and a conservative dress code is appropriate. Keep your legs and shoulders covered, especially if you are a woman.
6) Walking around showing a lot of skin is considered disrespectful in some areas. And if you want to visit some of the temples or religious sites, you will not be allowed in, but also note that these may be closed during prayer time and more so during Ramadan.
7) It is polite and considerate to avoid eating, drinking and smoking obviously in public areas during daylight hours. Find somewhere discrete so as not to cause offence.
8) The sale of alcohol might be limited. Chinese communities are the best place to locate some, but don't drink it in public unless it appears acceptable.
9) See past the frustrations at this time of year, plan ahead and ensure you immerse yourself in the experience fully. It can be frustrating, but it can be an experience unlike many others.
Have you travelled somewhere during Ramadan and experienced the something similar or different? I'd love to hear about it…