"Where's Phitsanulok?" I squeaked excitedly as I scoured the map on my GPS device, looking at the splattering of dots indicating hidden treasure.
Neither of us has heard of it, which in a country we have visited numerous times between us, is quite a surprise.
I quickly looked it up, finding plenty of information on the web and a small section in the Lonely Planet guidebook. However, it sounded like most independent travellers pass by this city, heading to Sukothai instead. Of course we had Sukothai on our list but had limited time before needing to be in Chiang Mai.
However, Phitsanulok was about halfway between Lopburi (where we were) and Chiang Mai; it would work for a couple of days stopover.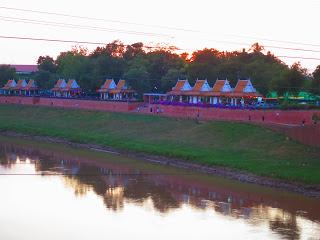 Phitsanulok river view, great for geocaching
So, if I'm honest, it was the lure of the geocaches rather than the sights that brought us here, but the carefully placed treasure boxes meant we could fill the afternoon in the city doing a bit of both.
If you know me personally I have probably already dragged you into the world of Geocaching at some point. If not, then you may have seen my occasional posts mentioning this geeky hobby that I took up in 2011. For example, you can read more about my enthusiasm for this game here.
Geocaching is an activity that involves the searching of hidden boxes by means of GPS coordinates posted on a website, geocaching.com. These can be a physical container such as a small film canister hidden near a tourist spot or somewhere that doesn't appear in the guidebooks. I fully support the latter, as these often find me visiting somewhere off the beaten track and enjoying a little adventure. It's made more enticing by being awarded with both a beautiful view or other unexpected experience, as well as a plastic tub where I can log my visit.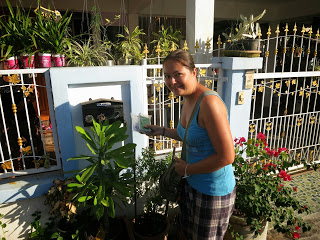 We were the first to find this one 😉
Many geocaches involve some educational aspect or objective too but it is always designed to have you exploring the world. There are also small coins or tags (called trackables) that are designed to move from cache to cache, which have their own goal, so there's another incentive to keep looking for the next hide.
So, back to Phitsanulok. It turns out there are quite a few geocache trails. I noticed they had been placed by mostly the same geocacher, and a few, including one located outside his house, had yet to be found. I couldn't resist getting in touch and announcing that we were in the area. In response we were invited to stop by for a visit.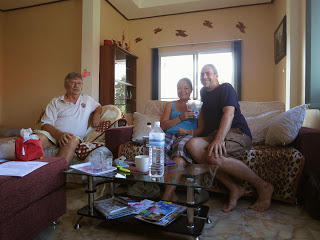 Geocachers are everywhere
It was great to meet another fellow geocacher, and spend some time talking about the game, as well as hearing about life as an expat in a city such as Phitsanulok. We probably overstayed a little and only managed to find 10 geocaches afterwards, but it's not something we get to do everyday. Thank you geocaching.com and thank you Thorshammers (geocache owner) for taking us somewhere we probably would never have gone.
In fact, we could have stayed longer as the city itself is lovely and there are several temples and markets worth seeing. I highly recommend a visit even if you are not a geocacher.
Sukothai still needs ticking off and there are more geocaches to find both there and in Phitsanulok, so we may well be back.
I'm now in Chiang Mai, enjoying being back (see post from previous visit) and awaiting the upcoming festivals that are going on over the weekend. For once, I'm up to date on recent blog posts, so check them out if you are interested:
Lop buri – Monkeys and temples
Phitsanulok – Don't just pass through
In other news…
I decided against applying for the Spontaneity Champion 'job' with lastminute.com, more to follow on that in another post.
There's been a few scheduled posts since my last update in case you missed them:
Singapore roundup: my recommendations for tourists
Orangutans of Borneo: Semenggoh nature reserve, Kuching