If you search the web for images of Krabi you will be treated to shots of the familiar limestone karsts that the West coast of Thailand is famous for.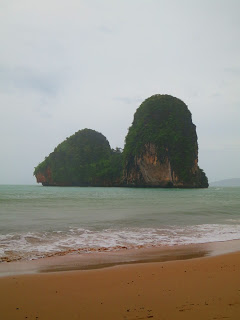 Unfortunately my time in Krabi province was scheduled during the rainy season and consequently a little damp. However the area still remains beautiful whatever the weather and despite having to rethink plans from here I still saw quite a bit.
Ao Nang was a good place for a base even though the ferries are a no go at this time of year, but also a good reason to return one day.
The highlight was undoubtably the area of Railay, inaccessible by land but well worth braving a long tail boat to get to. The rain did admittedly get me down a bit, but it made the experience some what more 'fun'. Check out my climbing adventure here in my post: Beautiful, even in the mud.
We are heading to Nakhon Si Thamarrat from Krabi town next with plans to investigate the deep south, that is assuming I can convince Phill!