I was just heading onto the East London overground line at Canada Water, when I felt the buzz of my phone vibrating in my bag.
A text from Gingerline had arrived, a little earlier than expected… But with 4 of us to organise for our latest night out, the earlier we knew where we were headed, the better.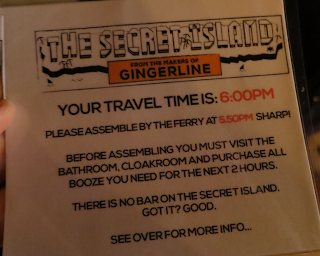 "What a great idea for a birthday present!". Someone at our table, part way through the evening, was certainly taken with the Gingerline experience. And hopefully so was the birthday boy himself!
Gingerline is a multi-dimensional dining experience. When booking you are sworn to secrecy:
THE CODE OF GINGERLINE:
To keep the secret for future diners, no details of the concept will be shared via social media until the end of the project. Location details will be taken to the grave!
With several events now under its belt, and more planned, it's difficult to say what will be coming next.
Bookings for the most recent experimental event – Secret Island, sold out in just 4 minutes of going online!
At fifty quid a ticket it's not cheap, but if the Secret Island that I ventured to is anything to go by, it's totally worth it.
Basically, when you book, you are given the option of a number of dates and allocated dining times. You won't know where you will need to be, or what will be on the menu. In fact, all you will know is that based on the past events, you want to be involved.
Here's a little more about what we experienced during the Secret Island event as the secrecy pact has been lifted, but we still cannot reveal the location.
4pm – text with instructions arrives.
4-5pm – unfortunately there were some technical issues with the notification text as I was the only one or party to get the instructions. After a few phone calls and further texts, we arrived at the secret location, with minutes to spare for our booking. Phew!
5.30pm – we were handed a ticket indicating our departure time, from the 'dock', and in the meantime headed to the bar to stock up on drinks for our journey.
6pm – grouped in a boat with my fellow diners, we were carefully manoeuvred from boat to jungle where our experience begins.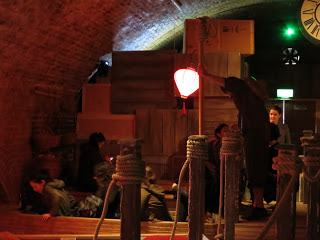 Waiting at the dock
The multi dimensional experience consisted of passing through a number of different 'rooms' which contained an equivalent number of courses.
At each stage, within each room, we were treated to a very authentic atmosphere, some very well practiced actors and some lovely foods.
The jungle (inspired by Pulau Ubin in Singapore – I've actually been there, check out my post 'Guaranteed to take you back in time') introduced us to Ghengis the tiger and our first course was picked from the trees around us. A refreshing jackfruit salad that set our taste buds off on their very own adventure.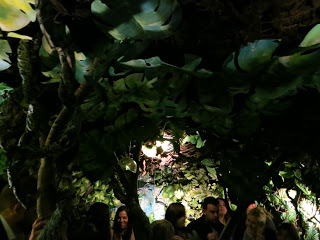 Starting with… something picked from the jungle leaves…
Next stop was a Singaporean food court and some tasty spring rolls and Chinese pork.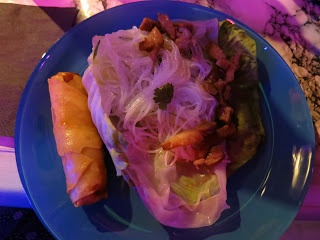 food at the Hawker market
Then afterwards we were left resting alongside another dock, complete with lotus flowers, lily pads and beverages served in plastic bags; just like you get in Singapore; although with added alcohol.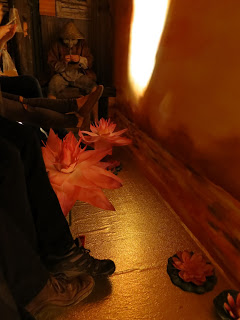 waiting at the boardwalk
After a short wait, we moved on to enjoy our main course in the house of Aunty Rosa, and her very traditional Peranakan home, adorned with family photos. The chicken curry was served in traditional tiffin carriers and accompanied with Sambal Blachan (hot sauce) and was exceptionally good.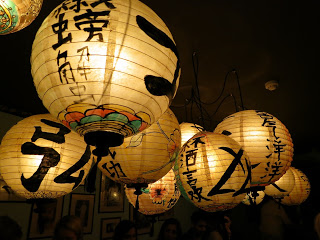 Lanterns are dinner
Aunty Rosa treated us to a rendition of her well practised after dinner solo, and as she conveniently fell asleep at the table, we snuck out and onto dessert.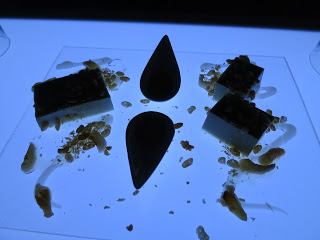 pannacotta dessert for two
In the final room, a futuristic Singapore and Marina Bay view was accompanied by some yummy sweet delicacies, which I was delighted to find included pandan (a sweet leaf used in Asian deserts).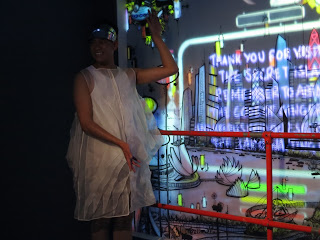 Our android host bids up farewell
Too quickly the experience came to an end and we were soon back at the 'dock' where we originally set out from.
Tummies full and plenty to discuss, we sat in the bar area to finish our drinks and digest the souvenir brochure which concluded our experience.
I am very much looking forward to finding out about the next event, planned for the Autumn, and getting my hands on more tickets to whatever Gingerline has in store for us then.