For those of you in the UK, it's been advertised in nearly every newspaper there and been on the news, so you have probably seen it already, or applied for it.
If not, check it out here: http://www.lovelivinglastminute.com
As Spontaneity Champion for lastminute.com:
– I can make the world my office.
– I can wander far and wide.
– I can be spontaneous.
– There's no salary, uniform or set hours. I don't have to quit my day job. Instead, there will be up to £50,000 for a year's worth of spontaneous travel and experiences booked through lastminute.com.
It sounds great doesn't it?
I would love to be considered for this job. As I read through the small print and brainstormed my ideas for my entry, I certainly had plenty of experience to draw from. Even just last year I visited 12 countries (see my 2012 blog here: 2012, a year of cities), mostly on short or long weekend trips.
As I re-read the details for applying and carefully considered each requirement I tried to anticipate what sort of person they would want for this role.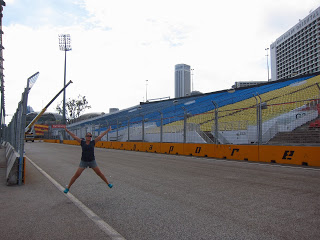 Singapore F1, booked just a few days before
I wouldn't need to quit my day job, but I already have! I'd have to take part in a contest, and although stage 1 seemed easy enough, it involves putting myself out there and potentially increasing my social media exposure to the point of no return.
Of course, I love travelling and sharing my experiences and would be proud to inspire others to do so too. But at what cost?
Would taking the first step towards applying for this so called 'job' actually put an end to the dream lifestyle that I am currently living? The deadline is just over a week away.
So many other questions ran through my head as I read through the contract.
I would of course be expected to portray lastminute.com holidays positively. Would I find situations requiring me to stretch the truth, or worse, would my often frank and honest views need to be toned down?
Lastminute.com will gain significant global publicity from me working hard to deliver suitable content. That's great, but what will my life really be like and what about after the contract ends?
Then there's the element of enjoyment that comes with travelling, being replaced somewhat by the inevitable stress that would come with having to meet deadlines and deliver submissions on time.  Basically, all the concerns that keep my travel writing from becoming much more than a blog. I want to write, but on my own terms.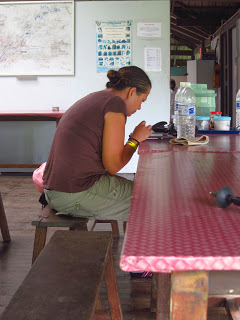 Not crafting, just working!
I'm ultimately uncomfortable with having to step well outside of my comfort zone, and potentially becoming the face of a brand. There would be no more hiding behind my writing or blog posts and sharing what I choose. Everyone who books an experience with lastminute.com, reads the newspaper or follows the news, will know who I am.
Finally, I'm not really ready to agree to return to the UK next month for stage 2, assuming I would even get past the first hurdle.
In 2009, Tourism Queensland advertised for 'the best job in the World' and subsequently won awards and international coverage. The winner, Ben Southall, seemed to have the time of his life and dealt well with the demands of his role, as well as the aftermath, which has resulted in him becoming a celebrity. Read more about it here: http://www.bensouthall.com/best-job-in-the-world-2009/#
So I've concluded, after much deliberation, that becoming Spontaneity Champion is much more than a job… it would become my life. And for me, a life that, as great as it first sounds, isn't quite the one that I want for me right now.
Instead, I've decided to take another 'job'. It has most of the same benefits as the role of Spontaneity Champion. But there are a few extras:
I will complete a full year of travel. Spending significantly less than £50,000.
I will share my experiences and be completely honest as best I can. I will continue my adventures – geocaching, crafting and volunteering wherever I can.
It will be on my terms. With no restrictions and no deadlines.
When I left the UK in April, I was expecting to be back within 3 months. Since Phill joined me in May, I stopped planning exactly where we would go and each destination has been the result of being some what spontaneous. Nothing is booked in advance these days.
We are planning to head to Myanmar (Burma) at long last, after Northern Thailand, but I'd like to add a bit more of the unexpected to the pot and ask for suggestions from anyone reading this post too.
So, where do you think I should I go? I have 150 days left to complete a year and a limited budget, but I'm open to ideas.
What should I do? What should I try? Where would you like to hear more about? Here's your chance to contribute. Just contact me via email at tiggerbird@gmail.com, twitter (@7iggerbird) or post a comment here.
I'd also be extremely grateful if you would share this post with your friends and family and of course use any of the many social media tools available to help you do so.
I may not have a campaign behind me or any media coverage, but with some help I can try and create my own publicity for my own dream 'job'.
I have got the job now… I just need a little help to do it!