I've lost count of how many times I've been to the Lake District and I have many fond memories there.
After my other half passed away in 2010 we planted trees a the National Trust site in his memory.  I'm still a regular visitor, and this weekend I will be there once more.
Why not check out some of my favourite places and related blog entries to see what this beautiful area of the UK has to offer:
1) Scafell Pike – needs no explanation! Practising for the 3 Peaks via brown tongue (!) and a memorial walk that is only for Superman.  But incidentally I thought Scafell was better (Another Sca-fell)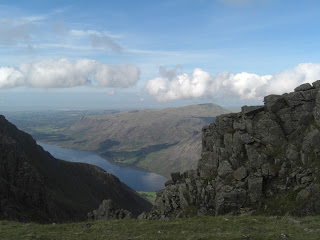 Wastwater – view from Mickledore
2) Cockshott Point – Bowness on Windermere doesn't in my view feel like you are in the Lake District (see my initial quick lakes stop post), but despite that, this little area owned by the National Trust is lovely.  After agreeing designs for tree guards and planting memorial trees, I often return to this peaceful spot.
3) Wainwrights 214 mountains – I've only so far accomplished 10 (I think, as have misplaced my trusty list) so have a way to go and my last climb was over a year ago (see here) as I don't really think you can enjoy is at much alone and it's a struggle to find anyone to join me :(.  I am still of course going to attempt to bag them all some time :).
Today is 2 years to the day, with the anniversary on Monday.  For those of you that know me, I'm usually a very private person (despite my travel and crafting posts) but I can't let this day go unmentioned as the day that completely changed my life.  That is a fact that I am still learning to live with every single day despite accepting that life goes on!
To everyone who knew or loved Nick, my thoughts are with you today x