What is my must have travel item? It's the standard question I often stumble across when flitting around on the web for travel related articles offering advice… and everyone has their own answer, albeit usually very similar.
Books (more recently kindles/ipads/tablets), a phone, camera, and all the other obvious answers come up time and time again… but for me it's something a little different ;)!
Being a keen crafter (see my other blog here) I've quite recently, properly got into combining this with my love of travelling… and can always be found with my scrap book (or Smash book) stashed in my bag.
All those little bits and pieces that I pick up along the way and usually find at the bottom of a bag or in pockets, when finally unpacking everything at the end of a trip… now have a home of their own.
Of course it doesn't change the fact that most of this 'rubbish' isn't of much interest to anyone, but it's always nice to flick through the pages sometime in the future and remind yourself of a trip. I of course have my other blog (interjected with posts on this site) to keep me reminiscing, but I still won't stop taking this must have travel item away with me.
Here's the results of my recent trip to Budapest… a little lacking in the normal craft accessories and embellishments that I usually try to get in on the action of course …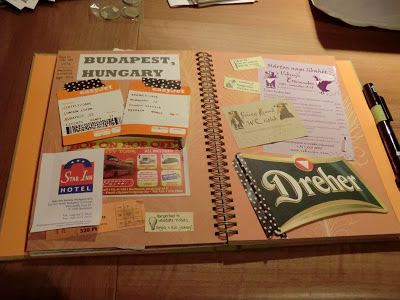 Do you craft on or from your travels… I'd love to hear about your ideas.