I've visited New York twice, but I've never been a fan. However, I do have a friend who is. Today I have a guest post to share with you, from that very friend, Mario Hinksman – maybe on reflection, I should give NYC another chance…
A look back at five visits to New York over nearly fourteen years of change
New York – city of dreams, the Big Apple, the city that never sleeps, city of clichés. I should start by declaring an interest – I am basically a fan of New York.  Including my latest trip for Christmas 2013, I have been there five times.
Visit number one was in the 'previous age'. It was March 2000. I was in my twenty-fifth year. I remember March 2000 as a rather chilly time in New York. I was travelling with a friend, and colleague, Richard. We were two guys, in our mid-twenties, and without ties or commitments. We hired a car, and drove to Boston, before going on to Toronto. We got caught in what seemed to us like quite a snowstorm. I suspect for the locals it was a fairly normal late winter. We drove back from Canada and through Pennsylvania. We dropped our car at JFK and then got the bus into Manhattan. Our base for our few days in New York was prime budget tourist territory – Murray Hill in midtown. This was my first time in New York City.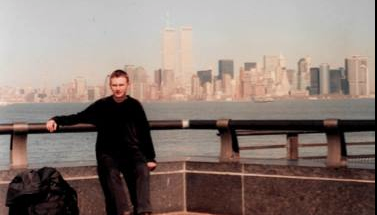 Manhattan and the twin towers as seen from
Liberty Island (home of the Statue of Liberty)
We played it fairly safe. We stayed in lower and midtown Manhattan. We didn't use the Metro. We were two budget-minded travellers so mainly ate in fast food joints or budget restaurants. I remember Wendy's opposite the Empire State Building on 5th Avenue was a particular favourite! My first memory was that New York felt familiar. I had seen it in a hundred films and more TV programmes. Its yellow taxis and huge, cliff-like buildings were just like on the small or big screen. Its numbered streets on a grid pattern made exploring very simple and it was easy to walk for miles without intending to.
Our itinerary was quite obvious but covered a fair amount of ground. We made it to the top of the Empire State Building, where we looked down Manhattan island to see the twin towers of the World Trade Centre at the bottom. We went up the World Trade Centre too. This was 18 months before its terrible and untimely demise. I do sometimes wonder what became of the ticket sellers, guides and lift operators we saw on that day.
A trip to the Statue of Liberty was combined with a visit to Ellis Island, the one-time gateway of millions of immigrants to their own American dream. It was, and is now, a museum, slightly 'worthy' in tone but interesting just by virtue of what it has witnessed. The Statue of Liberty, for me, is a wonderful symbol and is best admired from a distance. A visit up close did not bring much – a bit like getting too close to an impressionist painting. Close up is mildly disappointing.
I left New York in March 2000 filled with energy and vowing to return. My Kentish office seemed very dull to return to and I sought short-term solace in web-cams from Times Square.
That passed, and so did almost three years until visit number two. This was in January 2003. In the intervening three years, a lot had changed. I had moved jobs, house and, amongst other things, formed an unlikely friendship which brought me to New York. Those three years had seen far more important global changes that stemmed from a clear September morning in New York in 2001. Everyone remembers where they were on that day. I was in a bleak period in the Cumbrian countryside, left devoid of animals by the 2001 foot and mouth crisis. In my second week working for an American car company, I was at their motor sport division. I heard rumours of the calamity in the office and retired to sit in my company Mondeo listening to the radio and briefly wondering if the world was ending. That evening, after dinner, I sat alone in my Cumbrian hotel room, watching TV, and on one of a few rare occasions, in response to a news item, burst into tears.
My return to New York was almost unplanned and barely believable. A young lady who I had met on a job near London was recovering from a round of cosmetic surgery in New York. For the record, I was a friend who was dead against the idea of cosmetic surgery. She looked great without it, I argued to deaf ears. I guess in some way that was not particularly well defined, I went to New York to help her as she recovered from her time on the receiving end of a scalpel. There was no hospital stay involved – recovery was all in a hotel. I stayed in a hotel near Times Square. I visited my friend a few times in her nearby hotel, and was met by a face transformed by black eyes and bandage. The rest of the time I looked around New York without much aim. I remember it was freezing cold, minus 10C some of the time. I used the Metro for the first time and found it efficient and safe. My images of it as full of gangs were very out of date. I visited the site of the World Trade Centre, now essentially a vast building site. There was wire fencing around it with flowers and American flags all over the place. The site still had a raw feel to it. Some girders from the WTC that had fallen in a cross formation were on display. I didn't do that much during this visit to New York. It was slightly strange, a little sad and very cold.  Yet still I felt the energy of the place and vowed to return. In response to the cold weather I bought a black thick wooly hat complete with NYC insignia.
I didn't return for over 8 years. I changed jobs twice more in that time and ended up with employers with little presence in the US. I got married and had a son. I returned to New York with my wife and son in December 2011. We stayed in mid-town in quite a nice hotel on Madison Avenue. My son was four. The first morning he woke about 2am (7am in London) and started singing. I was in Starbucks on 5th Avenue with him by 6am. His jet lag got better over the days. We ate in cafes and diners, child friendly places. We got good at finding toilets in bars and restaurants – four year olds seem to need to use the 'restroom' a lot! My son wasn't that impressed by the Empire State Building. He demanded to go down as soon as we made it to the top for $22 a head!
However, overall, my son loved New York and so did I. He loved the big buildings and the yellow taxis and so did I.
We visited the WTC memorial on Christmas Day 2011. It seemed fitting in a way that is difficult to explain to someone not in New York on Christmas Day. We saw the pools of flowing water in the footprints once home to the twin towers. On the memorial we found the name of a Ukrainian man, who my wife's family had known. He had come to the USA seeking a better life only to die on 9/11 on a one off business visit to the WTC.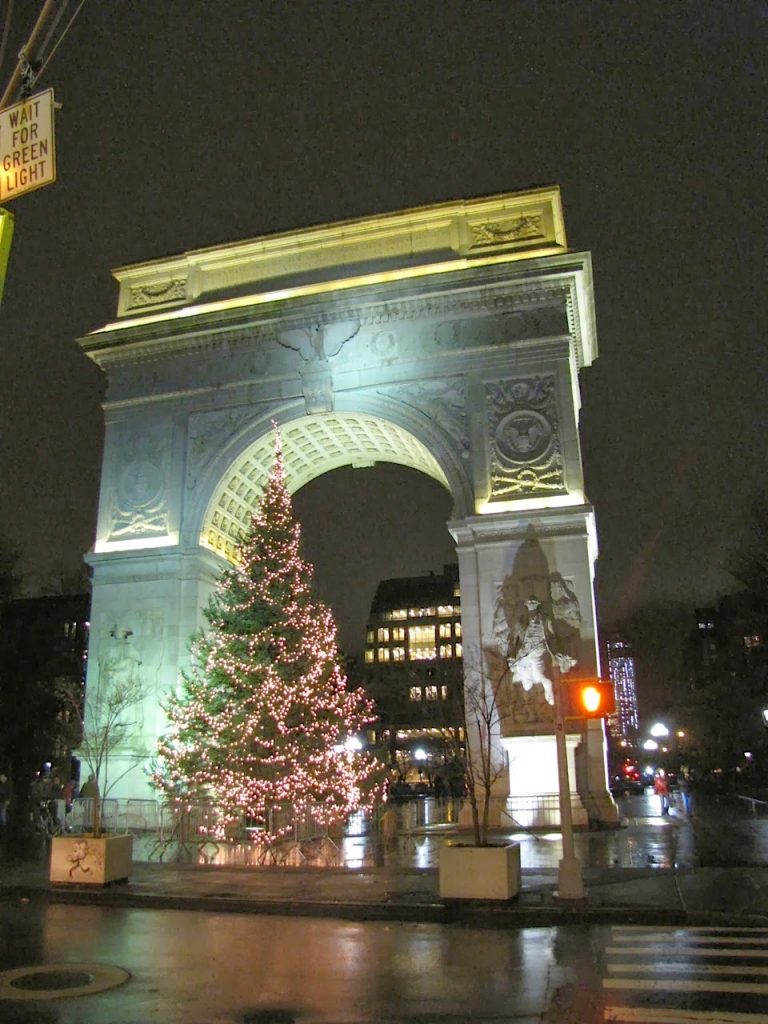 Washington Square at Christmas
We also saw a rougher side of New York around Christmas 2011. We saw beggars and vagrants. My son found it very amusing when one beggar kicked a bin bag of rubbish and blew raspberries at us. My wife and I were less amused. My wife got her wallet stolen in a distraction theft on the Metro. "You've dropped something Ma'am", then her wallet has gone. We took the Metro out to Brighton Beach, a largely Russian and Ukrainian district, with a rather ossified version of the Soviet Union transported to the USA. Despite the rough moments, I still loved the place and its energy.
Then came 2013, with two visits in four months. The first was in September 2013. I was working In New York for the first time. I stayed on Lexington Avenue. The visit wasn't that well planned as the UN General Assembly were also in town, pushing up prices and crowding out restaurants. There were police everywhere and secret service agents in my hotel. The President was apparently staying in the Waldorf Astoria hotel, barely a block away. One evening I got jostled out of my lift by secret service agents accompanying an African looking man in a theatrical style beret and uniform.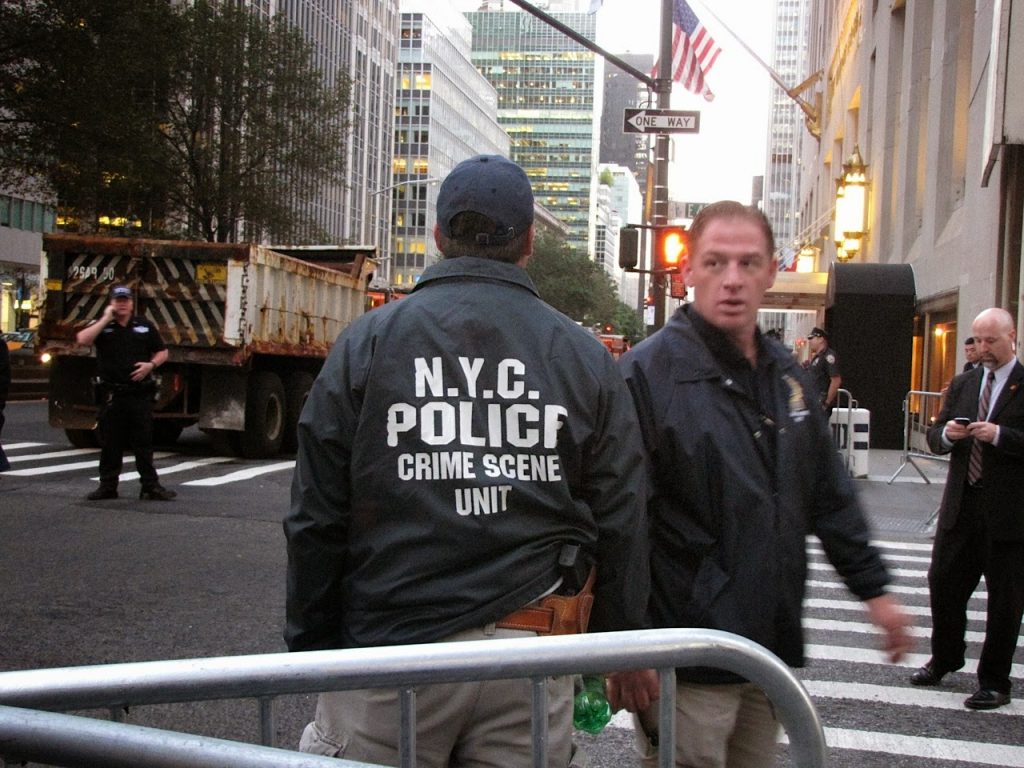 All the President's men- guarding Obama

near the Waldorf Astoria Hotel during a

meeting of the UN General Assembly
I still loved the energy of the place. As fate would have it, Richard, my old pal from the 2000 visit, was in town and we met for dinner in an Irish pub close to Times Square. We reminisced on old times and mourned the passing of thirteen years.
My latest visit, which I hope is not my last, was in December 2013. We went there for another family Christmas. We avoided the worst of the cold of this winter but still had days that were cold enough for me. We stayed in Greenwich Village, a welcome contrast to midtown. It felt more real, although there is nothing real about the property prices.  I had taken up running and went on a couple of runs around lower Manhattan. The Freedom Tower is more or less complete close to the old WTC site. We went to Central Park where our son played. I got cold, but we all went to Boxing Day sales in Macy's and elsewhere. Our base for this final visit was Union Square, which has a bit of everything – a great Barnes and Noble bookstore, various food courts, a triumvirate of McDonalds, Starbucks and TGI Fridays (what more could a family want?!), designer stores such as Diesel and some more everyday clothes stores. We got about by Metro and on foot. On this visit, I lost the wooly hat I had bought in New York in January 2003. There seemed to be a symbolic closing of some cycle in this.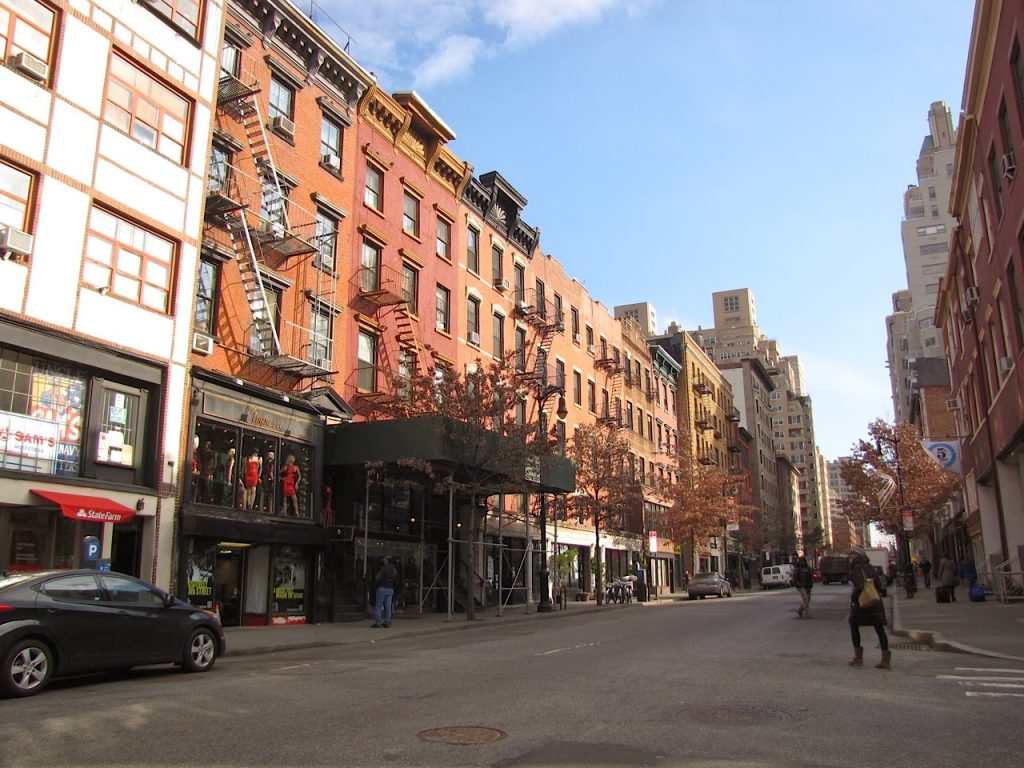 A street in Greenwich Village
The energy is still there and perhaps the events of 2001 are just starting to feel like history. Yet I am sure even if I live to an old age, and visit New York in my final years, I will still think of the WTC and the view from there I saw on my first visit in 2000.
New York, despite your rough patches and edgy moments, I repeat the phrase on a million t-shirts and mugs in saying "I love (or 'heart') NYC".