I love to hunt out arts and crafts on my travels, and even better, actually give making something a go. There's already plenty to do in Luang Prabang in Lao including basket weaving, pottery and embroidery (onto Hmong slippers) but of course for me the papercrafts were the first thing I went in search of.
Close to Luang Prabang is the village of Ban Xang Khong. Here they specialise in manufacturing and selling products made from silk and Saa Paper (paper made from the bark of the Mulberry Tree).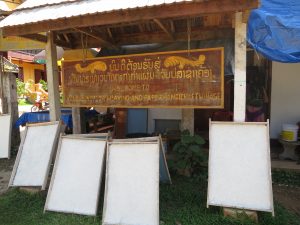 Whether you are just passing through, on holiday or looking for a place to source from, this area is where you will be able to fill a couple of hours admiring the other handicrafts as well as papercrafts and stock up on souvenirs.
There are a number of little stores run by local people still using traditional papermaking methods to create beautiful handicrafts.
What I enjoyed most is the opportunity to see items being entirely made by hand, including the Saa paper.
To be able to appreciate the diversity of products, you will have to wander through a number of shops, but the larger ones in the centre have the most variety.
How to get there:
Go to the North station (you can take the little wooden bridge if you go by bicycle). At the North station, continue for about 50 yards, and turn left (just after the petrol station). Then, go straight on. The village is on the left, along the Mekong. A great way to get there is by bicycle.