I've been a little way laid in Chiang Mai for almost 3 weeks now… and there is definitely more to come back for another day.
There seems to be numerous festivals and events that take place in Thailand's second largest city and I was lucky (my feet didn't think so afterwards!) to stumble across one of them on Friday (25th May) and be able to take part in the pre-celebrations as well.
Visakha Bucha (pronounced with a 'W') is a religious holiday celebrating the birth, enlightenment and death of the Buddha, which by tradition takes place on the same day of the year: the full moon of the sixth lunar month (May or beginning of June).
As an official public holiday in Buddhist countries such as Thailand, pubs and bars are closed and no alcohol is on sale throughout the whole day – although this isn't all that strict here it seems!
Visiting temples, bringing offerings and meditating is a more regular occurrence and it seems the pilgrimage up Doi Suthep (hill/mountain?) just 11km from the city of Chiang Mai, is taken by most of the locals the night before; reaching the temple at midnight (or after) to then walk the chedi (around it 3 times) to gain the virtue, luck and prosperity associated with this act.
Something not touristy… I'm there! Heading off to the starting point about 7pm, the road was already busy with pilgrims. The street was lined with food stalls and all sorts, and every few hundred metres there was free water and other drinks available.
It really felt like the whole city was making their way up the mountain en foot and the atmosphere was lively and full of smiles. There were many people playing instruments, students dressed up and freshmen 'running' the full 11 km's, plus numerous monks had set up 'shop' outside temple areas along the route and were giving blessings to anyone who stopped.
Seriously, this was an experience like no other and I'm glad I braved the crowds to take part. However, after 5 hours and with tired feet, finally reaching the entrance to the temple at the top and being greeted by more crowds, I was starting to think this wasn't a great idea! After taking a short rest, it was time to attempt to climb the Naga Serpent staircase… but this turned out to be like experiencing the Hillsborough disaster. People were pushing and shoving and trying to climb up the steps was extremely difficult, I just kept thinking about how I would get back down again afterwards.
The stairs took about an hour to get up and then getting into the temple itself was easy… however, once inside the crowds wouldn't allow any walking around the stupa, so after a short wait and walk along just one side I gave up and headed back down the stairs!
Disappointed but relieved to have escaped it was then a case of facing the walking back down, as no songtaews were getting through and the road was now clogged with traffic heading in both directions as people descended out of there and motorbikes and songtaews attempted to come up to collect them all. Fortunately I managed to get a songtaew about halfway down, but this was luck given the number of locals trying the same exit strategy!
I finally returned to my guesthouse at around 6.30am, after struggling to get across town and then being dropped off in the wrong place. I was grateful of the shower before retiring to my bed to recover.
This really was a once in a lifetime experience and I would recommend going along and joining in… at least for the upward part, but then perhaps give the temple itself a miss or get in there and get out as quickly as you can and find some transport back down, as 22 km's is too far to walk at that time of the night/morning!
Visakha Bucha day itself was more relaxed, with a trip to Huay Tung Tao lake and dinner with my massage teachers and a few other students, after which we headed along to Wat Chedi Luang to join in the walk around the stupa, but I only completed one lap before the monks came out!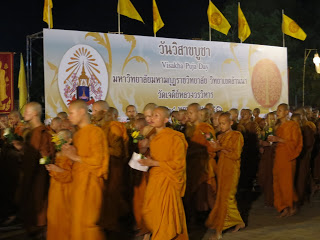 To keep tabs on what I've been up to check out:
Previous entry: Jera Thai massage course, Chiang Mai
Travelpod next entry: Wat a lot of temples and my recommendations