Singapore is renowned for its shopping, but after almost 4 weeks there I can assure you there is a lot more to see and do there than perhaps people realise.
I'm working on a few posts for Singapore, which will feature some of what I got up to whilst I was there, and of course, I will be recommending some of my favourites.
So, I thought I'd start with some places that rarely come up on a tourists itinerary.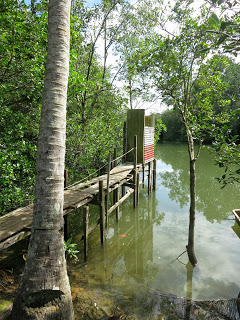 The city is extremely built up and the ongoing development continues everywhere you go. There are however some interesting places that some how go against the urbanisation, and don't quite fit. Hopefully they will remain that way. Check out the links below…
Pulau Ubin
I received recommendations from a couple of people who had been here, suggesting that if I felt the need to escape or wanted to experience a little bit of Singapore as it once was, then, I should add Pulau Ubin to my itinerary.
Despite planning a visit here in conjunction with venturing to Changi, in hindsight it warrants a full day, if time permits. Just 10 minutes from the jetty in Changi village, on a wooden bumboat for S$2.50 each way, this little island is guaranteed to take you back in time.
Changi village
Changi village itself is worth a visit, or why not stay there for a couple of days as it's ideally located for the airport. Another area that allows you to escape the city and which is also the home of the Changi prison museum and chapel where you can find out about the treatment endured by the prisoners of war during the Japanese occupation of Singapore. Read about my detailed recommendations here.
Geyland/Little India
If the variety on the East part of the island is enough to interest you or you are still left wanting a taste of 'the real' SE Asia, then take a walk round the areas that have a personality all of their own. In fact they leave you wandering if you are still in Singapore at all. Try:
– Geyland – red lights and temples.
– Little India – spice up a Sunday .
Those familiar with Singapore may have other suggestions for the misfits category, I'd love to hear about them.