I don't watch television, and that means I have had to accept the fact that I can't join in those conversations about the latest soap, sitcom or drama series, or even the Olympics coverage.
However, it rarely bothers me. But I do have to admit to being a little disheartened when I hear about a travel programme that I missed.
I'm a huge Michael Palin fan, proudly owning the DVD box set of his around the world adventures. And I must confess to obtaining copies or downloads of travel shows or documentaries when I can.
An Idiot Abroad accompanied me during my road trip to Spain and Portugal last year, and I have a reasonably long wish list of other televised travel themed shows, such as Wainwright Walks (with Julia Bradbury).
A few years back I caught an episode of a travel documentary, entitled Equator, that got me hooked on visiting Colombia.
So, it seems clear that a lot of my inspiration for travel stems from television, despite not watching it!
However, a huge amount of my inspiration comes from talking to people. Friends, family, people I've met at the dentist even.
This weekend is the first one I've had free from travel related events since I returned to the UK at the end of January. I just haven't been able to stop 'travelling' due to this time of year being popular with travel shows.
The cold, miserable, grey British weather really hasn't been as bad as I anticipated, but made all the better as I worked my way through each show in London.
I have enjoyed a talk by Sir Ranulph Fiennes – the only man alive ever to have travelled around the Earth's circumpolar surface. And have listened to a number of other interesting talks, which just fed my hunger for travel further.
Sitting in on an interview with the Wainwright Walks guru Julia Bradbury, and then briefly meeting her was some sort of dream. Then, I was finally able to put a face to a name that comes up in the travel world from time to time, Simon Reeve, a lesser known celebrity. He also turns out to be the presenter of the Equator documentary (mentioned above) that inspired me to visit Colombia back in 2009.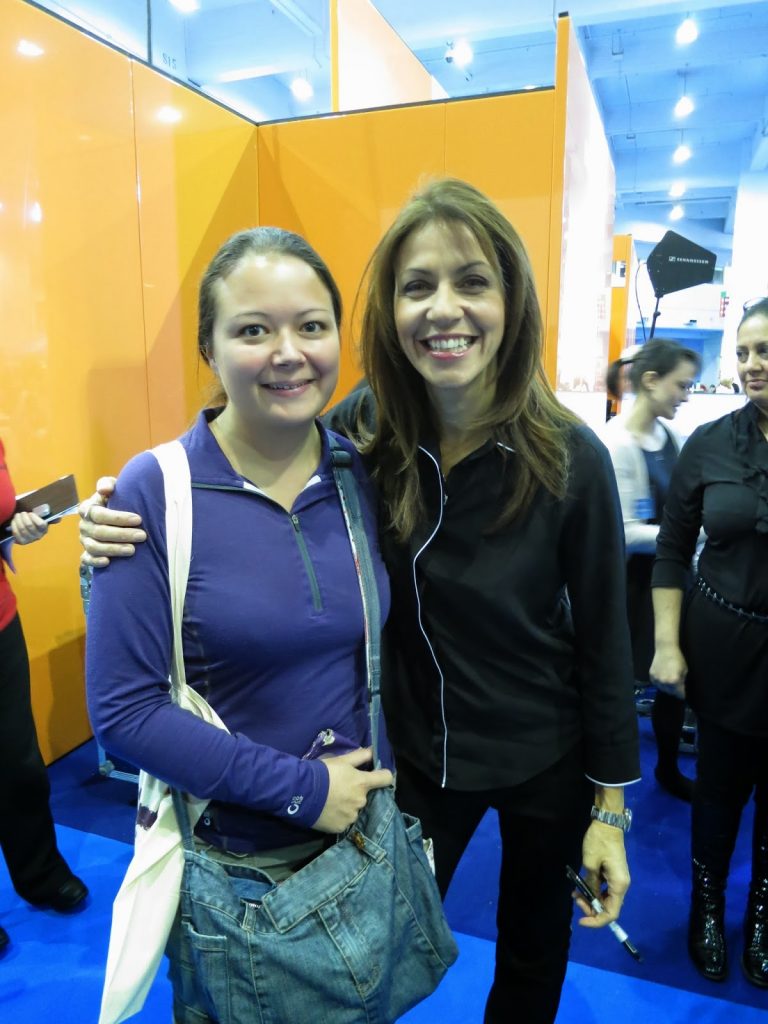 Meeting Julia Bradbury
So, why would you attend a travel show?
I don't expect everyone will get as much from these travel shows as I did, but I can assure you of an inspiring day out and a chance to overload yourself with freebies.
Have you ever attended one or want to get an idea of what to expect? 
Well, attending a travel show can shape the way you travel in more ways than one. However, it doesn't have to be just about travel. Read on for a summary of each of the shows and how they compared:
Adventure Travel Show, Olympia (£10 on the day)
Exhibitors: A large variety of companies and businesses, and something for everyone. It was largely travel/tour agencies or associations, with a few token organisations. All those I spoke to were reasonably knowledgeable and generally seemed interested to just chat with you and tell you about what they were offering without the hard sell.
Freebies: Plenty of pens, bags, brochures and info being handed out as well as numerous competitions to enter to win holidays. You could certainly collect your money's worth if you got something from each stand.
Seminars: Despite being a travel blogger/aspiring writer, I felt the writing and photography seminars were overpriced for anyone in my position. I caught sight of a tout trying to rumble up last minute registrations, so they definitely weren't full.
Speakers: Sir Ranulph Fiennes was head lining, and his talk had me gripped throughout; despite having to sit in the gangway on a low step, due to lack of space. He had an interesting sense of humour which created many laugh out loud moments, and I expect few people left the theatre without feeling the price of the entrance ticket wasn't well justified. There was a book signing session afterwards, but a long queue that was poorly managed due to the lack of space at the venue.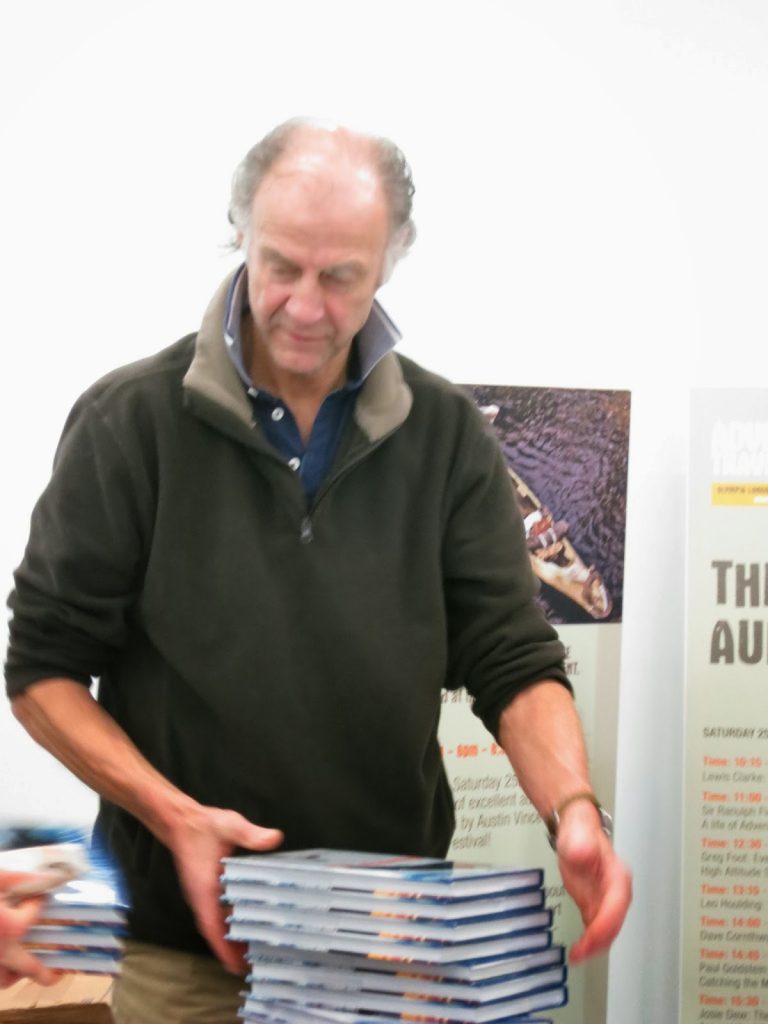 Sir Ranulph Fiennes
The other talks were varied and mostly by much lesser known individuals or representatives of businesses exhibiting. Those I attended (Phoebe Smith, Wanderlust  magazine editor and Jo Bradshaw, 360° Expeditions representative) were strong public speakers and well versed in their subject matter. Unfortunately space was a real issue and many people were sent away from the latter talk which was in a much smaller room.
Venue: Disappointing facilities: there was a 'tunnel' photo gallery, which wasn't wide enough to allow people to walk/pass through easily; toilets weren't cleaned and by lunchtime 4 cubicles in the Ladies were out of order. Rooms for many talks far too small and separate to the main exhibition. Food and drinks options were extremely limited and space remained an issue.
Note: Trains to Olympia from Earls Court run every 20 mins, but it is walkable if you don't mind being out in the cold.
Destinations: the Holiday and  Travel Show, Earls Court (£13 on the day)
Exhibitors: A variety of businesses attended with a few travel related product advertisers not just travel companies.
Disappointingly, quite a few of the stands had people manning them who didn't really seem to be able to answer any of my questions. I was starting to think I was more knowledgeable about their destinations and often ended up walking away deflated.
The most appalling experience was the Cuba tourism stand, who ignored me for the first few minutes, as they were busy posing for group photos. The first person I spoke to referred me to someone else, and then, the supposed expert from the tourist board still could answer my simple question about visas. The third person was insistently trying to push a sale and avoided answering my questions, leaving a very bad impression.
Freebies: Again, plenty of pens, bags, brochures etc. There were also a few unlikely freebies including sun cream samples and the occasional edible item to take away. There were also 'taste the world' sessions throughout the day featuring foods from around the world, although these were quite limited.
Seminars: Only a photography seminar was taking place, although led by a high profile photographer. The cost seems justified given the variety of different subject levels.
Speakers: Open plan stages with some limited seating allowed crowds to gather around freely, it made it feel more spacious and less restricted than being set aside in rooms. There were a couple of 'theatre' rooms for the more specialised talks. However, many speakers were presented in the format of an interview with the opportunity for audience questions which made it interactive and unrehearsed. Book signings were also taking place after interviews with celebrities.
Venue: Spacious, with large choice of food and drinks vendors.
I liked being able to wander from each stand without having to battle through the crowds.
Outdoor Adventure and Travel Show, ExCel (£16 on the day)
Exhibitors: A good variety of exhibitors, a large number of which were UK based. There was a significant number of retail stands, selling items, but also offering samples. In my view there were just too many nutritional bar type vendors, but this meant plenty of edible samples to try. In addition, UK produce such as cheese and salami was available, and of course I had to indulge in a purchase to take home.
The 3 in 1 shows meant a huge section was dedicated to cycling and triathlon companies, which although didn't specifically interest me, I can imagine would be a treasure trove to enthusiasts.
Freebies: Plenty of pens, bags, brochures, but there seemed to be a larger variety of freebies. In addition there were areas to try out the zip line, climbing walls and a large number of other activities, as well as areas with competitions and charity attempts going on; all free.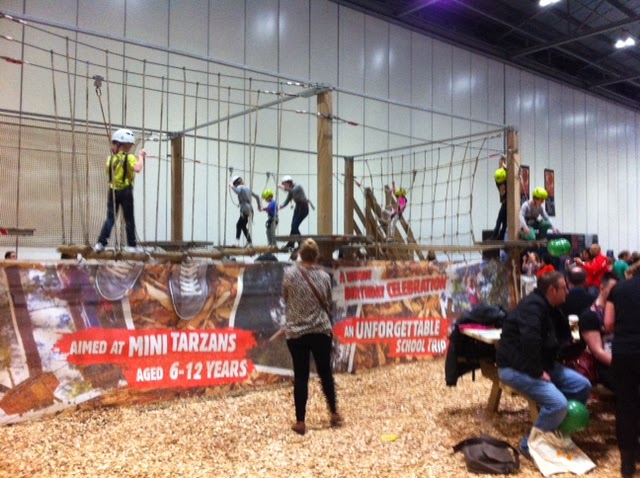 Go Ape experience
Seminars: n/a
Speakers: There were very few celebrity speakers, and none I was familiar with. With six different speaker areas dedicated to each of the subjects advertised, the size of the audiences seemed controllable given the spacing of the venue.
Venue: Nice spacious venue with a variety of refreshments available. The toilets are outside the exhibition areas and downstairs, which can mean a bit of a hike. Also there was a motorbike show going on at the same time, which meant it was extremely busy, both inside the show area, and within the exhibition centre area.
We faced severe traffic approaching the venue after deciding to head there by car. However, we decided to detour to a nearby DLR station, park for free, and take the train in, avoiding the queues of traffic. Having been to events at this venue in the past I can vouch for it being reasonably easy to access via central London transport.
Summary
These are consumer shows, but despite the higher ticket price the Outdoor and Adventure Travel show definitely offered more in return – with numerous activities, shows and freebies, as well as plenty of variety. This is the one for a family day out, and the kids would enjoy it too.
I enjoyed the Adventure Travel Show, as I was interested in talking to the exhibitors and they were all very knowledgeable about their offerings so it was easy to get advice and information without getting stuck in the hard sell.
However, I really enjoyed the interviews at the Destinations show, mainly because I'm a Julia Bradbury fan and the venue was better laid out. The people manning stands disappointed with their lack of knowledge in a lot of cases.
Visiting a show is much like travelling. You need to filter out the tourist traps, avoid the scams, and be selective.  There will be plenty to feed your hunger for travel, but try to define whether you are a traveller or a tourist in order to get the best out of it.
Note: Advance show tickets are normally discounted. There is also a show in London on Saturday 1st March 2014 – FREE tickets are available on a limited basis.