It can be extremely refreshing to find yourself re-exploring an area many years on, but I never actually thought this particular place would ever be one of them.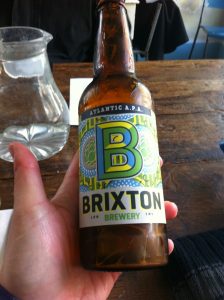 I spent a week in Brixton, nearly 20 years ago, when I was sent there to work. And I think I blanked it out. However, I do recall feeling uncomfortable, and the fact that each evening I would scuttle along the High Street, rushing for my train to escape home.
After that brief experience, I have never ventured back.
So just this week, I was pleasantly surprised to be introduced to a very different version of the Brixton I remember. There was also the added advantage of experiencing some local food delicacies, and the very knowledgeable company of our guide, Roo, on Mind the Gap's "Eat London Tour".
Throughout the tour we were told how Brixton has changed in the last few years.  From the days of having the first market street to be lit by electricity, to the 1981 riots.
The drug situation appears to have improved, and most importantly the feeling of fear has dissolved. There is a clear sense of community everywhere and no doubt this has been strengthened by the introduction of the Brixton Pound in 2009.
Our guide was extremely informative, bringing to life an area that I knew very little about, but our food tour only brushed the surface.
First stop was a visit to a Portuguese delicatessen selling Pasteis de Nata, custard tarts. Not the original Pasteis de Belem which follows the ancient secret recipe from the monastry in Belem, Lisbon, of course, but the generic version, which are just as yummy.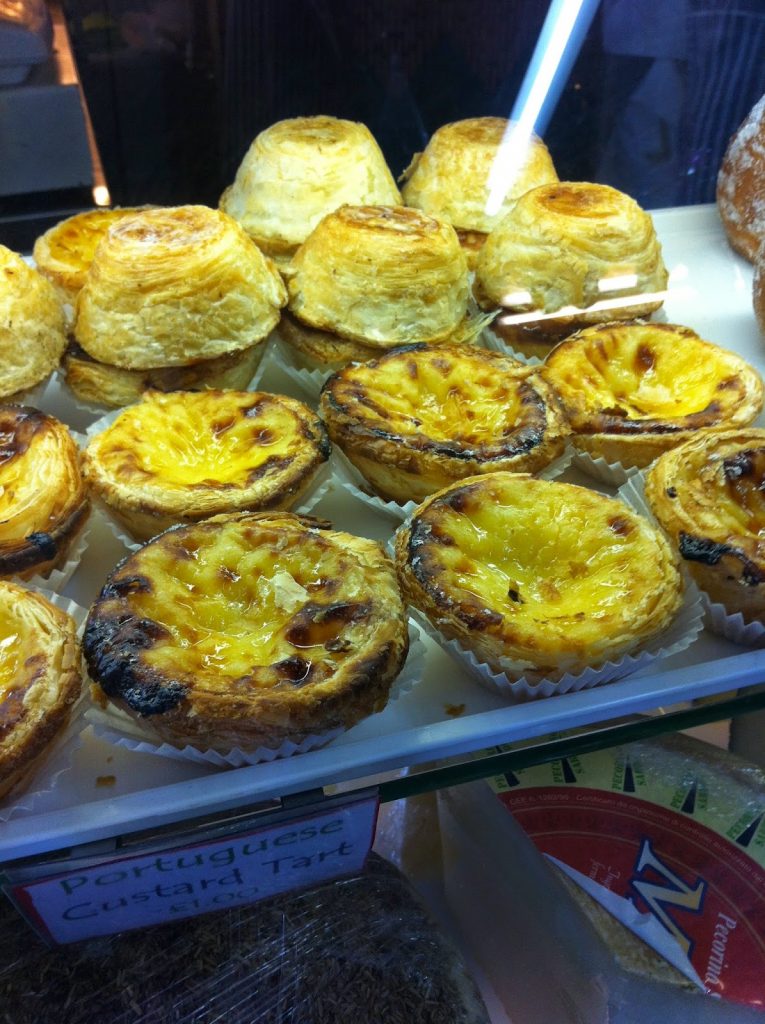 Portugal often goes unnoticed in the food world, despite both our famous staples, fish and chips and tea, being introduced to England by the Portuguese.
What was sad to hear is that the delicatessen, along with the other shops located under the arches on Atlantic Road, is potentially going to be evicted, as a result of 300% rent increases; to make way for regeneration. These businesses are the soul of the area, and as I spent time there, this became more and more apparent.  So, I will certainly be joining the supporters of "Stop the Evictions", and you should too – see here for more details and to sign the petition.
Next was a short stop at the station to admire some wall art and statues, claimed to be the first bronze statues of black people in the UK. We then headed into the market area to enjoy a saltfish and callaloo Caribbean dumpling before moving on to Salon for cheese and charcuterie, watered down with some Brixton beer.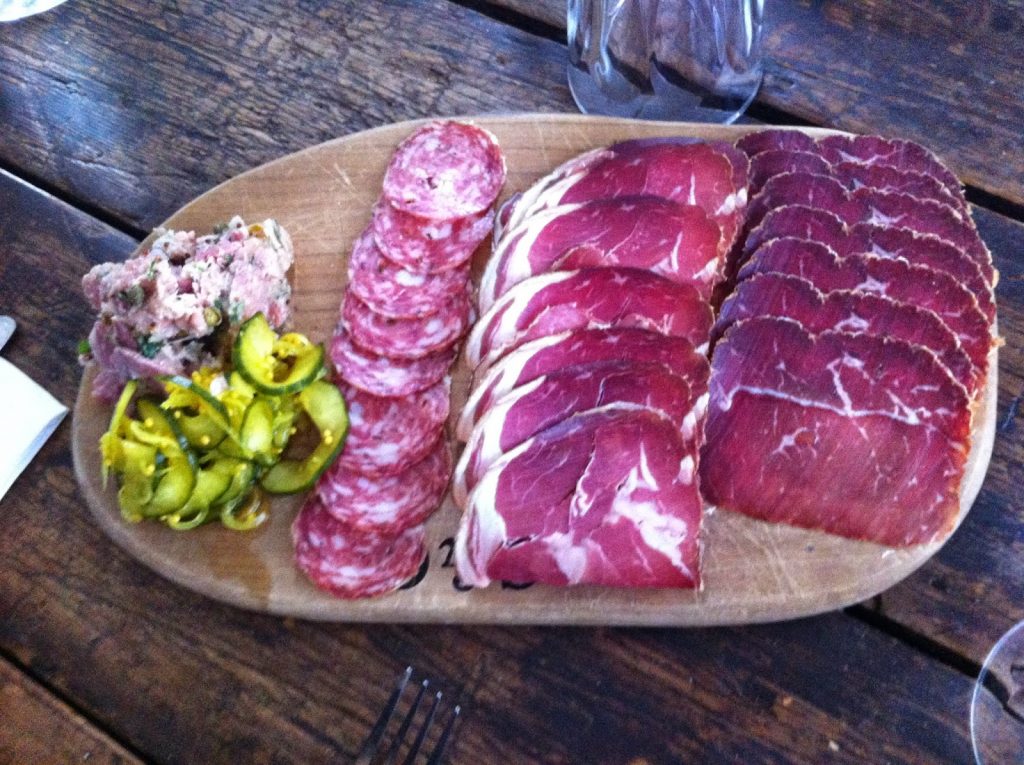 All of the cheese and meats served in Salon were produced locally, or at least in the UK, which made a nice surprise to our culinery experience.
The market area has been somewhat improved in recent years, now with numerous different restaurants and shops from around the world. In the evenings this really is a great place to head to enjoy something to eat including the famous sour dough pizzas at Franco Manca.
Dessert was a surprisingly amazing cupcake from Ms Cupcake, which was good enough to convert me to being vegan on the spot. If it wasn't for bacon that is!
We enjoyed a little more wandering and some other interesting info from our guide, before being whisked off on the 133 bus to Borough Market, and yet more yumminess.
Having been here numerous times, I thought I had seen it all, but our guide was well versed in pointing us in the direction of some stalls that I hadn't tried before. Our final savoury stop was the chorizo sandwiches from Brindisa, followed by some doughnuts and then a chocolate stall; a great finishing touch to end the morning.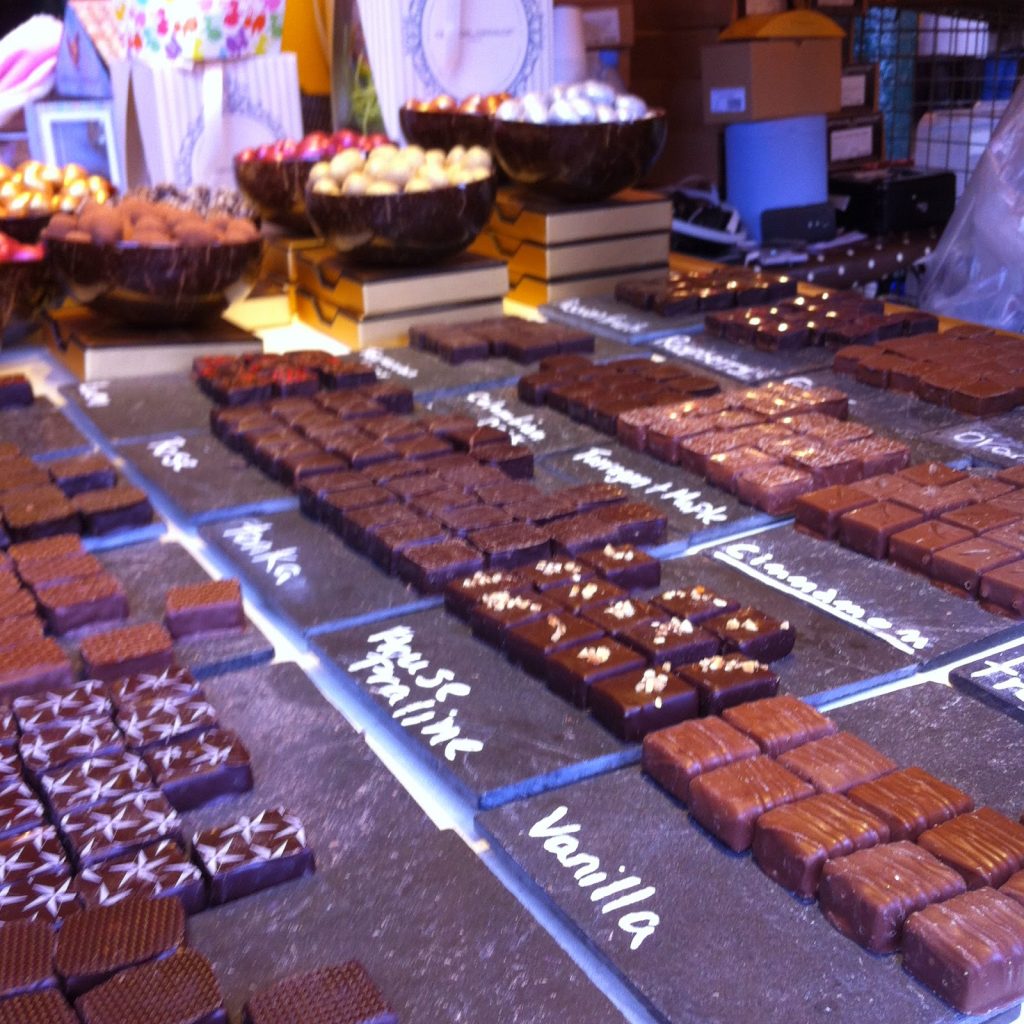 As I mentioned at the start, Brixton really surprised me and I will definitely be back again to explore the markets more. The whole area is slowly being regenerated, definitely for the better overall, but the local community and small businesses are what makes it different to many other areas of London, and I think it's important that more people realise this.
Spread the word about the Stop the Eviction petition, or better still, plan a visit or take a tour there and you will see it for yourself.