Within the first 5 minutes of entering we saw several different animals, and they were almost close enough to touch. This was really going to be as good as the reviews I had read.
The big attraction in Singapore is the zoo. It's famous for its size and the fact there are no bars or cages, with the animals living in areas very close to their natural habitats.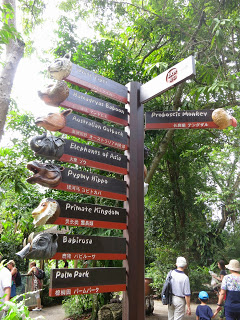 Although it's out of the city, public transport is efficient and easy, taking about an hour from the centre.
This is absolutely the best zoo I have ever seen, and the closest I will ever come to seeing many of its residents.
The fact that the animals aren't kept behind bars, and instead are contained by large moats and sometimes electric wiring also means they are used to being glared at by visitors. They are not shy, don't hide, and are guaranteed to be available for your viewing; due to the cleverly placed feeding and shelter points.
Some monkeys and apes are completely free to roam as they please around the zoo, swinging from trees or just hanging out, posing for pictures.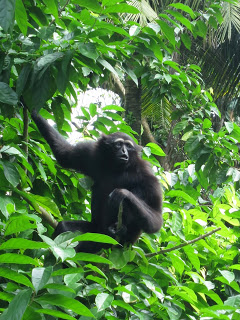 We got there early, to ensure we avoided the crowds and made the most of it. The weather was against us by lunchtime, but the periods between torrential rain helped coax the animals out. So, we did see everything.
Tip: Be organised
It's a long day with a lot to see, which we tried to carefully organise between shows and feeding times, that are detailed in the leaflet they give you on arrival. It's worth looking this up in advance and planning what you want to see, to ensure none of your favourites get missed. We managed to tick off most of the shows and all but one of the feeding times for the animals at the top of our list, with only just missing the white rhinos lunch break.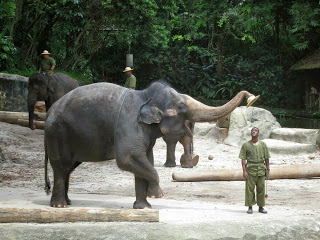 My favourites have to be the white tigers, pygmy hippos, and giraffes. But even the more common and less camera worthy otters, apes and sea lions were lovely.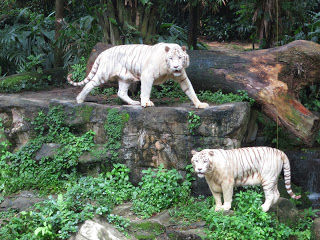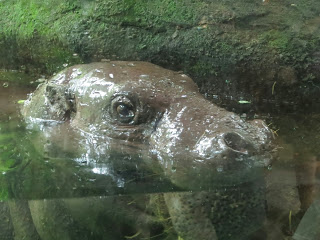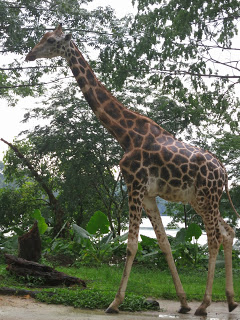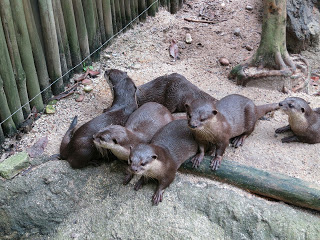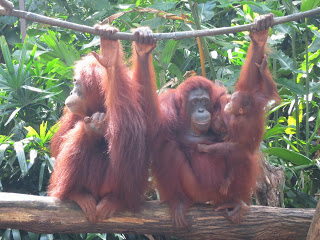 I recommend heading to each of the shows ahead of their schedule time, and prepare to get wet in most cases, or sit a fair way from the front.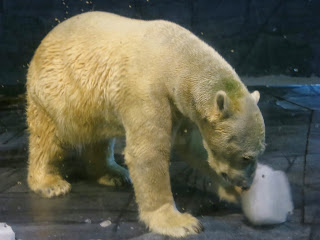 By 1pm we had seen all the shows and a few of the animals, allowing for an afternoon of freedom roaming around at our leisure. However, this place is huge, we were on our feet non stop…there is just so much to see! With kids you would probably need to come back a second time to fully appreciate it all.
The river safari (separate tickets) isn't yet complete, so although this was an opportunity to see pandas, we wouldn't have had time the same day to do that as well.
Night safari
A combo ticket is available for the river safari, zoo and night safari, so we decided to make the most of the saving and visit the latter as well.
It's very good, and well done. But, in all honesty, if you have just spent the day at the zoo, you may find the night safari disappointing. There are different animals here, and there are, perhaps surprisingly, a lot of them out at night. But the majority of them are the same as what you have just seen at the zoo, albeit in daylight!
The numerous tourists that don't listen to the warnings about using flash will start to grate on you here. As will the fact that you can't actually photograph the animals without the use of a flash, although you will appreciate why.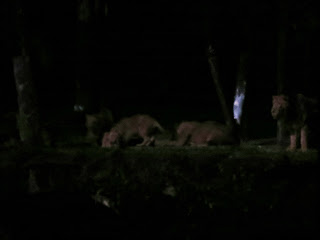 There are lions there somewhere!
The safari train/tram, takes you out to the animals that are not accessible on any of the trails. These are of course the more interesting ones, or scary and ferocious ones. Be prepared that you will probably see a lot of antelope type animals as well.
The commentary provided isn't great, and you do really have to keep your eyes open and enjoy the animals being on display. It sometimes feels like they have been stuck there in the perfect pose, close enough for a great photo (if you had a decent lens to take it with), but which you have to capture in your memory as it all moves so quickly.
The trails allow as much time as you want, but there is a limited amount to see that wasn't already at the zoo next door.
Unless you are particularly keen on seeing animals in their nocturnal state I wouldn't include the night safari on your must do list. Save your dollars for something else.
But the zoo… Has to be done!