In my experience the best trips I have taken have involved extensive research before, during and after departure.  Everyone will carry out research differently, but I don't recommend travelling without doing it. Otherwise you will miss out or potentially not have made the most of your trip.
For example, the majority of my fleeting visits to a number of cities during 2012 had been very last minute and often unplanned. I ultimately became reliant on whatever info I could collect at an airport bookshop, or on arrival at the hotel or local tourist office.
These sources were all still forms of research and I managed to get by, but I was terribly uninformed and ill prepared with limited time to spend reading as well as experiencing. It also found me in Helsinki on the first day of Midsummer – see my post: Everything is shut!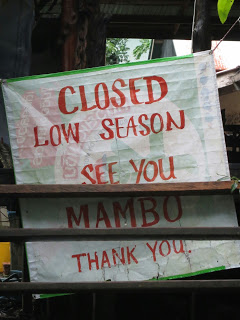 Today, social media and the internet make information more accessible and immediate than ever before, so we really should take advantage of it.
Admittedly, my current travels; having quit my job and rented out my home, allow me the time to take advantage of all sorts of sources of reading material, advice from friends/family and fellow travellers. But even with limited time everyone can do a little research into their planned destination before they arrive.
Choose what works for you and what is feasible. At the very least, use your travel time wisely, not to just catch up on that perhaps much needed sleep; but to read the highlights page of your guide or the wiki page you downloaded or printed. There are so many sources to consider:
A guidebook
Pick one up on Ebay. It's great for second hand bargains. Borrow from friends and family, who have been there before, or make use of your local library. Even out of date issues contain most of what you need to know about a place – it's just the prices will be a little old! Side tip: plan ahead, don't leave it until the day before to obtain one!
Ebooks
I've more recently become accustomed to ebooks and am now almost completely dependent on my handheld tablet device, which allows me to flick from book to book. It also means not limiting yourself to what you can carry, as books are not a light travel companion. You can carry them all with a kindle, tablet or other handheld device.
Side tip: another best not left to the last minute. Make sure you have downloaded an e-reader onto you device as well as a selection of reading material and ensure it is fully functional when offline.
Friends/family
Of course, although guidebooks and ebooks provide a good point of reference, these days we want immediate recommendations. Word-of-mouth information passed on by friends and ordinary people like ourselves is best. We want to experience the fun we see others having, or activities which appeal to our individual tastes and not just the masses.
Call up a mate and pick their brain for advice. Everyone always has highlights to share from trips they have taken and they will be pleased to reminisce with you and give advice.
Social media is slowly becoming a significant communication line and often a great way to get an up to date response and/or opinion. Use it to reach a much larger audience and quickly. For example, just post about a trip you are planning and requesting advice on Facebook. It will inevitably pull up a response from someone, or someone who knows someone, who has been there.
The web
A wealth of information is at your fingertips, and with gadgets or apps such as Pocket it's just a case of clicking and saving the information for later. Travel forums such as Thorn Tree, and review sites including TripAdvisor, are a good place to go for more detailed information on specific places or sights. Even just researching your accommodation will bring up links to nearby sights, using the latter.
I have found that Twitter, despite my reservations at adding another social media application to my collection, is extremely useful. I'm not entirely sure how to use it correctly. However, it's my favourite source for real-time information. Use it to ask for help and advice. Try searching for discounts or offers here applicable to your destination.
Travel blogs
There are many bloggers out there wanting to make it a career. Often they are an excellent source for "how to" information, collated whilst right out there in the thick of it. I personally feel like they're in the trenches of travel with me, experiencing unique places and in a similar style to me. They are to me, the first source I turn to when in research mode. Side tip: A Google search actually calls up travel articles, written by bloggers, tending to rank the most information-packed and some what instructional articles first, versus "Here's me on my holiday …" types of posts.
So, whatever your plans are, I urge you to start your research as soon as you can. Don't be the traveller who arrives at said destination to find it's a National holiday and there's no obvious place to go to eat!