Christmas trees are going up everywhere (I'm just seeing them on my Facebook feed!) and the Christmas markets are already featuring in (travel bloggers) posts. I even saw a Christmas shop when I crossed the border into Myanmar a few of days ago (whilst on a visa run) … now, that was a surprise.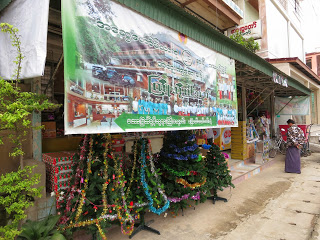 Myanmar Christmas shop
Not being 'home' for Christmas is not unheard of for me. In fact being back in the UK for Christmas, or even the run up to Christmas is something I've tried to avoid year after year.
This year is no different of course.
I don't do Christmas. Most of my friends and family just accept that these days. If I'm not there it seems a lot easier, but I do have some valid reasons for not celebrating:
Christmas is so commercial. No one can argue with that. Everything is taken over by Christmas before the big day, and you just can't get away from it.
I'm not religious. Although this doesn't stop numerous other people celebrating. Their reasons most likely culminate around family.
Of course there are my parents and sister. But for many years my sister has worked over Christmas and my parents are not particularly enthusiastic about celebrating. Where there are young children, or families that always celebrate, that's what makes Christmas. I've not been influenced by either, so I guess it just became the norm to not celebrate. And of course I will use every opportunity… to travel!
The main reason I don't celebrate Christmas, is that Nick, my late partner, loved Christmas. Not in the sense that he celebrated any of the things I resent about this time of year. He just loved the feeling of Christmas, the decorations, the cheer, the getting together with family. He embraced Christmas. And the few Christmases I was lucky enough to have enjoyed in his company… Well, they just sound out above every other memory in my life around Christmas time. The deep sadness that overwhelms me because he is no longer here, it's just magnified at Christmas.
That's it.
So, I'd rather spend the holiday period on holiday, and if I can contribute my time to a worthwhile cause, a charity or volunteering, then that's how I would choose to spend Christmas.
The last few years I've not been home much:
– 2012 Bullhead city, Arizona. Then Boxing Day at the Grand Canyon. See related post: 'Road trip: desert to world wonder'.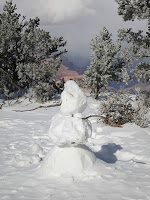 Snowy Grand Canyon
– 2011 Kandy, Sri Lanka – but no christmas. See relevant posts here.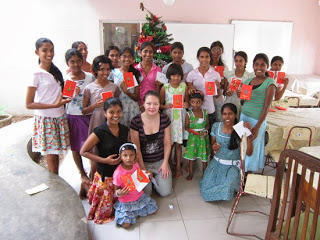 Card making at centre for girls, Sri Lanka
– 2009 At home eating toad in the hole, not turkey! Then Boston on Boxing Day. See my post: Avoiding the sales
– 2008 Lake District, Cumbria. A dreamy Christmas snuggled up in a little cottage far away from everything. Again no blog post for this one as I was too busy actually enjoying Christmas!
– 2007 I was supposed to be in South Africa, but ended up in Tallahassee in the US after being deported at Johannesburg. That's another story and unfortunately I don't have a blog post to share.
– 2006 Ecuador. See: Christmas with a difference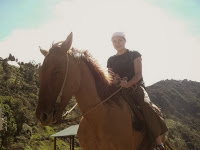 Horse riding, Ecuador
Maybe next year I will give Christmas another go. Being away for so long puts things into perspective a bit more. There are plenty of things I secretly love about Christmas. I just need to find a way to focus on those:
– I love spending time with friends and family, eating, being festive and cheery. Christmas work parties are always fun. It's great to get together with friends or family for a 'christmas' meal or party. Or even just a coffee and a catch up wrapped up in a winter coat, hat, scarf and gloves, sipping from a warm mug.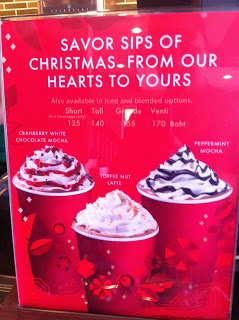 A taste of home in Thailand
– Those friends or family you see often or those you see rarely and sometimes only around this time of year. There is never enough time to meet up with everyone you want to, Christmas or not – I wish I could change that. Familiar faces anytime of year, but more so around Christmas time.
– Being looked after and relaxing. My mum plays the part well. I'm sure my sister would create a lovely Christmas dinner with trimmings as well. And my dad does his bit too!
– I love christmas shopping. Or I love searching out cool and thoughtful gifts for people, or making gifts. I prefer not to have to face the crowds to do it… But it is fun, particularly if you do it with someone else and make a day of it.
– I love making cards! Be that on my own or in groups. I loved running classes and sharing my love of crafting with others. I loved that it gave us a reason to get together on cold nights. I most of all love sending handmade cards. I know people appreciate them more than the many others they receive each year. It brings back a moment of tradition amidst the commercial  bombardment.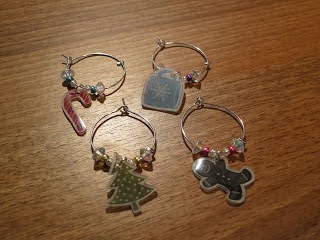 handmade by me last year
Any excuse to make anything really… I could turn my feelings about Christmas around completely just by emersing myself in my crafting hobby, more so with friends and family enjoying it with me.
Anyway, enough dreaming! There's no sign of Christmas, friends, family or crafting stash here :(.
I'm currently in Thailand. My Thai friends inform me that a lot of people do 'celebrate' Christmas with families. The majority of the population here are Buddhist, so it's not a religious time. But then that is really no different to back home.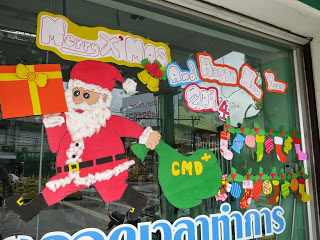 Where will I be on Christmas day? I have absolutely no idea. All I know is, I don't miss the cold, snow, decorations, drunken parties, lights, and 24 hour Christmas music on the radio. I miss my (ex) colleagues, friends, and family. I miss them every other day of the year already.That's inevitable when travelling. If I was home however, would I see much more of them? Sadly, probably not.
Wherever you are in the world. If you know me personally and are reading this. I miss each and everyone of you.
To anyone else: are you going to be travelling at Christmas or have you done it in the past? How does it make you feel and what did you do/will you be doing? I'd love to hear you Christmas/non Christmas themed travel tales.