Not many people have been to Albania it seems. In fact I was surprised at how few seem to know where it is.
Bordering with Greece, Montenegro, Kosovo and Macedonia, Albania is often overlooked. Being so close to the likes of Croatia and Italy, it would be difficult not to assume some similarities to those destinations, as they were maybe some 20 or 30 years ago.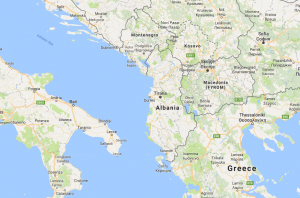 Of course Albania is not undiscovered, but the infrastructure and tourism is still in its infancy, making it a great destination to experience ahead of the crowds.
When Albania successfully joins the EU, having yet to be accepted following it's application in 2009, there's a strong chance of it following in the footsteps the likes of Croatia; at least in respect of tourism.
So, of course I'm suggesting you visit Albania as soon as possible. My 'Impressions of Albania' post gives a flavour of what to expect, but here's a little more info to help you plan a visit there.
History
Tell tale signs of communist slogans and graffiti can be spotted if you look closely. The endless bunkers which pepper the countryside (750,000 built of which many still exist) thought to have contributed to Albania's poverty.
Religion
Enver Hoxha, in power between 1944 and 1985, was deemed a paranoid dictator, who viewed the need for every Albanian to be ready and armed in the event of an attack. However, despite isolating the country from the world and itself, this never happened.
The majority of the population is Muslim but there is little evidence of this. Mosques are located close to churches and head scarves are rare even out of the cities. Often the call to prayer is quietened in built up areas.
Capital city
First impressions of the capital, Tirana, were perhaps it's urgency to expand as modern blocks shroud the sky line. Despite this it retains an unexpected charm, with tree lined boulevards, green spaces and quirky buildings.
The city outskirts are a complete contrast with numerous unfinished buildings of various degrees. The look is often complete with notices everywhere reading "Shitet"(For Sale). Plenty of opportunities for investment but likely to require significant construction over the next few years.Tirana would fulfill a city break adequately, being fairly easily accessible across Europe, there is plenty to experience and it's reasonably cheap.
Getting around
Although it's possible to travel around independently on public transport, hiring a car would be the most effective way to experience the country fully. However, be prepared for some of the worst driving ever, although it's apparently improving. At its best you just need to follow no rules, at its worst the erratic nature of many drivers is just part of the experience. Out of the cities driving appeared easier.
Better still, travel with a local guide or ensure there's a knowledgeable local on hand, to share details at some of the key sites.
Food
The food is significantly influenced by Greece and Turkey. Yogurt sauces are on the menu in many regions, and tzatziki features too. Byrek (savoury pie) and kebabs/meatballs are favourite snacks available everywhere.
The quality of the seafood, which costs a fraction of the equivalent dishes, further up, along the Dalmatian coast, is reason enough to plan a visit.I was surprised by the variety and the freshness of many of the dishes and the presentation was often well considered. Most surprisingly vegetarians would not struggle to travel here, unlike many of the other Balkan countries, from what I have see during my visits so far.
Drink
Espresso lovers will most likely agree that the coffee in Albania is very  good, perhaps due to its proximity to Italy. The coffee culture is a part of daily life and easy to become accustomed to.
The obligatory tipple of course being Raki, which certainly becomes an acquired taste after the first glass. Either that or you are too far gone to notice any after burn. The home distilled options are the best, and despite its apparent illegality, you can pick up the local brew along road sides, usually sold in old soft drinks bottles.I couldn't fault the beers we tried and as a wine drinker the reds are more than palatable.
Sights
With a number UNESCO sites already, there are others not far from acquiring this status.
If the litter problem can be addressed, along with salvaging what remains of more of the archaeological areas, the interest in protecting more sights will surely increase.
Beaches
We missed out on viewing a number of mosaics at both Butrint and Apollonia as they had been covered to protect from the sun, so there is definitely more consideration being made to preserve rather than destroy. This was unfortunately not the case for most of the ruins uncovered in Durres, the former capital. Here, little remains beyond the amphitheatre, following significant looting and destruction.
Unless you want to experience the Benidorm of Albania, avoid staying in Saranda. Most easily accessible from Corfu by ferry. This is where the country's largest resorts are situated and sadly, they have suffered from rapid over-development.
Instead, head slightly north, to Ksamil, Himare or Borsch and you will find much smaller beaches, some of which are difficult to access. Take a hike or boat to get there. Hopefully they will stay this way, as the pristine white sand and crystal blue water, is the reward for venturing off the beaten track.
I've yet to experience the north. So, I'm hopeful that the virtually uninhabited wilderness will wait until I can return, and with any luck that won't be too far away.As we travelled through the country we experienced it's diversity, both physically and culturally. The transition from the past continues but there is a risk that changes will bury much of the uniqueness which Albania offers.
If you are planning a visit to Albania, do get in touch as I can recommend a great tour company if you are after a truly local experience.