One nesting turtle, two nests from boat patrols, 4 nest excavations and several hundred hatchlings, is not a bad return for 10 days of volunteer work! Of course dealing with each of these is part of the life of a volunteer at Juara Turtle Project (JTP) on Tioman island, but you cannot guarantee experiencing all of it, even if you stay for longer.
We were lucky! In addition, I am now, well versed in the work done at the project, and the threats faced by turtles, both on Tioman and around the World, particularly in the case of Green turtles, which were the most common in this area.
The turtle talks are the main task assigned to volunteers at JTP and of course we were made aware of this before arriving, so had an opportunity to read up on everything beforehand. However, it can still be quite daunting, encouraging visitors to come inside and learn about everything, without them just wanting to see the resident turtle, Jo.
After seeing how it's done by observing other volunteers, it's just a case of getting stuck in, and once the first talk is done and dusted, it becomes much easier. In fact, by the end of my stay I think I must have been talking for too long as I received a lot of questions about where I studied and how long I had been working here etc. It was probably just the ooze of enthusiasm that led people to believe I'd been here longer… I think that stems from volunteering generally, and particularly at JTP where the variety of things to get involved in was so vast whilst we were there.
Volunteers choose to be here, they make the decision that they want to do something different whilst travelling or on holiday, or perhaps they have a particular interest in marine biology, turtles or animals in general. If you know me or follow my blog then you will know that I always try to do something for charity or volunteering when I travel, and it doesn't have to cost much more than your food and accommodation.
As a volunteer you may get a chance to contribute to all sorts of tasks as well as the daily chores that need to be done. Here is just a taster of what we put our hand to: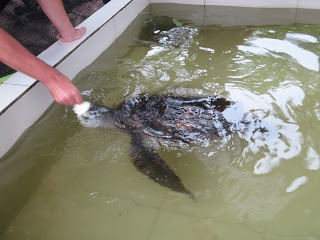 Feeding Jo – The resident blind turtle.
Fortunately Jo should be moving to a new home soon, in Japan, where he/she (not possible to determine sex until 15+ years old) will live in an aquarium which is much bigger than the tank at JTP.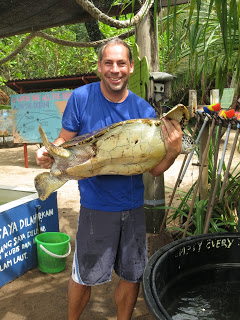 Cleaning Jo – carried out every 4 days or so.
It's a big big task involving moving Jo, emptying and scrubbing the tank, getting dirty and wet, refilling with sea water and of course keeping Jo safe, all this whilst dealing with visitors as well!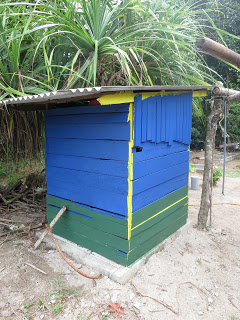 Painting – the new gas shed.
It needed a paint job to weather proof it. This was hot work out in the sunshine, beers were well received :).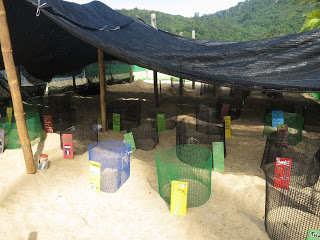 Monitoring the hatchery – before and after patrol and periodically
Checking for hatchlings mainly, and then recording the data before releasing them.Nest sponsors need recording and sponsors will be kept updated with nest news.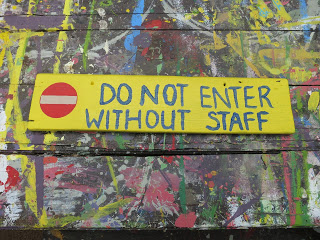 More painting – often sign boards for nests need painting, so another chance to get arty/crafty. The entrance sign needed a revamp too whilst we were there…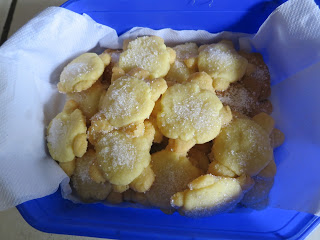 Turtle cookies, for Hari Raya
There are often one off jobs to do, for example the oil spill on the beach – see previous post, and cooking for Hari Raya visitors where we hosted the locals with turtle shaped food and fried rice.
If you volunteer for more than a week then you can request some time off to go hiking in the jungle or to the waterfall or just chill out on the beach or go kayaking. Actually there is quite a lot to do close by so it's an ideal place to combine a holiday with volunteering.
See my Travelpod post for more about Tioman island and more photo's from my time volunteering – Tioman info.
I was extremely disappointed when we had to leave the project and move on, I could have stayed for longer and was enjoying life there a lot :(.
If you would like to volunteer at JTP or just pay them a visit online or onsite to find out more.