Head to the beach in Lithuania straight after a storm and you might just be lucky enough to nab yourself a few bits of amber washed up along the shoreline. It's fossilised tree resin and has been found there, and many other places in the world, for thousands of years.
I finally visited the capital, Vilnius, earlier this month, after it being on my bucket list for some time. Here I went in search of some amber and a chance to get creative with it.
If you take a visit to popular cities in the Baltics such as Riga (Latvia), Vilnius (Lithuania) or Tallin (Estonia) you will find many stores and street vendors selling amber souvenirs and jewellery. However watch out as plenty of this is fake. It's best to head to an authentic wholesaler if you want to purchase some good quality items.
In Vilnius, there is an amber museum in the old town area, with exhibits showing different types of amber, including samples of the different colours and some examples of inclusions, including a lizard. They also sell certified amber items, which are very reasonably priced.
Having contacted the museum in advance, I had arranged a workshop to make (well, polish and shape) an amber amulet. We also had the opportunity to taste the amber, which had been soaking in alcohol for about a month. It was just a strong liqueur to me, nothing special. However hopefully it's healing properties will be taking their effect. I personally preferred the mead, a local tipple from the area. More about that in another post.
After learning a bit about amber in the museum, including how we could test it's authenticity, we settled down to make something of our own.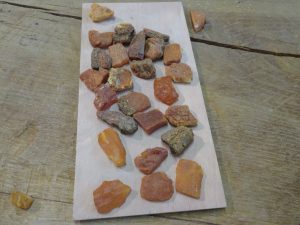 It was quite hard to even choose a bit to work on, with all the colour choices. Plus you didn't really know what you would find once you started polishing. I picked a rough looking toffee like chunk and got stuck in.
Getting creative with amber
Firstly it was necessary to rub it hard with sand paper to smooth the surface. This was more difficult that I had anticipated due to its size and my rather clumsy fingers.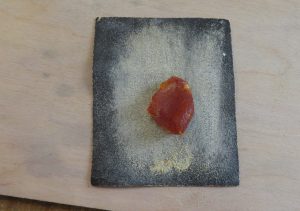 Once smooth, with various drilling bits, we were shown how to carefully smooth and shape the piece into something more dainty. Over time the amber seemed to become more brittle and larger bits flaked off. It seemed to get more fragile the more I fiddled with it so by the end I was scared, for fear of breaking my finished piece.
Finally, the hardest part – drilling a hole to prepare it to wear. I needed some help with this. Then the final polishing and we were all adorning our unique hand polished souvenirs.
Of course you can't beat a souvenir that you have made yourself. As I admired some of the pieces in the showroom, I appreciated them far more than I had before. Clearly some items had involved significant hours of work. My 1 hour of rubbing had produced something personal, but it wasn't anything compared to some of the jewellery on display.
I really enjoyed the chance to get creative at amber workshop in Vilnius. If you have time and want to give this Amber workshop in Vilnius a go, there is a minimum cost of €40 for a group – but it's totally worth it. A piece of amber with a short tour and tasting session was only €14.50 each, for 4 of us.
Getting creative on my travels is of course perfect for a crafter like myself but even my friends and other half enjoyed the experience. Check out some of my other posts where I've been creative on my travels and check back soon for more.