Barcelona is beautiful, with interesting architecture and some lovely places where you can just wander. There's a lot to do and see, but it's not really a budget travel destination. In saying that, if you plan ahead and do your research it is possible to visit Barcelona on a budget. Here are some of my suggestions on how you can experience most of the popular sights, for less:
Gaudi
The best views of the famous Gaudi architecture can be had from the outside of these buildings. If you want to venture inside, prices can be expensive. So be selective in which you choose, here are my recommendations:
An absolute must see, book tickets ahead, on-line, to avoid the queues. It is worth the ticket price for the guide/audio guide to really understand what went into the amazing architecture. If you're not aware, it's not yet finished – currently scheduled to be completed in 2026, but there is still plenty to see now.
It's free to visit, although the monumental zone is now ticketed. We sneaked into this area by arriving before 8am, for nothing. Alternatively buy tickets online to get a discount.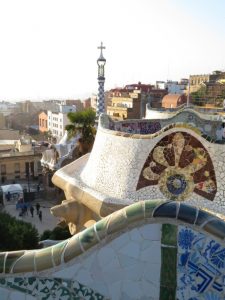 You don't need a guide to fully experience and appreciate Park Güell. [https://www.parkguell.cat]. Take a picnic and spend a little longer in the park area.
This is one of my favourites of the Gaudi architecture, the intricate mosaics are just beautiful from the outside. I also enjoyed the quirkiness inside, so do consider this if your budget can stretch to it. Buy tickets online for a small discount and avoid the queue.
Popular with visitors, but to be honest you can get a reasonable view from the outside.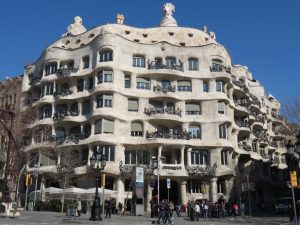 If you are trying to keep to a budget just enjoy the view of the building from below, the rooftop is quite something close up, but I would personally choose Casa Batlló with the beautiful mosaics and interior, over this one.
Interesting from the outside, the inside however is disappointing as it's mostly exhibition space, with just 2 floors renovated.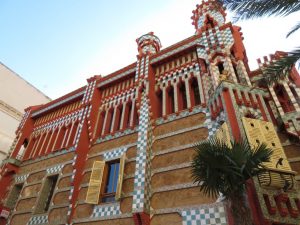 I would recommend giving this one a miss other than to photograph exterior. Which is a shame as it's the most recently opened of the Gaudi buildings.
Walking tour
Take a free walking tour. We enjoyed Runner Bean Tours. Do note that the guides work for tips, so it's not exactly free, but pay what you can afford or what you think it's worth.
Las Ramblas
Of course it's free to stroll this famous street, but be aware of pickpockets. Avoid buying souvenirs, snacks or eating at restaurants here as they will be more expensive than onf the main street.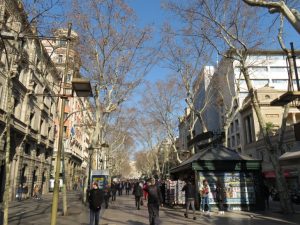 Museums
Many of these are free on Sunday afternoons from 3-8pm. Out of season it's not too busy but of course locals also take advantage of the free entrance times, so get there early or later to avoid the crowds.
The Picasso museum is extremely popular but also offers free entrance on specific days. You may have to search for the current seasons latest dates. Currently Thursday afternoons from 6.00pm to 9.30pm are free, as well as the first Sunday of each month, from 9am to 7pm. Arrive super early as it will be busy.
Cathedral
I am never keen to pay to enter a cathedral or church. Fortunately it's free to enter Barcelona cathedral between 8.30am and 12.30noon, so take advantage of this.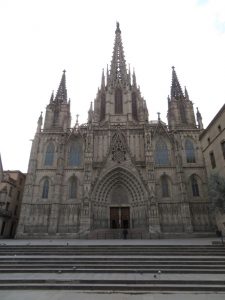 Hike
For a great view over the city, head out and up to the Bunkers del Carmel to watch the sunset. Take a picnic and make an evening of it. It is becoming popular with visitors as well as locals, so it isn't as quiet as it once was. Get there before sunset and you should get a spot to sit.
Castle
The castle is situation in a the Montjuïc hill area near the Olympic stadium (which you can access for free). The castle has little inside to see so don't bother with the entrance, although if you're curious plan a visit on a Sunday after 3pm and it's free. Later on venture back into town via Font Màgica de Montjuïc for the fountain's light and water show. Check operating hours as the shows are seasonal.
Beach
Finally, a great place for families with a man-made stretch of sand. Also a good place to walk, people watch or just sit and enjoy. Take a bottle of wine to drink in the evening along here, as there are no restrictions on drinking in public.
There's plenty more you can do on a budget in Barcelona and often discounts can be found online.
The biggest cost will be accommodation, so look at Couchsurfing, Airbnb or hostels to fit with your budget and avoid the Las Ramblas area which will be pricey.
My best suggestion is to visit Barcelona on a budget is to head there out of season between November and March and not only will the prices be lower but so will the crowds.
Check back soon for more recommendations when planning a visit to this city.