Triana, is located across the Guadalquivir River, in Seville. It's away from the tourist draws, so doesn't have much in the way of monuments or museums. However there are a few things definitely worth checking out, and the neighborhood is a lovely area to wander and get a feel for local life.
The tapas bars are also some of the best I've tried in Seville. There's also a market. You could easily spend a whole day, or at least an afternoon here.
In the past Triana was a working class Barrios with fisherman and bullfighters. Today it is known for its flamenco and ceramics. Many of its residents can go days without needing to cross the river, so Triana feels a bit like a separate city.
Here's some recommendations to help fill your day there.
Morning
Whether you're and early bird or someone who prefers to breakfast late morning, Mercado de Triana (market) is a great place to start your day.
As you cross the bridge, Puente de Isabel II – the official entrance to Republica Independiente de Triana, Capilla de Carmen (chapel) can be found on the right. Directly behind/below that is the market, sitting on the site of the Castle of San Jorge.
The market is popular with locals, with fresh meat, fish, fruits and vegetables as well as a few stalls where you can find souvenirs. There are also a bunch of cafe's where you can enjoy a sit down and snacks or breakfast. I personally like to select from the fruits and juices, and then the cheese and meats – slowly picking my way through to the pastries whilst wandering down each ailse.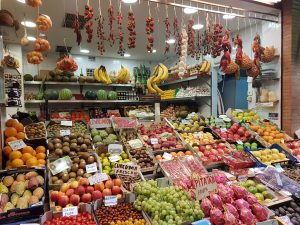 Step back out of the market the way you came and cross the road, directly opposite the Carmen chapel, steps lead down to Calle Betis and it's often a good place to stop and catch the sun. Better still, head up into the terrace of El Faro de Triana and enjoy the views.
Afternoon
Walk down Calle Betis along the riverside, heading towards Toro del Oro which is best viewed across the river, along with the Bullring and Opera House.
Depending on the time you have taken up to here, you might want to stop for a snack, at La Primera del Puente. It's a basic tapas bar which also has a seating area along the riverside of you want to enjoy more river views.
If you keep going you will eventually reach the Puente de San Telmo bridge. From here there are some more nice views of the river and Toro del Oro, but if you want to move on to something else, head right and down one of the cobbled streets towards the church of Santa Ana. The bright painted houses may send you in circles, but it's worth exploring this area further. There are a number of tapas bars, if you haven't taken a break already. If it's the afternoon you may find a few closed shutters and some pretty artwork.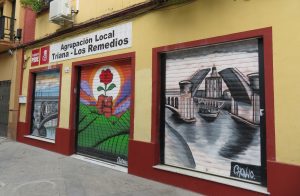 A visit to Centro Cerámica Triana is popular with those tourists that do venture to this area. The museum showcases the history of ceramics along with some other info on the local area.
If you're not as fan of museums then visit the ceramic shop instead for some lovely souvenirs.
For those that like to get creative or fancy painting their own souvenir, Barro Azul offers classes. Of course there will be separate post on my creative experience there, coming soon.