Anyone who spent their childhood in the North-East of England is likely to reminisce of regular seaside visits to the coast with buckets and spades and sandy sandwiches. For the rest of us, this part of the World is some what unexplored.
My aunt, grew up in Northumberland, and has since returned to the area after many years overseas. The descriptions she often shared during family get togethers, always had me intrigued. So, in an effort to see more of the UK, I was encouraged to plan a visit to the area.
The promise of seeing Farne Islands puffins was course a huge factor increasing my interest, but there is so much more to see and do nearby. Northumberland really is a bit of a hidden treasure.
Farne Islands
Almost the last stop before reaching the Scottish borders, Seahouses is just a little harbour town with arcades and fish and chip shops, but it's also the best place to take a boat to the islands.
A favourite of naturalists Sir David Attenborough, this cluster of 28 islands, are mostly uninhabited, other than the wildlife. I would definitely recommend a visit the Farne Islands to see the puffins before you plan a trip to its foreign big brother, the Galapagos.
As well as puffins, there are seals and numerous other birds. Arriving in as early as March each year, the puffin count recorded by the National Trust during the last census in 2013 was 40,000 pairs. Early indications of this year's census show a decline of 12℅.
Tips when planning a visit to see the Farne Islands puffins
1) We were there in April with good weather and calm seas. I can imagine rough waters wouldn't be great for a 2 hour round trip out to the islands, so plan for this.
2) Early in the season the puffins are a little shy and mostly hang out on the waters edge. When nesting time begins (May) they will be scattered around the islands. By June the adults will be seen with breaks full of sand eels, feeding the newly hatched pufflings (babies). June and July are the best time to visit but also popular with tourists.
3) Take a hat, whatever time of year it will be windy, and if you plan to get off onto the islands (only possible from May and on selected islands) you will be grateful you did as the birds will swoop and peck as well as drop little presents on you.
4) A boat trip is adequate to get a good view and stay out of pooing distance, but those closer photographs to be had on land (Inner Farne or Staple Island), may encourage you to brave a landing. Note that landing times are restricted to mornings (Staple Island) and afternoons (Inner Farne) during the months of May – July.
5) There are many other wildlife viewing opportunities with seals, guillemots, razorbills, terns and shags. Probably others too.
6) I was warned about the smell when visiting the islands – although didn't see this was a problem at all. I expect the heat of summer makes the seals and bird nesting areas some what stinky, so bringing along something to cover your nose might be a good idea.
Billy Shiel's Boats are a good choice for a boat trip to the Farne's and other nearby tours.
I also recommend you spend a few days in the area to check out some of the other things to see/do. There is so much to choose from but here are my personal favourites:
St Aidan's Beach
St Aidan's beach, sometimes referred to as North Sunderland beach has an extensive stretch of sand. Hidden from the coastal road by dunes, the beach provides a beautiful backdrop for Bamburgh Castle.
When the tide is out, it's a popular location for walkers as well as families with young children.
Great for sand castle building or kite flying as it can be fairly windy. Consider walking from Seahouses to Bamburgh Castle which takes about an hour.
Bamburgh Castle
This impressive castle is still inhabited but open to the public all year round and well worth a visit.
I recommend getting the audio guide to get plenty of information during a visit and hear some interesting stories. Afterwards wander the village and it's little shops and perhaps grab some lunch in on of the pub's.
Alnwick, Barter Books
Alnwick is a lovely market town, which still has a regular market in the square.
The castle and gardens are a big draw here, with the former having featured in Harry Potter, therefore popular for a visit with kids. A number of other films feature the castle as well so it's fairly recognisable.
The highlight for me was a visit to Barter Books. Located in an old train station building, this might just be one of the biggest second hand book shops in the UK. You can spend hours in here, enjoying a cup of something from the coffee shop, sitting quietly with a book.
There's also a little bit of history hidden here:
Holy island
Accessible via a tidal causeway, you can drive out to when the tide permits. Check out crossing times and plan ahead.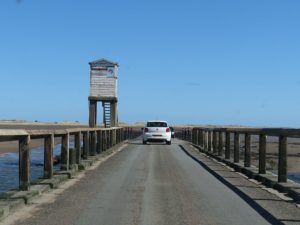 Explore the island, including the recently refurbished Lindisfarne Castle. I recommend at least half a day here but don't risk getting stuck.
Hadrian's Wall
Hadrian's Wall is one of England greatest landmarks, with some of the best-preserved sections located in Northumberland.
There are various sites and museums which tell the story of Roman times in the area so consider checking some of these out. Hopefully I'll create another post, featuring some of my recommendations, but I still have a few to cover off myself.
There's a lot more I could mention in this post, as Northumberland really has a lot of history and places to visit… but I'll leave it here for now. Feel free to leave any recommendations in the comments?