There are many markets in Hong Kong. Most of these occupy whole street areas for periods of the day. The most popular ones can be found around Mongkok but there are a few others I recommend considering for a visit.
Temple market
Opening: from 2-midnight. Best after 8pm.
Get there: Yau Ma Tei station Exit C or Jordan Station Exit A.
During the daytime it's a great place to browse for souvenirs, such as chopstick and tea sets but there is less going on.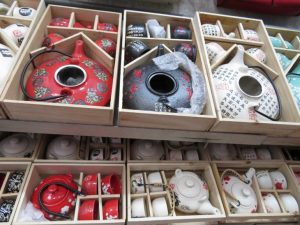 In the evening much more is happening. This market is very popular with visitors to Hong Kong, so head here for a bite to eat at night and enjoy the atmosphere.
Cat street
Opening: 11am, closing around 7pm.
Get there: Lascar Row, Sheung Wan.
This market feels like a step back in time, with vintage memorabilia spilling out onto the pavements. An interesting place providing a glimpse of what feels a bit like a Chinese boot fair.
From kitschy to mass produced souvenirs, rummage deep and you may find a hidden treasure.
Stanley market
Opening: 10am to 6.30pm.
Get there: buses 6, 6A, 6X, 66, 73, 260, 973 or minibus no 40.
It's touristy. The sellers won't bargain on prices but they also don't generally hassle you. We were there when it was quiet, which I can recommend; visit out of season.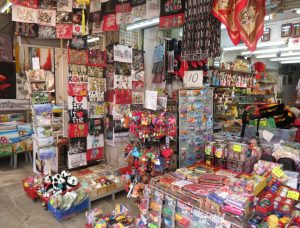 I lost count of the stalls selling personalised carved blocks which can be used as stamps. Although a great souvenir or gift, they do feel a little gimmicky.
Kowloon city market
Opening: 6am to 2pm
With fresh fruits in abundance this is best visited in the morning. It's a great place to check out seasonal fruits such as the notorious spikey durian, which can often be smelt before you see them.
Stock up on supplies or just absorb the atmosphere of local life.
Ladies market
Opening: 12noon to 11pm.
Get there: Mongkok MTR, Bank Centre exit.
A famous open market selling clothing, handbags (fakes), electronics and souvenirs.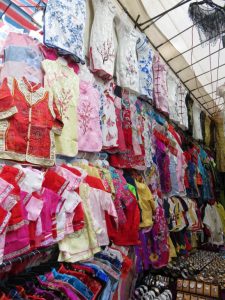 Despite the name, this market is not just for ladies it seems. It is also a great place for food. Prepare yourself for the skewers, dumplings or stinky tofu.
Goldfish market
Opens: from mid morning.
Get there: Mongkok MTR, exit B3.
As a visitor this market is simply a good opportunity for some photos. Around the festival season it can be really busy. Spot other creatures such as lizards and snakes as well as goldfish of course.
Chungking Mansions and Mirador Mansions
From the outside these are predominantly blocks of flats but on the ground floor you will find many shops. The stores sell cheap and useless items mostly, but it's indoors (good for when the weather is hot) and quite an experience. If you're brave enough, try a curry house or stop at the Nepalese-run whiskey store.
Chop alley, Man Wah Lane, Shueng Wan
A chop is a personalised stamp carved in jade or stone bearing the owner's signature. They were used in ancient times by Chinese scholars. The vendors will be happy to carve English names so these make a great personalised souvenir or gift and these feel more authentic than those at Stanley market.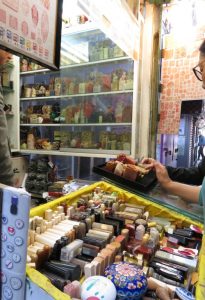 There are many more markets in Hong Kong, these are just a few of my recommendations.
Have you been to Hong Kong? What did you think of the markets?