If you need a bite to eat whilst travelling in Spain, there's little chance of not being able to find a restaurant, bar or cafe serving one of the country's many snacks. Here are some you must try if you haven't already.
Tapas
Tapas dishes include both hot and cold options; designed for sharing and which vary from region to region. These little plates with little portions can be combined to create a meal, but are also good for snacks.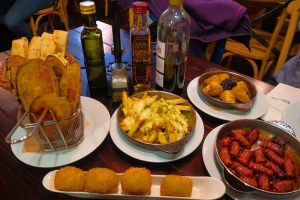 When visiting Seville and Granada, many places still serve a free tapas when you order a drink.
For some of my favourite tapas check out my 5 must try tapas in Seville post.
Empanadas
Their apparent origin is the North West area of Spain, Galicia. However I've tried empanadas in Argentina, Chile and even the Phillippines.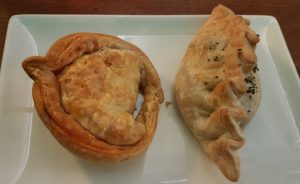 These pastry packages are filled with meat, vegetables and can also feature as a sweet pastry with fruit as well. I like them warm but they are tasty as a cold snack too.
Bocadillo's
The spelling of these always reminds me of armadillo's (!?). The pronunciation is boca-dee-yo, which isn't immediately obvious unless you speak Spanish.
However, when you see them, it's immediately obvious these are simply sandwiches, generally baguette style. The most common fillings are jamon (ham), queso (cheese) and salami but these days bocadillo's come stuffed with all sorts.
Montaditos
These are also sandwiches, but tapas sized – mini sandwiches. There is a restaurant chain (100 Montaditos) which you can find all over Spain. It seems to thrive from their menus of mini burgers, sandwiches and fast food.
A quick, cheap and easy snack or meal can be had on montaditos. As they are so small you can get a variety and they are great for sharing.
Pintxos
Originating from the Basque country, these are mini slices of bread topped with something carefully balanced, and usually pinned with a cocktail stick. There are veggie options but plenty of meat, and these all go perfectly with a glass of vino.
In Barcelona there is a whole street (Carrer Blai – between Tapioles and Roser) with pintxo bars. A great place to wander for lunch or just a snack.
Churros
I'm sure everyone has tried churros before… these donut like sticks are great with a coffee or hot chocolate.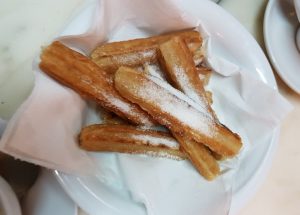 There is a theory that they originated in Portugal rather than Spain but were popularised by the Spanish shepherds many years ago. It is actually also likely that this snack was a recreation of the youtiao (pronounced yow-chow) savoury stick from China, which is served without sugar and tends to be much thicker/larger in size. The Portuguese just added sugar and the Spanish shepherds ate these as a substitute to bread.
Others
I'm sure there are some other Spanish snacks that I've not got on this list yet, so do let me know. Especially if it's something I haven't tried?
Spain is a short flight from the UK, and of course many other places. There's plenty to explore, so if you need ideas do check out some of my other posts from Spain.