Minsk is imprinted on my memory as one of the cleanest cities I have visited. It's wide boulevards and pristine architecture is a close mix between St Petersburg, in Russia and Vienna in Austria. What I didn't expect to find was areas with Street Art, but there are plenty.
The art is all across the city, so you will need to venture to some off beat areas to see it all. However as we were only there for a couple of days, we stuck to visiting the areas in the centre of the city which are easily reachable on foot.
Mostly located in one area, Oktjabrskaja Street. Here you will find works by Brazilian and Belarusian artists, including one of the largest pieces, which covers approximately 3000 square metres. The artist, Ramon Martin has depicted endangered species of Belarus in a rainbow of colours.
Here's a few photos of the other work which can be found here:
Kaleidescope of Belarus, another piece by Ramon Martin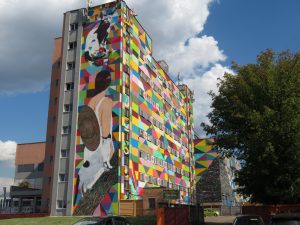 Van Gogh, Frida Kahlo and kissing giraffes, by Rogerio Fernandes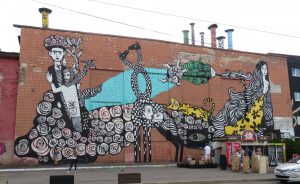 L7TM and Bazinato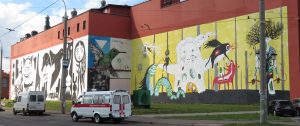 Wander the area and you will find plenty to occupy you for an hour or two. It's also a great place to find some trendy places for lunch or a coffee.
There are several other places around the city to discover Street Art in Minsk. Check out the map on this site for where to find these.
One of my favourites is the yellow giant by Os Gemeos. These artists have done similar work in Athens and New York.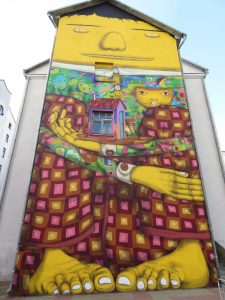 Also keep an eye out for some of the more quirky Street Art such as these dustbins: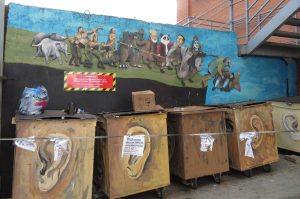 Visa free entry is possible for many visitors, so it's worth considering a visit to Belarus and Minsk in particular, soon, before it becomes more popular.